Banned
Join Date: Jan 2010
Location: Mid-Atlantic
Posts: 763
Relocation Bracket; Mirror/Choke Lever
---
WHAT:
Handlebar bracket, relocating left rear view mirror and choke lever.
WHY?
Shown below, stock mirror perch and choke lever placement (KL$250 shown, but KLR650 similar):
In the event of a fall, the left handlebar switchgear is vulnerable to collateral damage from the mirror stem grenading the housing; also, the choke lever's position is perilous.
In the interest of crash survivability, the mirror/choke lever relocation bracket places these components as shown (Eagle Mike product):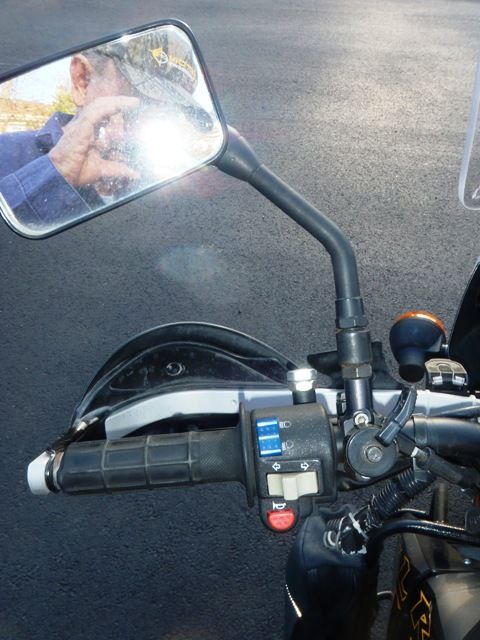 The threaded hole formerly occupied by the left rear-view mirror stem is now filled with a 10 mm bolt and spacer nut.
HOW?
Ain't much to it; just separate mirror stem and choke lever from their OEM orientation, clamp relocation bracket to handlebar with Allen-head machine screws as shown, and reattach mirror and choke lever in their new homes.
Besides increased crash protection for the switchgear and the choke lever, some slack is gained for the choke cable; useful if handlebar risers exist.
Other protection strategies: TPI (et al) sells a "Euro" left handlebar perch and switchgear product; plug-and-play, with some switching versatility and relocation of the left rear view mirror stem (choke lever also, possibly).
Ken Sean folding rear view mirrors (shown above on the KLR250) fold, instead of break (one hopes), in the event of a crash.
(Bottom image shows TPI 5-1/4"-wide rectangular mirror with damper mounted on KLR650 handlebar.)
---
Last edited by LoneRider; 03-28-2012 at

05:52 AM

.
Pretty in Pink, dunno why
Join Date: Feb 2009
Location: Redondo Beach
Posts: 7,575
Thanks Lonerider!

This has been added to the mods and Issues on page 2.

T
---
Tom
[email protected]
"She went out slowly. The way she did it hadn't been learned at business college."
-Philip Marlowe
"'Why'
and
'How'
are words so important they cannot be too often used."
-Napoleon Bonaparte
Sting like a butterfly.
Banned
Join Date: Jan 2010
Location: Mid-Atlantic
Posts: 763
I'm sincerely honored, Tom, to have this thread I started included in the pantheon of "Mods and Issues, Page 2!"

Suitably archived, the information remains forever available, should anyone find the content useful.