CDI temp
---
While waking barbie up from her winter hibernation I noticed the CDI under the seat is getting warm. I can keep my hand on it but to me it seems a little too hot.
Is this normal? It got warm/hot after just a few minutes of running time.
Should I be looking for some cause ? Potential problem areas?

thx
4th Gear
Join Date: Oct 2006
Location: Pefferlaw,Ontario
Posts: 1,636
That is your voltage rectifier.....it has fins on it? It gets rid of extra voltage supplied by the stator. You CDI should be under the right side of the tank. It should never get hot. I would test the voltages that are coming out of the stator and at the battery.
---
Willys
5th Gear
Join Date: Jan 2011
Posts: 4,338
The rectifier/regulator is under the seat. Stock design is a "shunt-type" voltage regulator, shunting excess voltage to frame ground, a process creating considerable heat as excess voltage shunts to ground. The aluminum heat sink and fins dissipate excess heat; normal for this component to be warm to the touch.
The CDI (on Generation 1 KLR650s only), housed in the black box of the "Igniter," is powered by alternating current from the exciter coil of the stator, rectifier/regulator not in ignition circuit; wouldn't expect heat buildup here, but if it occurred, might be a problem; not sure the ignition would function.
Generation 1 rectifier/regulator: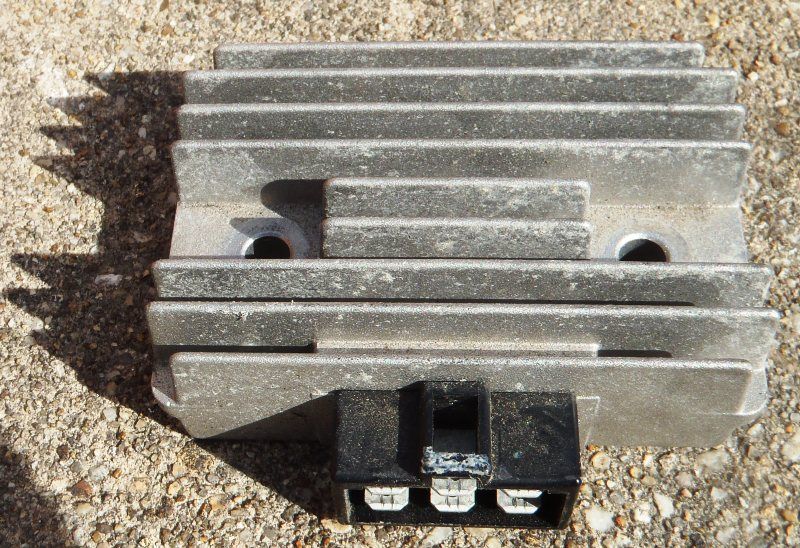 ---
Last edited by Damocles; 03-21-2013 at

03:41 PM

.
yeah thats it!
thought it was the CDI.
so some heat is normal, thats good.
thanks guys!
5th Gear
Join Date: Oct 2011
Location: Lac La Biche Alberta Canada
Posts: 3,205
To Willys and Damocles:
Great replies Guys! Excellent teamwork!
Regards....justjeff
---
It's not a Tractor....It's a LOCOMOTIVE!! Chugga Chugga
Woooo WOOOOO!!!!!
4th Gear
Join Date: Oct 2006
Location: Pefferlaw,Ontario
Posts: 1,636
If you want to reduce the heat it suffers and heat will kill it over time. Move it out to the front where it can get fresh air over it. I have and it works well. You can extend the wiring as long as you extend each wire the same length so the resistance is the same as it was so to speak and one wire hasn't got more than the others. Mine lives on the engine guard right behind the front wheel. I have two mounted there so if one goes bad I can easily just move the wiring over to the second unit. I have done the same with my CDI unit. I have two inside my fairing that the wiring will easily reach both. It makes dealing with wiring issues far from home that much easier.
---
Willys
Similar Threads
Thread
Thread Starter
Forum
Replies
Last Post
CDI Ignition box?

txroller

How To's & Tech Guides

1

07-14-2011

10:55 PM

CDI Ignition box?

txroller

Other KLR's - 250, 600, Tengai, C Models, KLX...

2

07-14-2011

01:44 PM

Time & Temp?

Savage

Gadgets & Gizmos

5

04-20-2011

02:28 PM

CDI extra wire

Raven7777

1987 to 2007 Wrenching & Mods

1

12-19-2010

10:31 PM

Engine Temp

Crapapple

2008+ KLR650 Wrenching & Mod Questions

4

08-10-2008

08:21 PM