Join Date: Oct 2006
Posts: 19
Anyone still have the choke relocation mod thread
---
The other guys had a thread going about a choke relocation mod.. off the handlebar down to the carb with a shorty cable.. like my drifter,, anyone done this or have that thread sitting in the recesses of their computer...

thanks

cam
Join Date: Sep 2006
Posts: 102
I can't help you with the thread, but I've read that the choke from a 1996 KLX250 mounts directly to the carb lawn mower or dirt bike style, and it works well. You could order it from bike bandit, and plug and play.
Join Date: Sep 2006
Posts: 284
This is the drawing from the 96 KLR250 carb over at Bikebandit. I'm interested in this choke.... anybody know which part is involved?
Anybody actually done this mod here?
Join Date: Oct 2006
Posts: 19
If we can figure out what parts to oder Ill do it and post up.. but as you said,, anyone done it?

thanks guys for the post ups.. someone will chime in eventually.. Ive got this thread going in several venues

cam
Join Date: Oct 2006
Posts: 53
Join Date: Sep 2006
Posts: 102
Join Date: Sep 2006
Posts: 284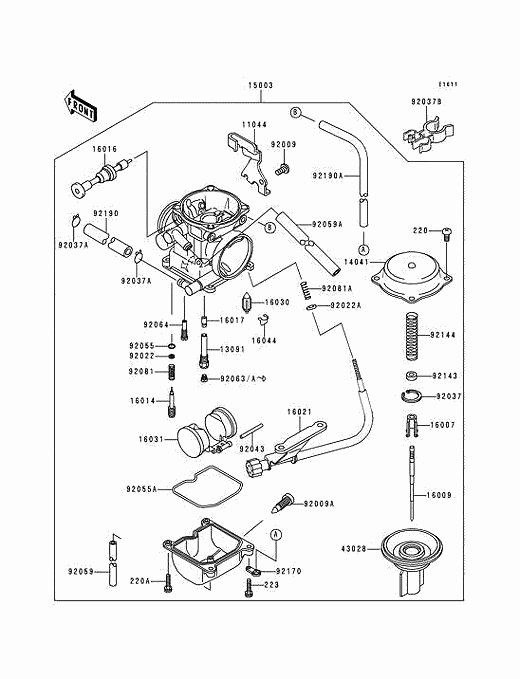 Much more better, Dsjunky. What a difference a letter makes!
I can understand this drawing. I'm gonna order it and give it a try. This will be at least the 3rd or 4th choke for my bike. No more insanity. Hardy ever use it anyway. Was gonna order the lever again, but I found out I had to order all three components... just not worth it. I'm toooo pooooor......
Thanks!
Join Date: Oct 2006
Posts: 19
I have threads going on all the forums.. one owner cut the factory cable short and resoldered the mnipple on the end,, then using the stock choke lever mounted it on the electrical cover covering the kickstand switch,,, it looked acceptble but i like the above way better..

If you dont mind Im going to let you do the mod and then advise.. I want to do it along with several others but it makes sense to let you try it first before spinning my wheels with it at the same time... in other words,, your the guinea pig!!!


thanks

cam
Join Date: Sep 2006
Posts: 11
This thread covered all the options.
http://www.advrider.com/forums/showt...ighlight=choke
with pictures of the Harley cable type install. The guy who came up with the KX250 part number 16016-1068 PLUNGER, STARTER 1 $21.33 posted on the thread also. I'm ready to stick one in too just to get rid of the vunerable extra parts/cable lube hassle. I imagine you could ebay the handle bar choke lever and get more than you have to pay for the direct knob.
Join Date: Sep 2006
Posts: 284
Ok guys... the deed is done. Choke is on the way. I'll photograph the process and finished system.

Thanks Kbett for the link... made me feel better. Looks like its really plugNplay.