Guest
Join Date: Oct 2006
Posts: 24
LED tail light upgrade.
---
had anyone got one of these? i recently had my tail light bulb blow on me while i was about 200 miles from home. i managed to get a replacement from an AutoZone (5 minutes before they closed) and when i put it in i noticed for the first time how dim the tail light really is.
so, i'm either going to buy one of these LED boards:
http://www.dual-star.com/index2/Bran..._taillight.htm
or a 2357 bulb, which is supposedely brighter.
anyone done this? think its worth the 85$ for the LED?
thanks
-j
3rd Gear
Join Date: Sep 2006
Location: Elk Grove, Ca
Posts: 990
it's worth every penny of that $85.
i've got about the same $$ into this set up: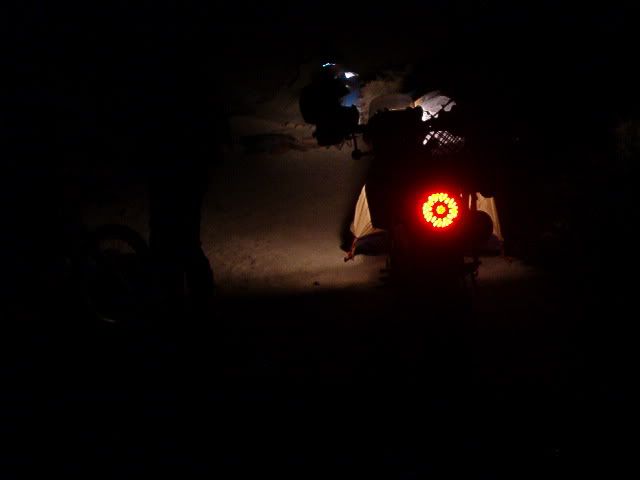 Guest
Join Date: Sep 2006
Posts: 145
Guest
Join Date: Jun 2006
Posts: 595
I'd get the one from
http://www.customdynamics.com/motorc...z_LED_Clusters
It's only $34 and it's brighter than the Dual Star version. I've got the side by side pics to prove it.
1.85" diameter, 1157 Direct Base.
Notice how my lens is actually partially washed out by the sun, yet it's still brighter than the Dual Star. At night it's even more dramiatic.
Guest
Join Date: Oct 2006
Posts: 24
Quote:
Originally Posted by Biker Scout
BS - thats the one for me. thanks man!
-j
Guest
Join Date: Sep 2006
Posts: 100
I like the dual star in the fact that it blinks the first few seconds the brake is pressed. Really stands out.

That $34 piece is tempting also.
Guest
Join Date: Jun 2006
Posts: 595
Rear Light Modulating can be a sticky topic in some locales. I read numerous times where LEO's pulled over and cited M/C's for having such a device. Everytime I've read about this, it's claimed that only Police Vehicles can have flashing red lights. (This was used as their justification for the citation) Even the letter of the law states that there can be no "Forward Facing" flashing lights, the officers used their judgment on the spot for whatever reason. But as we all know, every jurisdiction is different. I'd just not want to find out first hand the wrong way.
Not wanting to be faced with being pulled over, and not knowing the exact stance my local offices choose, I opted to not be suckered into the Dual Star light for the modulating effect only. I wanted the brightest LED, and I believe I've got it now.
Down the road, if I felt I wanted to add a tail light modulating feature, I can get the "Back-Off" module and plug it inline with my regular taillight. I've seen them as cheap as $18-$20 before on e-bay.
So, even with a Back-Off tail light modulator, and the Radientz Cluster LED you still come out
Cheaper
and
Brighter
than the Dual Star board.
Neutral
Join Date: Oct 2006
Location: Calgary, Alberta
Posts: 9
I have the DS flashing LED tail light and I really like it. I was sold on it when I went for a group ride with 6 other bikes, one of which had a Dual Star LED. The flashing light made it stand out dramatically from the rest - you just couldn't help having your attention drawn to that light. Huge safety advantage IMHO. When I am stopped in traffic and I see someone coming up behind me, I just release the brake and then re-apply, giving a fresh "burst" of blinking LED, just to make sure I don't end up as a hood ornament.
Guest
Join Date: Jun 2006
Posts: 595
Yeah, I think it's definately a good idea as a safety device... just not worth what Dual Star was charging when I was in the market last year.
Guest
Join Date: Oct 2006
Posts: 24
the flasher seems like a good idea in theory.. but i ride in NYC and spend far too much time in stop and go traffic. i think the flashing light might be more confusing to other drivers than anything else.. especially when i'm on and off the brakes every few seconds.

anyway, for 34$ i'm sold.

-j