The dreaded TWEETY sound
---
Yes I had the dreaded tweety sound from my exhaust. If you have ever heard it you know it isn?t a good sound on a motorcycle.
I had read posts from different KLR boards on how to correct this annoying problem. They all seemed very simple: take a sharp screwdriver, or chisel and cut the insides of the muffler, slicing them at 12,3,6,9 and o?clock, sometimes you can solve the problem doing only two of the four slices. Mine on the other hand was a bit stubborn; I sliced it 4 times and still had the birdie singing away.
I decided to try something else on mine, I bought another muffler. Well the guy that sold me the other muffler failed to mention that it had the dreaded tweety too. So I thought about it: and came to the conclusion that I needed more exhaust coming out of the muffler. Now to get more flow through the muffler I figured drilling some holes in the end would do that, and would cure the dreaded tweety.
I took a ? inch bit and drill several holes in the end of the muffler. When I started it up and the tweety was gone, and it had a deeper sound than the stock exhaust had.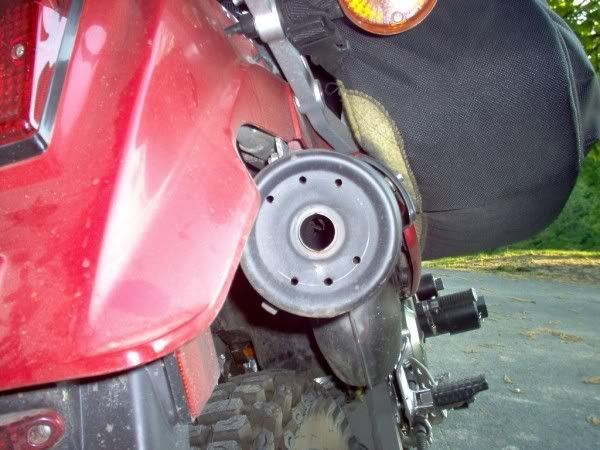 ---
Today is the first day of the rest of your life.
Guest
Join Date: Oct 2006
Posts: 24
is it much louder than it was stock? mine has the tweet as well.. but i have held off on "correcting" it because i live in a crowded area and often park the bike within 5 feet of my neighbors house.

-j
It really isn't much louder, it just had a deeper sound. Nothing compaired to hardlys, or the other aftermarket exhausts sold for the KLR.
---
Today is the first day of the rest of your life.
Guest
Join Date: Apr 2007
Posts: 3
Hey Joe! You saved me again with your tech tips. The tweety bird showed up today in the KLR I bought from you last year. I thank you again for your wealth of knowledge.
3rd Gear
Join Date: Sep 2006
Location: Franklinville, NC
Posts: 650
Hey, your welcome !...
OH ... the other "JOE"...
Hey joe, do you need to rejet the bike after increasing the flow like that? I have lived with "tweety" for two years and just try to imagine it is actually the sound of George Jetsons' car flying along! LOL
1st Gear
Join Date: Jun 2007
Posts: 22
i bought a jardine for mine. and it's loud!! it sounds like a huey helicopter. as a matter of fact, the upstairs crack head runs for cover when i start it up. lol
but on a more positive note: i have not had a car pull out or pull over on me since.so as obnoxious as the sound is, the safety factor far outweighs the sound level, as i do not wish to die on this thing.
Buildit:
I didn't do anything to mine except adjust the mixture screw. I do have some hesitation in mine still, but not enough to go changing jets.

Carfixer:
I'm not one for loud pipes, I enjoy nature and loud pipes blasting when your in a nice peicefull setting kinda kills the moment. I also think the loud pipes cause a neg impact on bikes/bikers. But thats just my opion.
---
Today is the first day of the rest of your life.
3rd Gear
Join Date: Oct 2006
Location: Evansville, Indiana
Posts: 815
Is there anyway you can post a sound sample? I'm considering this method also. I'm absolutely sick of tweety after many many months.
Guest
Join Date: Jun 2007
Posts: 113
I did the same thing to my stock pipe and it was just a little deeper tone, but you still here the valvetrain/engine over the exhaust note so it should'nt bother anyone. Daddyjoe you say the loud pipes ruin the moment for you, what are you doing it outdoors for anyways? lol just goofin on ya. I see both sides because I am one of those hoodlums that like it loud, lol. I hope all is well with your health. Sorry for hijacking the thread.