"Frozen" starter?
---
I solved the problem but I still am unsure of the exact cause, so, submitted for your approval:

I washed my KLR last week (it was in the high -40s F), dried the exterior surfaces, took it for a 1/2 mile ride to dry off the chain and brake rotors, and then I parked it in my unheated garage.

The next day, the temps dropped to the mid 20s F (I think it actually got as low as 15 F overnight).

The next day, with temps still about 25 F I decided to run to the video store on the KLR. It's only a mile, so I wasn't gonna freeze too badly. The KLR wouldn't start. I pushed the starter a dozen or so times and every time the solenoid clicked loudly but the starter would not turn. The lights were bright and the battery was fine. The only thing that really came to mind was the severe cold coupled with the recent washing so I got a hair dryer, propped it on the footpeg, and angled the hot air up toward the starter and starter solenoid.

I ran to the video store on the KLX400 and when I got back in ten minutes, I tried to start the KLR and it started right away. I let it idle for 20 minutes and then took it for a 20 minute ride around town to try and thaw out whatever residual water was frozen.

Assuming the starter or solenoid quite literally froze and had to be thawed out. Any other ideas? This happened to anyone else?
sounds reasonable meef.I'm just still trying to figure out what your doing with a hair dryer :lol:
Isn't that you in the yellow rain coat in the ditch? :smile: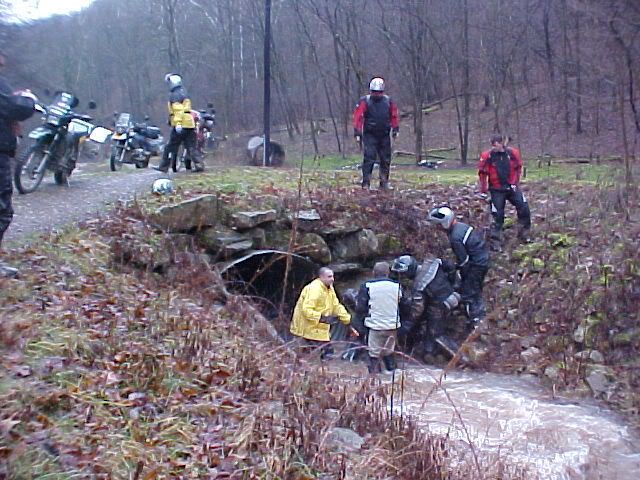 ---
You can't shake hands with a fist
If you can read this,thank a teacher.Since it's in English,
thank a soldier.
---------------
What could possibly happen
---------------
05 KLR The faster Red one
01 Triumph Tiger Sold
08 KTM 990 Adv S
08 Yamaha 250 WR Sold
09 KTM 530 EXC
It must be the MRS.'S hair dryer.

Could have gotten water on the starter gear and that froze, I'm pretty sure the silinoid is a sealed unit.
---
Today is the first day of the rest of your life.
I coulda used a hair dryer that day.... but not for my hair!