Guest
Join Date: Oct 2006
Posts: 23
the windshield's final repose
---
The standard klr windshield is a joke. But mainly I replaced it because it cracked on the bottom. I rode around with it duck-taped for a while, untill a friend of mine gave me a travelling windshield, the tall one that all the long distancers have. I put it on, and it was a rediculous pos. It wobbled at high speed, was ugly, and worst of all, when I ride the dirt sometimes it would gouge at my neck. So I took off the windshield alltogether, and it has been klr bliss. No random buffeting, just constant wind, and you can see things in front of you much better. Plus one for no shield. Try it out.
Many people like the no shield version, some even shorten the stocker, but I love my +9. All summer long I scrape the bugs off the shield instead of off me. I don't get the buffetting some say they get, and it keeps a lot of the rain off me too, as well as blocking the wind in the cooler weather.
At hwy speeds the +9 just lays back aginst the dash I made, but I do take it off sometimes for off road riding.
---
Today is the first day of the rest of your life.
Guest
Join Date: Jun 2006
Posts: 595
You may want to remove your fairing for even more clean air bliss! I went through the same thing. I bought the tall Clearview, was at the wrong angle, I modified it, which made it better... so finally I too removed the shield and haven't looked back since.
It's ugly right now, but I'm working on an HID set-up and adding some Auxilary LED Driving Lights.
5th Gear
Join Date: Sep 2006
Posts: 4,700
I cut the "flip" off of mine and love it.. A buddy of mine did the same and paid me in beer for the idea...
I'll take more beer, if you like it..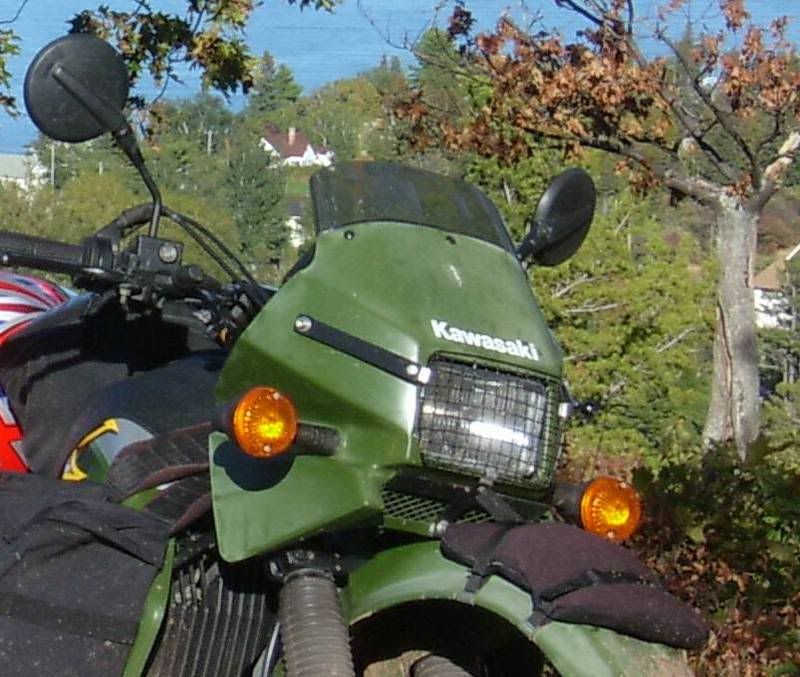 5th Gear
Join Date: Sep 2006
Posts: 4,700
Quote:
Wow. Looks factory too me. How did you get it so "smooth"? Or is that a trade secret........? Nice work. That lip seems to be the evil entity.
I tried without the shield, but I wanted something there, even for looks. At my torso height, and with the sheild cut like this, wind hits me right at the base of the neck. This keeps my head in clean air, and the wind blast off my chest.
I cut it on a big bandsaw at work, and then sanded it on a belt sander. I finished it up with 320 sand paper to smooth everything out. Took maybe an hour..
Figure out where you're going to cut it and then coat each side with a few layers of masking tape to help keep everything from getting scratched as you work on it. You can use a Magic Marker to mark out your cutting lines, too..
I shortened my stock screen on my V Strom the same way. (it's as bad as the KLR screen) Because the screen was clear, and the bike's black, I painted the inside of the screen with Plasticote black paint.
Just something to kick around with your stock screen, since you'll more than likely never be looking through it.
Similar Threads
Thread
Thread Starter
Forum
Replies
Last Post
The final ride

Ogre

Southeast Riders

1

11-05-2006

01:59 PM