Broken dohicky
---
6 of us had a tech day yesterday at the home of xlrgsb. Gary was a fine host and a big help with the doohicky with the knowledge he gained at one of Eaglemike's tech days. Bill Stanley & Gary brought the doo tools & advised & helped 3 of us change out ours. Between Gary's 3 decades of accumulated stores and all the stuff Bill brought and what we all contributed we had everything we needed for a good day. Gary's grilled hot dogs & pot of chili helped a lot too. Thanks Gary.
Flyinawa changed out his doo. It was still in good shape.
Felix 21685 replaced his doo. It was also fine. He also worked on a wobbly wheel. Then he did the drill through subframe upgrade.
Humberto showed up to observe & learn and helped felix a lot and the rest of us some.
I replaced my doo and did a valve adjustment.
My story: 2004 with 16,000 miles.
Here is my '04 prior to loading in the truck: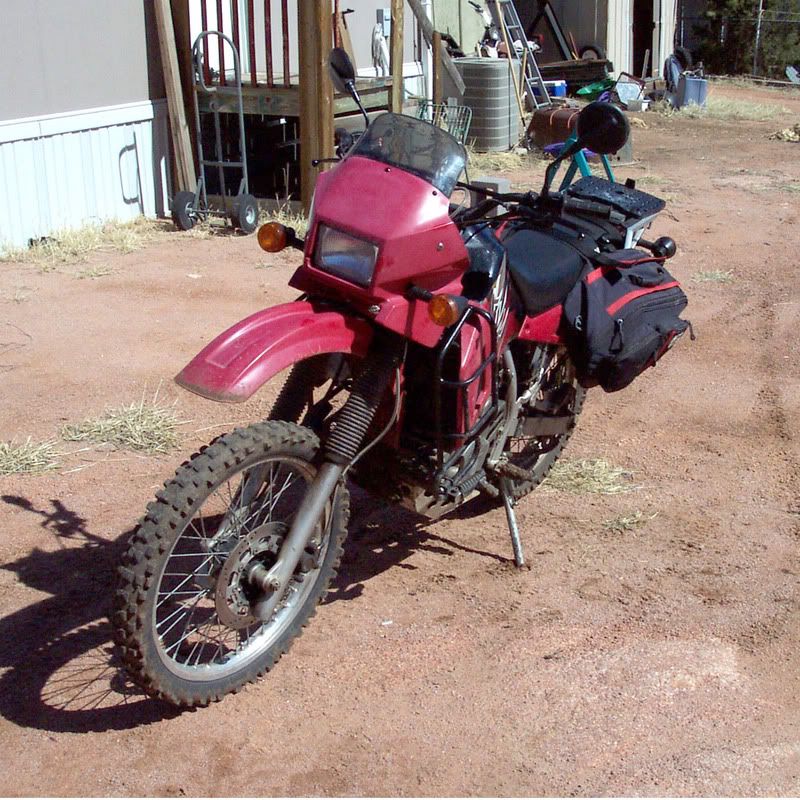 I should have taken an "after picture" as while I was loading it I lost my balance and dropped it right off the right side of the ramp. Upside down it broke the right mirror, right signal light and rotated the throttle assy forward so that the brake lever would not work. altogether not much damage. Bill gave me one of his old mirrors.
When I opened the case i found the top of the doo missing:
Bill said that I were lucky that I may find the piece under the shaft when I got the inner case off. No such luck. The spring was still intact but very loose. About this time I figured out why the oil had been draining so slowly.
Thanks Lord for making my buy that magnetic drain plug. I crawled under the bike & used a magnet and pick to get end of the piece into the drain hole but that is as far as it would go. I then was able to turn the piece around so that it protruded from the hole a little more.
See the little bugger sticking out the hole?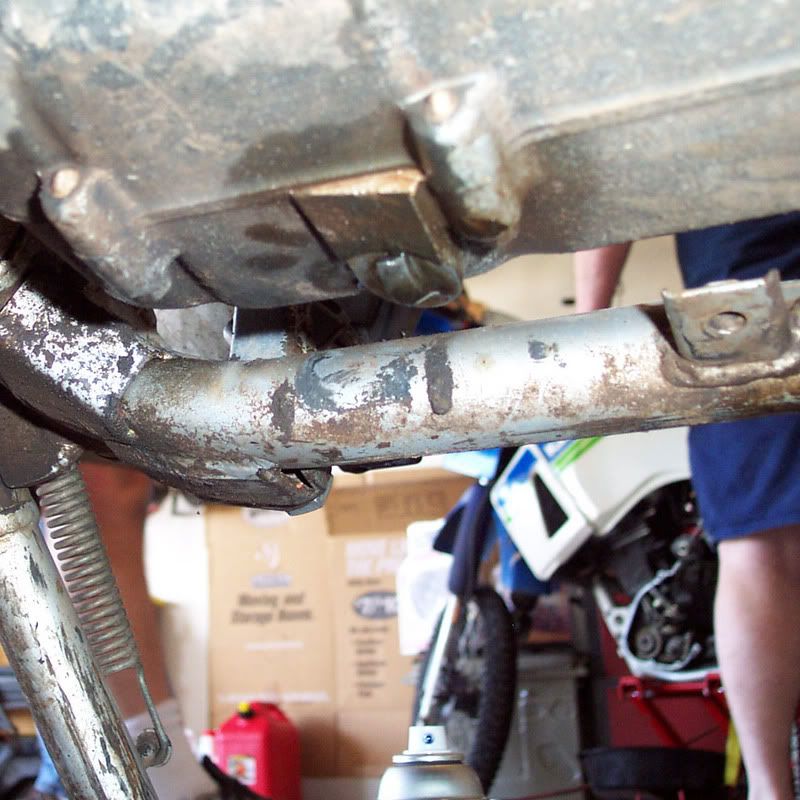 I was planning to cut the little bugger. Bill gave me a vise grip & I locked it on and gave it a final tug & out it poped!! Thanks again Lord. Gary said I should not ask anything else of the motorcycle gods for awaile. It is hard to believe that it came out.
Well, here they are: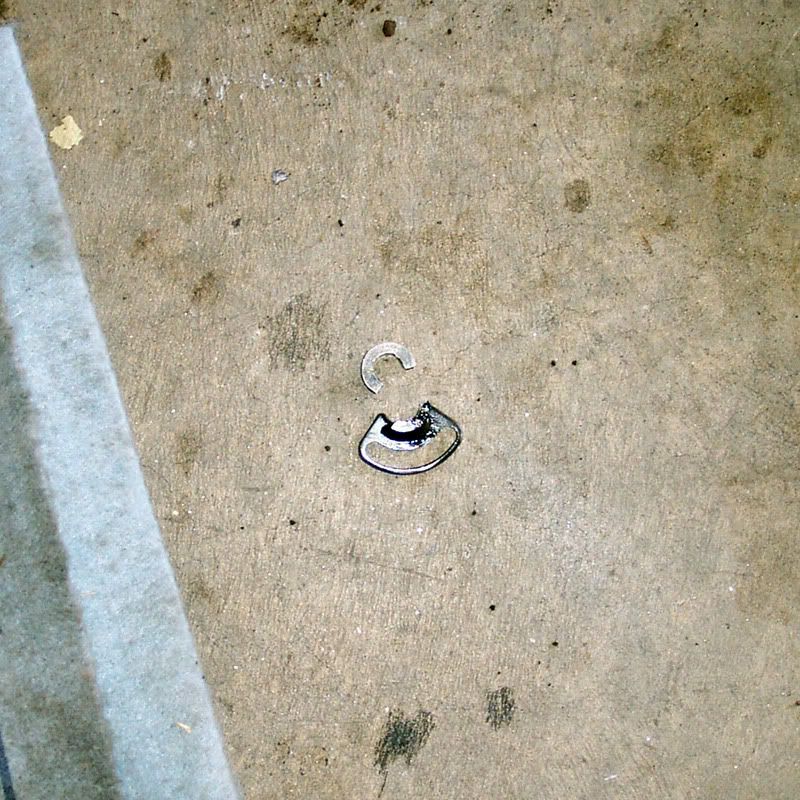 Someone had mentioned using some JB weld to save myself some money but I had alredy shelled it out so I used the new one. We then discussed the possibility of selling the other 2 good OEMs on eBay but decided against it as someone was already doing that.
I then did my valve adjustment. Here is what I found:
Exhaust: Left= tight 2mm with a 260. Right= 13mm with a 255.
Intake: Left= 8mm with a 260. Right= 13mm with a 260.
In the above order I installed shims 235, 245, 250 & 255.
After buttoning everything up I found that there were no leftover parts so I started her up & she sounded real sweet.
Loaded her in the truck (without dropping it this time) & set out for home at sundown (104 miles in 1 hr 45 mins).
I will try to get a short ride in today before work.
Thanks again Gary & Bill for all your help and thanks again to Eaglemike for the knowledge you spread and the parts you make.
John
---
Old Fahrt
Too young for medicare
Too old for women to care
I aint paranoid. The whole world IS out to get me.
---
Last edited by josbek; 03-05-2007 at

10:44 PM

.
John;
I'm glad you got them FIXED. But I think you should have tried the JBweld, who knows it might save someone else a few bucks down the road. But without you tring it we will never know.
Joe
---
Today is the first day of the rest of your life.
Sounds like a great get together.Always fun to pool collective knowledge and fix stuff.Sounds like you guys are ready for spring
---
You can't shake hands with a fist
If you can read this,thank a teacher.Since it's in English,
thank a soldier.
---------------
What could possibly happen
---------------
05 KLR The faster Red one
01 Triumph Tiger Sold
08 KTM 990 Adv S
08 Yamaha 250 WR Sold
09 KTM 530 EXC
Guest
Join Date: Oct 2006
Posts: 308
Nice catch and fix! That has to feel just great!
Now, the dreaded ramp.......I've never done that!
Jamie
Similar Threads
Thread
Thread Starter
Forum
Replies
Last Post
Repair Broken Plastic?

mysticrick

How To's & Tech Guides

32

08-22-2016

11:18 AM

Three Broken Ribs

bimbospencer57

Introductions

3

10-13-2008

08:11 PM

broken clutch hand

Irish07

KLR & Other Motorcycle Related Discussion

10

09-16-2008

09:36 PM

2007 Dohicky

RCTraveler

1987 to 2007 Wrenching & Mods

21

02-14-2007

04:23 AM

another broken doo

gunny

1987 to 2007 Wrenching & Mods

22

10-26-2006

06:56 PM