Join Date: Mar 2007
Posts: 16
Corbin Flat Seat
---
What are your thoughts??? I am thinking about getting one and I wanted to know what everyone thinks.
Join Date: Oct 2006
Posts: 308
I like mine. I think the longest day I've done on it is about 400 miles. Way better than stock!

Jamie
Join Date: Oct 2006
Posts: 331
Mike and I both have the flat after we both tried the dished one. We love them-no problem on long rides anymore. They support more of your legs so that you don't have all your weight right on the bottom of your butt-you know-the stock seat butt killer spot.They do require a breaking in period but you will also feel the difference immediately. I have noticed now when I ride I can tell where my usual seating spot on it is. We have no complaints with ours. The flat lets you move around and stretch your legs and change position after a long day in the saddle where the dished keeps you in one spot. Hope this helps. Kay
Join Date: Mar 2007
Posts: 16
Yeah I am going to get one. I just needed a little bit of feedback to know it was worth the 3 bills I have to drop to get it. Guess i will be working OT this week.
Join Date: Mar 2007
Posts: 64
Best addition I've made to my KLR. Without it I would've gotten rid of the bike.
Join Date: Mar 2007
Posts: 64
Just noticed you're in Sacramento, stop by the Folsom tech day and try mine out before you buy one if you want. You can ride my bike around the neighborhood and get a feel for it.
Seems how you live in Sac you ought to consider going by the Corbin factory in Hollister. It is more than worth the trip to the factory to have a custom built seat. Their customer service at the factory is top notch.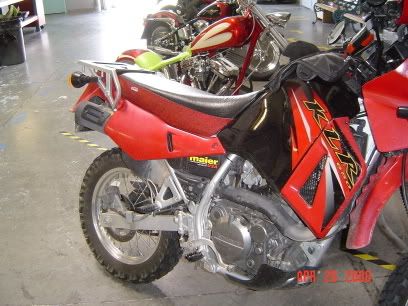 ---
Last edited by SLO-KLR; 03-29-2007 at

11:19 PM

.
Join Date: Mar 2007
Posts: 16
I am planning on stopping by the tech day. And I didnt know the corbin factory was in hollister. it will be a nice ride.

Thanks everyone.