1st Gear
Join Date: Oct 2011
Location: Hermosa Beach, CA
Posts: 21
Engine failure on a 2011
---
Unfortunately, something came loose inside the top end of my engine on the way to work the other day. I felt a weird sensation in the engine, then it lost power completely. At first I thought maybe a line came loose, but it also felt like the engine just wasn't there anymore. It did allow me to pull in the clutch and pull over gracefully without locking up and throwing me at 75 mph on the freeway.

I had it towed to a mechanic to open it up and give me an idea of what they think happened, but I already know there was metal loose where it shouldn't be inside the engine so it can't be good.

Some thoughts that went through my mind are KACR or some other internal part breaking. But what? I replaced the doo about 1,000 miles ago, and besides, this was the top end of the motor I'm fairly certain. Chain in the engine?

I think I'm SOL in terms of warranty. From what I've heard I doubt Kawasaki will do anything for me, but I'm pretty disappointed. Just 12,000 miles on the bike and hadn't even seen its first dirt road yet! It's been my commuter bike for the past couple of years.

If the engine's toast I figure I'll just bring it back home and use it to teach myself how to put it back together (probably with a bigger bore). Any other suggestions? Any other thoughts as to what this could be while I wait for the mechanic's estimate?

Thanks in advance for any help!
5th Gear
Join Date: Jan 2011
Posts: 4,708
Myriad possibilities; impossible to pin the malfunction down without inspection or further information.
One hopes it's not the dread oil starvation syndrome, a damage mechanism that grenades the top end, sometimes flinging the KACR . . .
One hopes you don't find the likes of the following!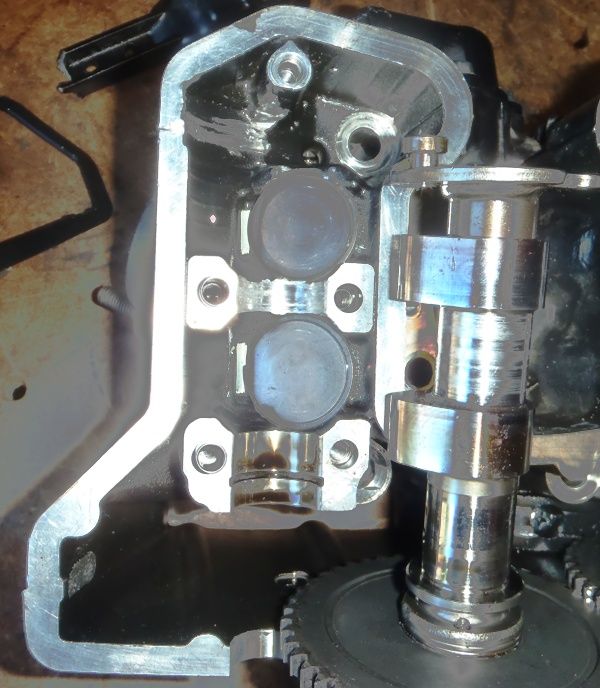 Hey, reckon that's enough; more horrific images exist.
A replacement cylinder head is in the prescription for the cure of ailments like these.
DISCLAIMER: The pictures; ain't my bike!
---
Last edited by Damocles; 11-14-2013 at

06:18 AM

.
1st Gear
Join Date: Oct 2011
Location: Hermosa Beach, CA
Posts: 21
Yeesh, yikes! Those pics do look disturbing. I should know more tomorrow when I hear back from the mechanic. Then I'll likely bring it home to get some experience rebuilding motors. My pics to follow...