1st Gear
Join Date: Apr 2014
Location: NE. Wisconsin
Posts: 35
Broken float pivot post!
---
So, I've got a running $250 95 KLR. It only runs on the choke and dies with any throttle applied so I pulled and cleaned the carb. All was looking good until I dropped the carb body:roll:.. Upon inspection I notice it fell on the longer float pivot post.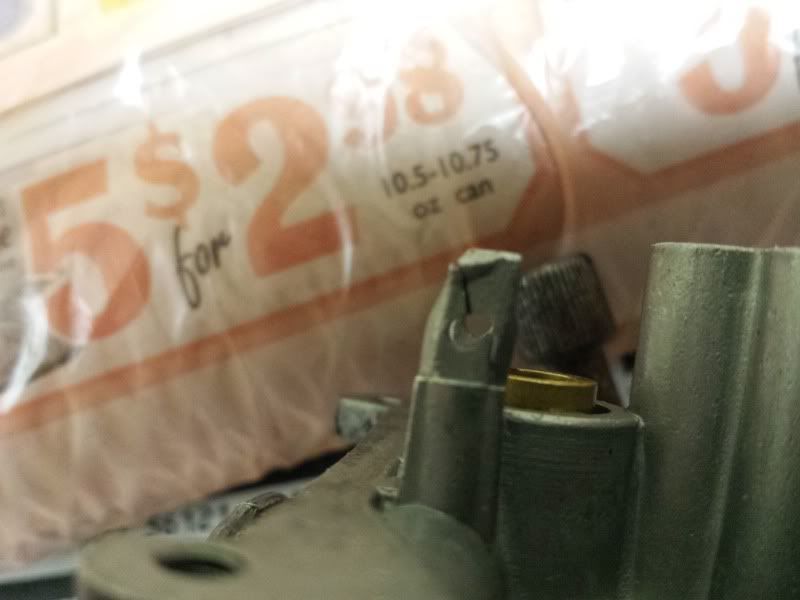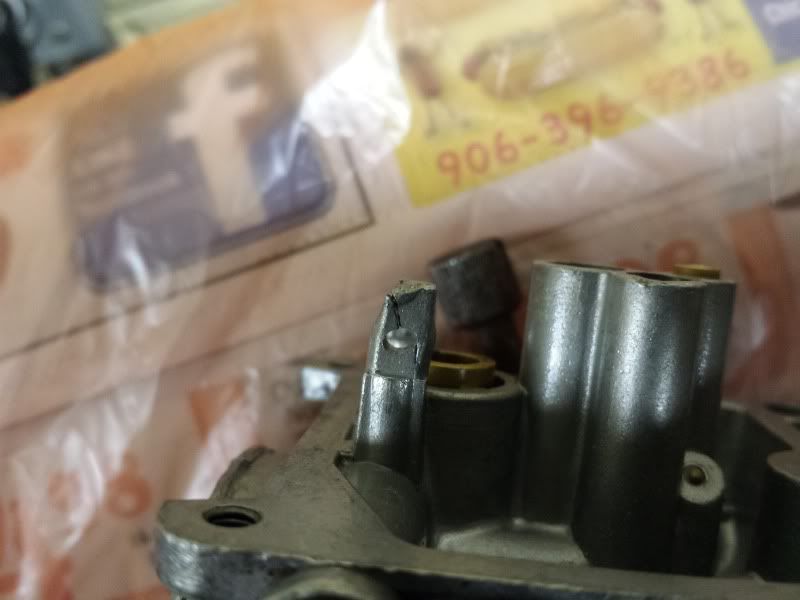 Of course I had to touch it, and the end broke off leaving this.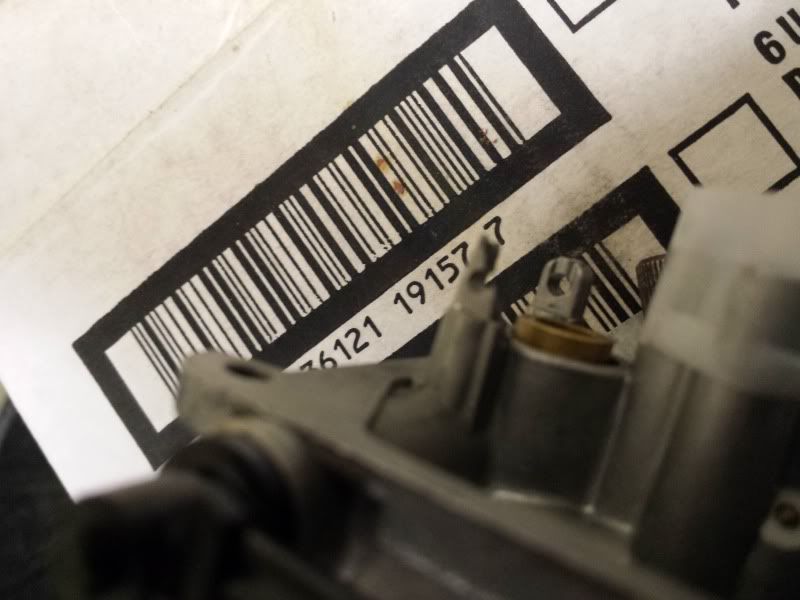 Searched around and found many attempts to repair and wondered if any on here had tried this type of repair. I'm thinking a piece of stainless butted up against the post and epoxied in place, maybe tied in place with some fine wire then epoxied over it?
You could try to repair it, but if it was mine I would try to find a good used carb.
---
1st Gear
Join Date: Apr 2014
Location: NE. Wisconsin
Posts: 35
Don't want to spend that much money. I need to get it running first and ride it to see if everything works first. I think i'll be able to fix it, at least good enough to get it running.
1st Gear
Join Date: Apr 2014
Posts: 42
Any reason why you cant weld it on? (by a skilled welder where you live)
1st Gear
Join Date: Apr 2014
Location: NE. Wisconsin
Posts: 35
Mostly $$. I'd be halfway to an ebay carb. Going to check some vintage bike sites, see what other options people have tried.
1st Gear
Join Date: Apr 2014
Posts: 42
Half way? How cheap is this carb?
1st Gear
Join Date: Apr 2014
Location: NE. Wisconsin
Posts: 35
4th Gear
Join Date: Oct 2013
Location: Chilliwack, BC, Canada
Posts: 1,481
I doubt that welding is an option as carbs are usually a die cast combination of aluminum, zinc and marsupial spit. If it doesn't meld into a blob, I'll be surprised. Haven't tried heat repairing a bike carb. in decades so may be different materials.

Were it mine, I'd use some Devcon or quality epoxy to form a new end after grinding away any displaced metal. Trying to bend carb. material back into place generally results in breakage, IME. I wouldn't bother trying to join any more metal to that end because Devcon or other good epoxy will form a strong area. It will be much simpler to line bore the new hole in line using the other as a pilot if you are boring through epoxy than boring metal, especially if the hole is bored across a joint of metal and epoxy. In that case, the drill will usually walk into the epoxy and make an out of line hole.

Once you have the pin inserted and needle valve seating, set the carb. fuel level by using a clear plastic hose off the carb. drain. That will show the actual fuel level and allow you to adjust for any variations in position of the pin.

I've fixed some carbs. in this way where a passage plug had to be removed or the like.

An alternative is to drill and thread for a screw to come in beside the pin and trap the pin between screw head and post. That requires some precision drilling and threading but not too bad as the die cast is easy to machine. That will duplicate the manner of holding which is used on many chainsaw and other diaphragm pump carbs.
Moderator
Join Date: Mar 2007
Location: Fort Sask , Alberta, Canada
Posts: 3,560
Excellent post NormK.
---
My Kaw Barn - 2004 KLR, 2006 Concours (sold), 1997 Bayou 400.
"It's a friggen motorcycle, it's not supposed to be comfortable, quiet or safe. The wind noise is supposed to hurt your ears, the seat should be hard and riding it should make you shit your pants every now and then. "
<--- Please fill in the 'Location' on your personal profile page. User CP/Edit Your Details

This information makes it much easier for other members to answer/comment on your posts.
Check out durafix.com
They have a low temperature "brazing" stick that should work on carburetor metal.
Similar Threads
Thread
Thread Starter
Forum
Replies
Last Post
Carburetor Float Level

tomatocity

1987 to 2007 Wrenching & Mods

23

06-11-2017

06:23 AM

Stuck Float, I think???

dad

KLR & Other Motorcycle Related Discussion

0

07-10-2009

09:23 AM