Guest
Join Date: May 2007
Posts: 50
Head Mods
---
Hi All

Has anyone every milled the head on their KLR? I know on some motors this can really help in the torque and power deprtment.

How much? 100thou, maybe. Yet then the valves might start hitting the piston...

Just wondering if anyone has ever done this.

phil
Guest
Join Date: Dec 2007
Posts: 7
if your still wondering about that yes it does make a differance i didnt shave my head alot just a c-hair .040 the thing that helped the most on that head was porting and polishing i highly recomend it.
---
Last edited by cantmiss; 01-06-2008 at

12:06 PM

.
3rd Gear
Join Date: Oct 2006
Location: Evansville, Indiana
Posts: 815
2nd Gear
Join Date: Oct 2006
Location: SoCal
Posts: 103
The big bore kit includes a forged piston, better rings, and if you have them do the work, a better bore job than you get from Kawasaki. The result is less vibration, zero oil consumption, and improved torque and horsepower. The improvement is 4 to 5 horsepower.Price for the 685 kit is about $325. Piston has a coated skirt. Wrist pin is also coated.

The stage II head (also available from Schnitz Racing) includes porting and slightly oversize valves. It's beautiful work. Combined with the 685 and some light carb jetting you can get 43 RWHP. The bike just runs stronger everywhere. It's about a 9 to 10 HP increase over the stock bike.

No financial interest, just a very happy customer.

all the best,

Mike
Guest
Join Date: May 2007
Posts: 50
It seems the best results would be in the head. Eevn crate motors from the car manufacturers get the best results from after market heads. How much is that head from Schnitzs?
Thanx eaglemike
2nd Gear
Join Date: Oct 2006
Location: SoCal
Posts: 103
It's about $625 for everything. First class. I know larryboy is running a 685.
Here's pic's of the 703 version of the big bore. This one requires an aftermarket sleeve. The sleeve is cryo treated. The tag on this one is about the same as the head, includes all labor. You can see the difference in wall thickness of the sleeve. No problems with fit in the cases.
703 on the left, stock on the right. 2500 miles on stock cylinder.
The 685 piston looks like this one, just a little smaller diameter.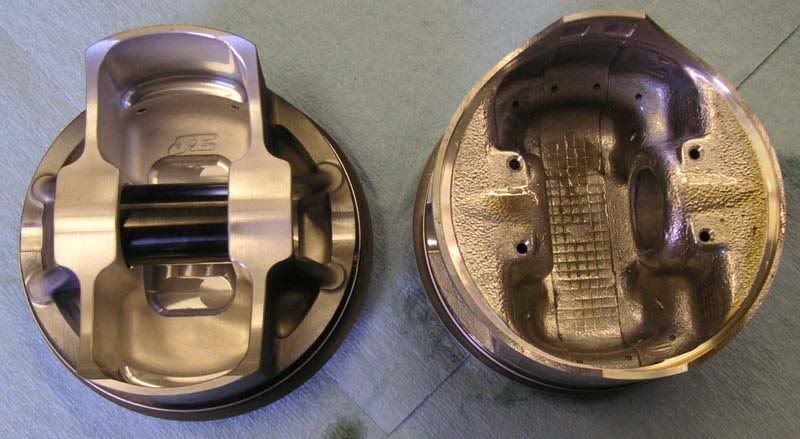 I don't have any pic's right now of the head work. I have one at the shop. I'll try to remember to take a few shots tomorrow and post them.
all the best,
Mke