1st Gear
Join Date: Jul 2007
Posts: 17
New KLR owner question
---
I just worked out a purchase deal for a 2007 KLR in another state. The bike has ~300 miles on it. I'm planning to fly out and then ride it back home. The trip back is roughly 700 miles. So, I'm planning to stop and do the first oil change along the way. I already picked up a filter but have a few simple questions that I hoping someone could help me with. 1. What's the onwer's manual suggested mileage for teh first oil change? I'm figuring it's probably somewhere in teh 500 to 600 mile range...
2. What size wrench/socket is the drain plug?
3. What size wrench/socket do I need to change the oil filter?
4. Is a wrench or a socket & ratchet a better choice for this chore?
5. Is anyone willing to post a picture or two of the drain plug and the filter housing just to help show me the genral configuration?

I'd sure appreciate the help to make sure I bring along the right tools withot having to bring a bunch of unneeded tools. Thanks.
Go ahead and buy yourself a 1/4 inch ratchet and an 8,10,12,and 14MM sockets, I grabbed deepwells. These will pretty much tear your bike down with the included tool kit. I think the drain plug is either 12 or 14 mm, I can't remember exactly. The bolts on the filter housing are 8mm. When you remove the filter don't forget to pull out the metal shaft and put it into the new filter. It will only go in one way, so is not a big deal to worry with, also be mindful of the oring gasket for the housing and take note the housing lid goes on one way also with a tab that will go to the bottom. Torque the bolts to 6 inch pounds, no more if you can help it. I purchased an inch pound torque wrench at harbor freight. If you buy one, make sure it will read from around 20 to 200 inch pounds as you do a lot of adjusting below the 100 inch pound setting. The drain plug is the only large bolt on the bottom end of the engine just behind the skid plate.
This picture shows the location of the filter housing on the right hand side of the motor.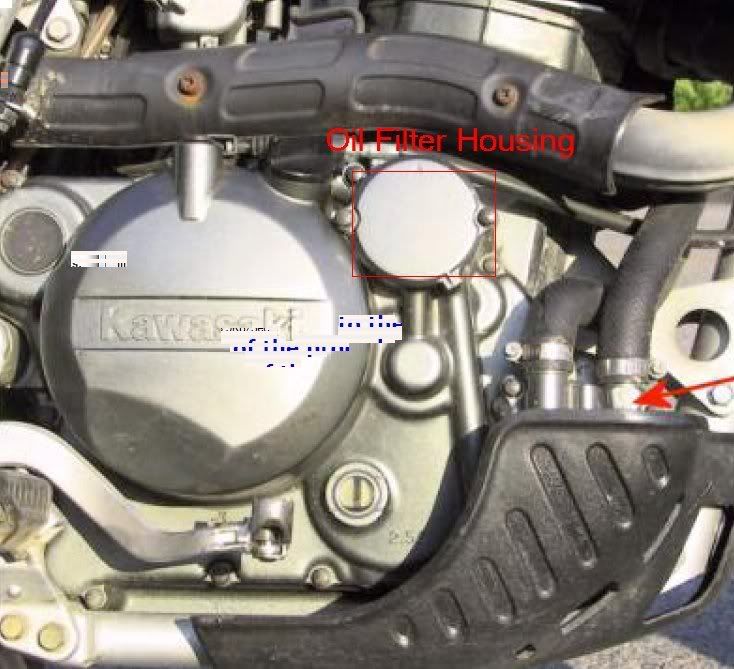 ---
Last edited by DXKLR; 02-07-2008 at

10:45 PM

.
1st Gear
Join Date: Jul 2007
Posts: 17
Perfect. Just the info I was looking for.
Thank You.

One follow up please, Do I have to remove the skid plate to get to the drain plug?
No problem, glad I could be of help.
I recommend you go to this web site and take a look around at the mods one should do to the KLR starting first and foremost with changing out the doohickey asap.
http://www.klr650.marknet.us/pdfdownloads.html
1st Gear
Join Date: Jul 2007
Posts: 17
Thanks. I've been lurking (reading and learning) for a while... the doohickey is top on my list of mods when I get home.

So, can I get to the drian plug without removing the skid plate?
yes you can. You might grab a short extension for your ratchet too. Comes in handy.
1st Gear
Join Date: Jul 2007
Posts: 17
5th Gear
Join Date: Sep 2006
Posts: 4,700
Oil Filter Tube
---
Just because I like to remind people, don't forget to take your oil filter tube out of your old filter and stick it in your new filter before installing it.

Many of the tubes get thrown out, and you need this tube to complete the flow circuit and actually filter the oil.
The Clymer repair manual is a great help if you're going to wrench on the bike yourself. Gives the service intervals and stuff. Readily available on the net. Look around - prices vary quite a bit.

Another thing I found while looking for a Buell manual is a couple of sites that will sell downloads in PDF format of various manuals at about 1/4 the price of the hard copy manual.

Wondering if anyone has any experience with these manual downloads?

Wealth of experience and knowledge on this forum. You're in the right place.
1st Gear
Join Date: Jul 2007
Posts: 17
Thanks for the reminder on the tube and suggestions for a service manual.

I don't want to start another "Oil" debate or string but do have one easy question. What weight oil is recommended in the owners manual?