New Pellican Side Cases
---
OK finally got my Pellican 1430 cases in and well just had to get them on.
I like the way they turned out and work great. I also will have room to add a 3 inch tube on the back of the left hand side case and a 2 inch tube on the right hand side case. I have some pics of the mounts we made. Rather simple and we were done in about two hours. I know these style cases and the mounts aren't for everyone, but for my style of riding this will work nicely. Feel free to leave questions, comments, good or bad.
Pellican 1430 Cases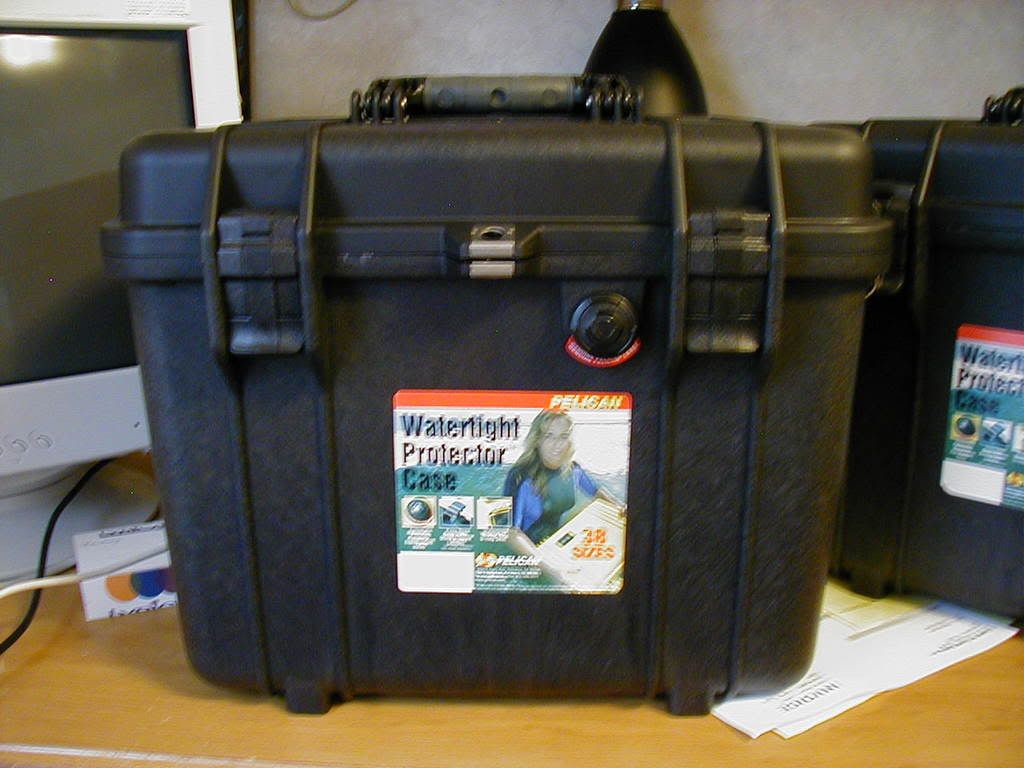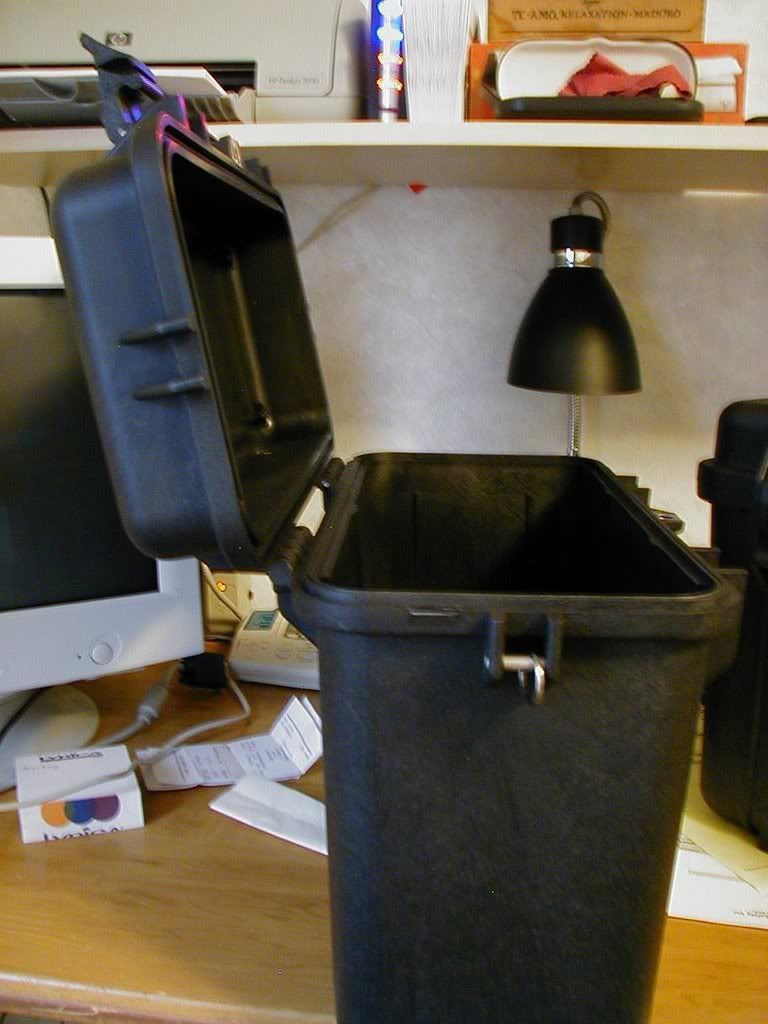 Drilled with mounting plate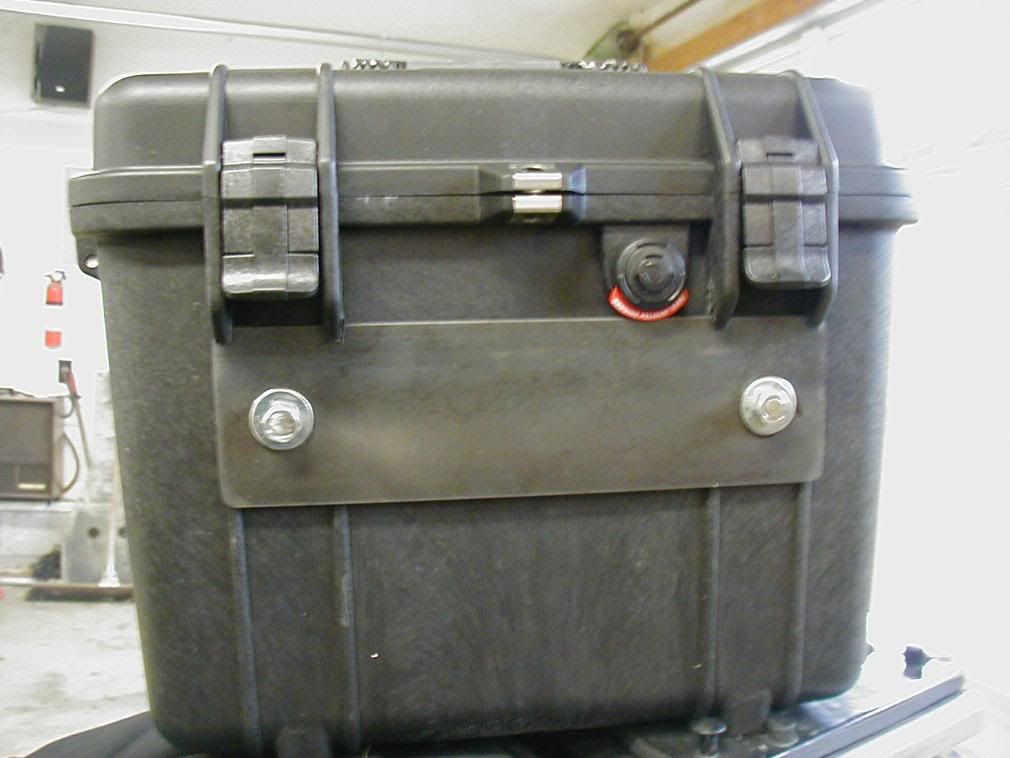 Plate welded to 1X1 thick wall tubing. Tube is 4 inches long with a 1/2 inch thread bolt welded into one end. The bolt goes into the existing hole the rear turn signals used to be mounted at. Yes we had to enlarge the OEM hole.
Box mounted with two 3/8 carriage bolts
rear view of bolts, these will be cut off flush once the mounts for the 3 in. Tube are installed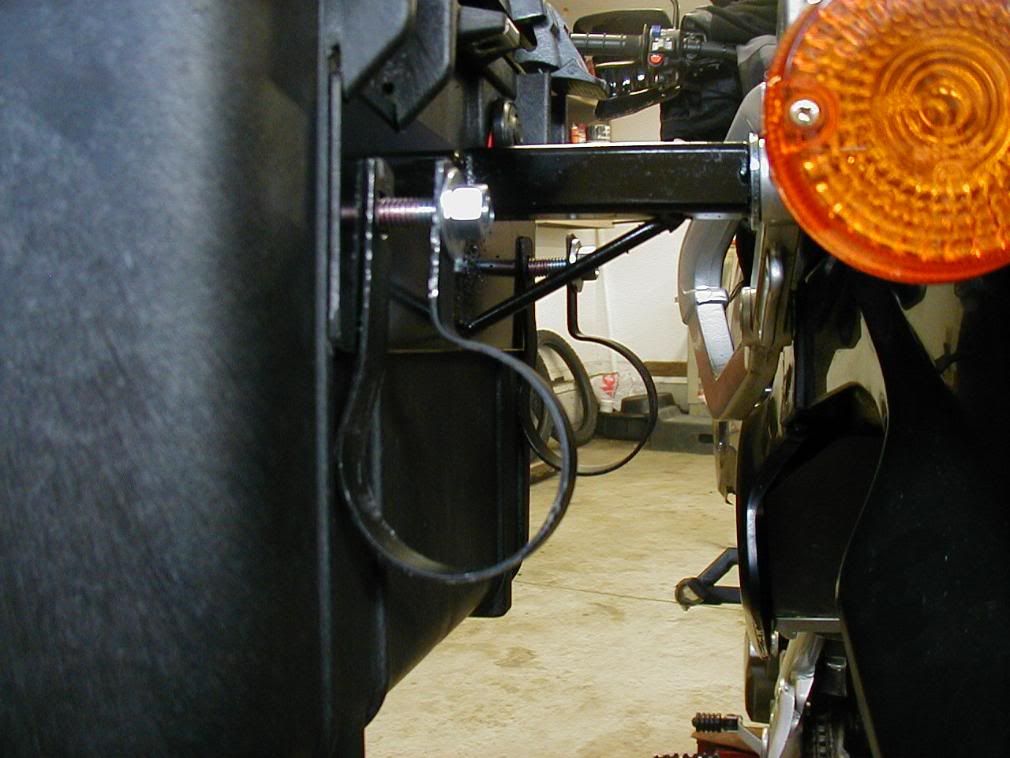 The finished product...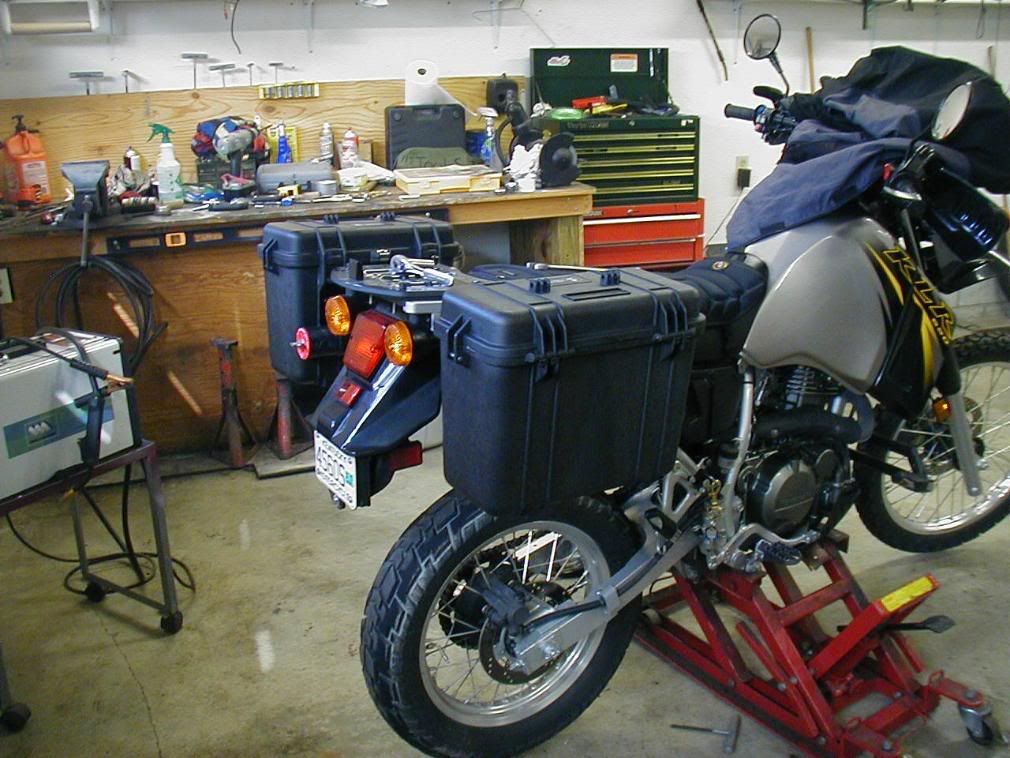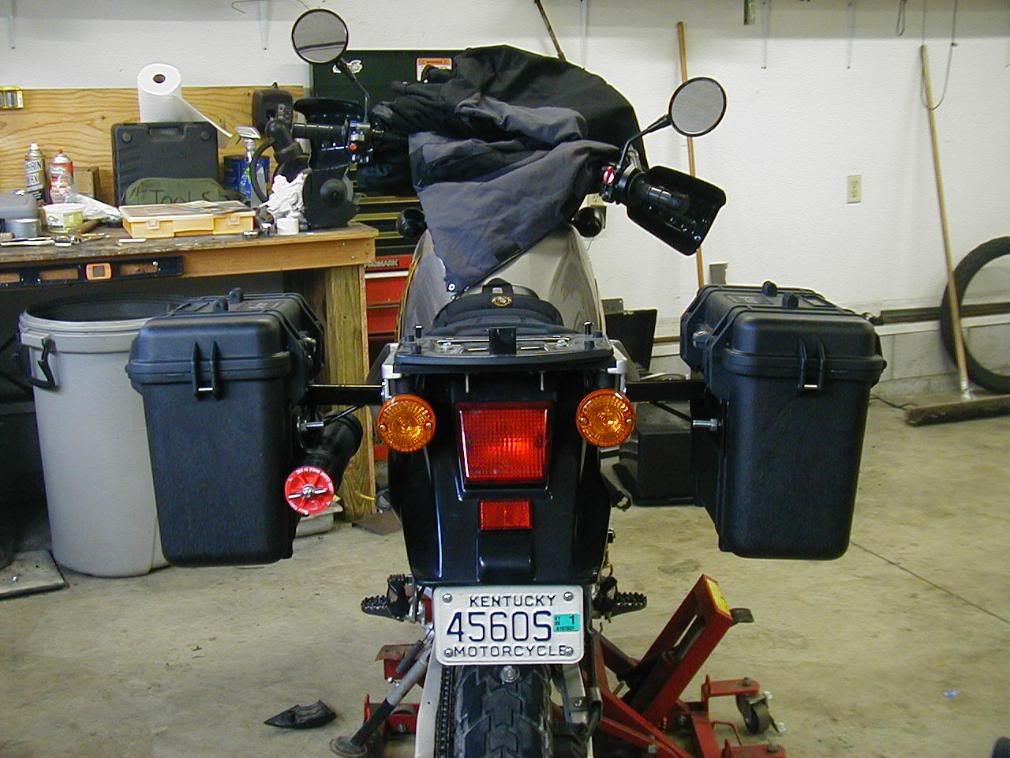 With trunk on..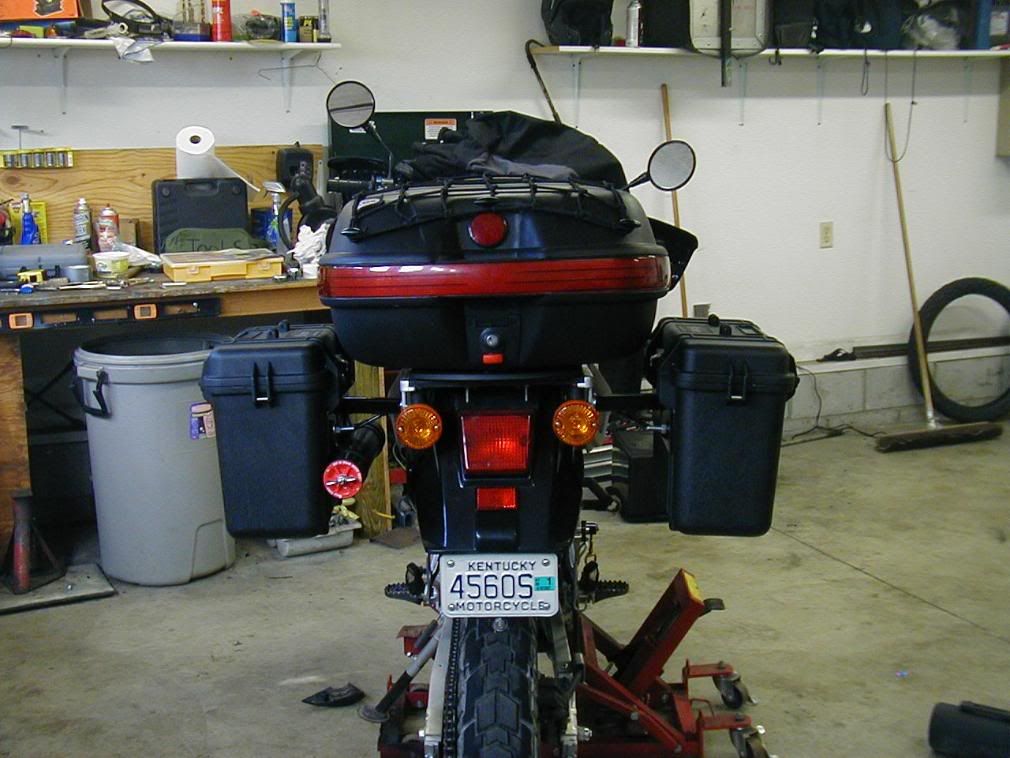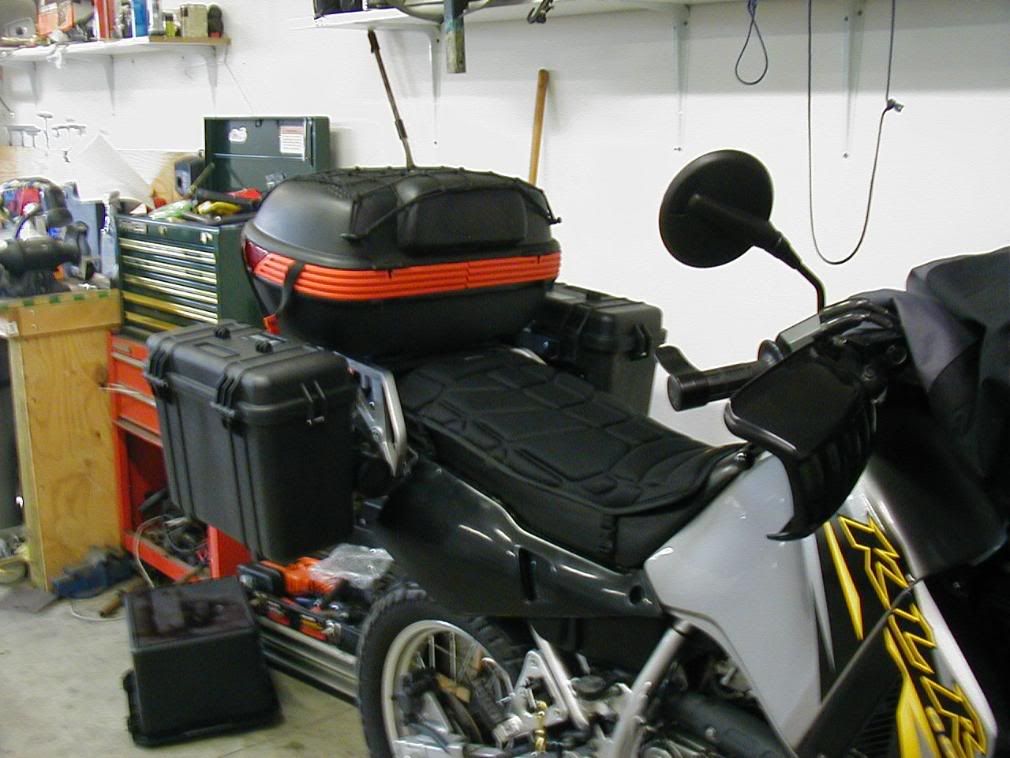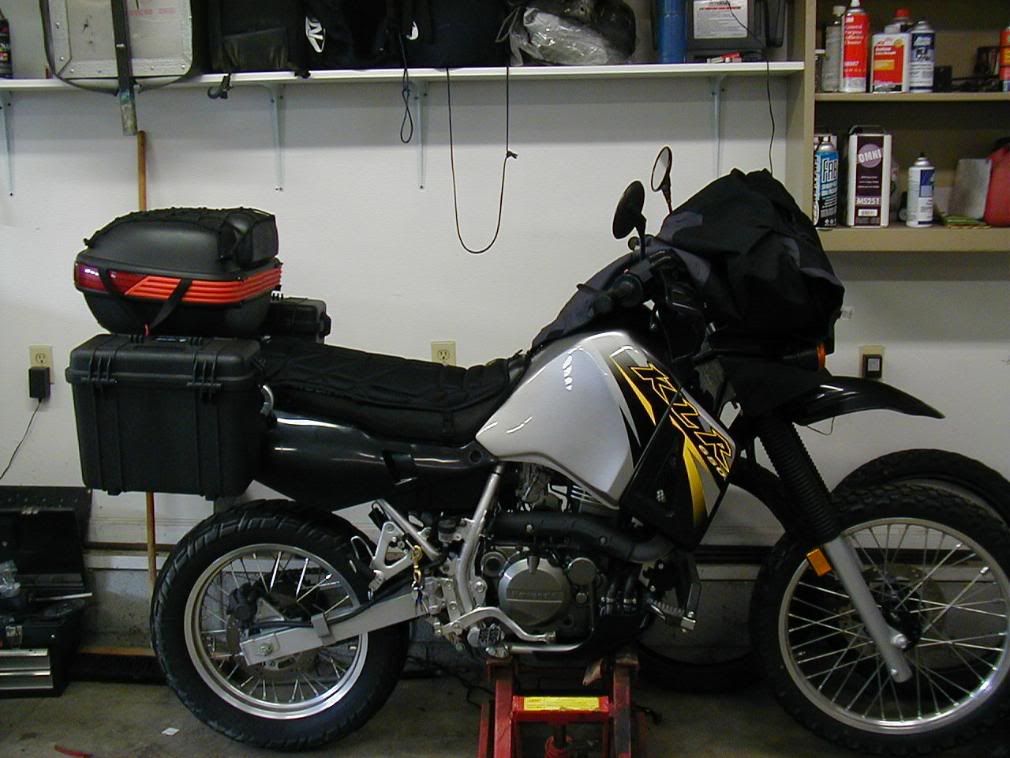 In anticipation of my Jardine pipe being delivered Wed. I went ahead and removed the Hurrendously heavy OEM pipe. I think we are going to take it and do some experiments with gutting it and so forth to see if it helps or makes things worse.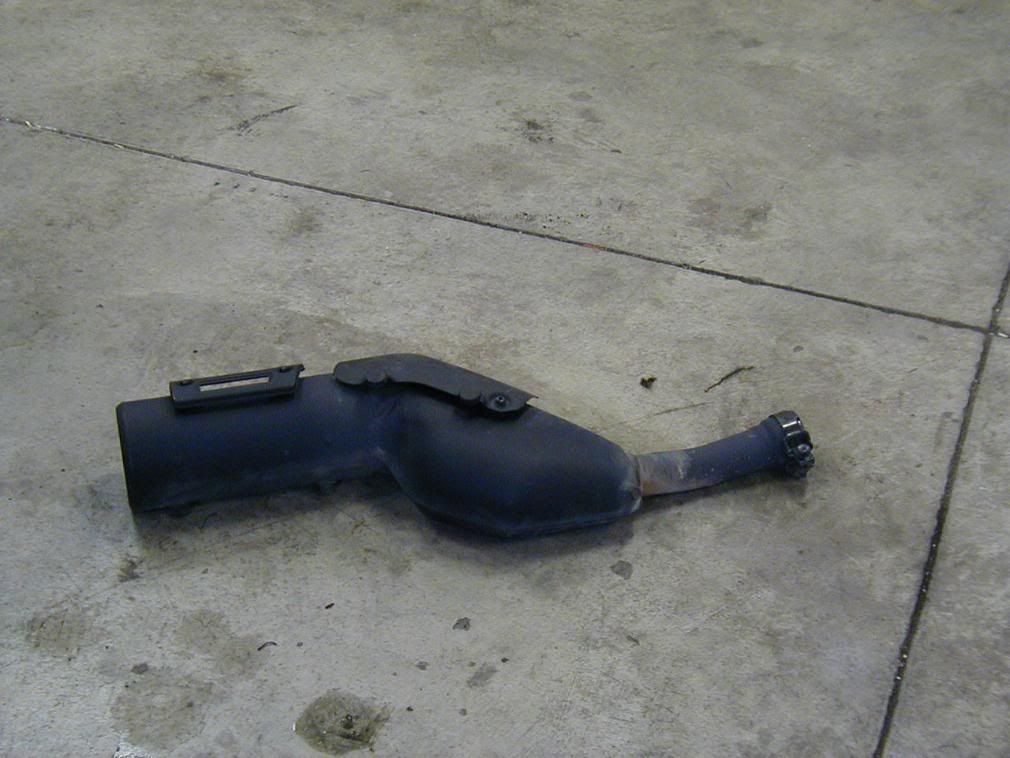 That was enough work for today. I'll be doing a report on the installation of the Jardine soon as I get it.
You have way to much time on your hands !!!!!

(but those are talented hands) nice job.

I think when I am ready for the hard case thing, I will just buy your bike....

BackRoader
LOL, yeah I get told I have too much time for piddling....My buddy and I love being able to make and do what we need to these bikes, I think I get as big a kick out of farkeling as I do riding.
1st Gear
Join Date: Jul 2007
Posts: 17
They look great. The craftsmanship on the mounts also looks top notch.

One observation/thought:
The mounting bracket looks like it's out aways from the luggage rack. Without any lower support bracketing, I wonder if you'll have a large moment arm force on the luggage rack mounting point and end up cracking the luggage rack mount over time due to stress and vibration.
Thats a concern that we are going to work on...I don't do very much off road stuff, so the only vibration would be normal road, but over time with weight I can see how it might cause an issue...I may do something with a crossover bar, running across the top of the rack just under the mount for the trunk..
3rd Gear
Join Date: Sep 2006
Location: Franklinville, NC
Posts: 650
Nice job !

I myself would add another bracket from the front of the mount to fit to the other bolt on the rack, and a cross bar just under and around the rear. to prevent floppage. you'd be amazed what happens back there.
---
- Joe
HighSpeed Hiker- DV o5'
Quote:
Originally Posted by larryboy
come awn... it's not far...it'll be fun..
sorry I can't....... I'm fishing today
1st Gear
Join Date: Jan 2008
Location: Pell City Alabama
Posts: 39
I would think something around the rear is a must myself too DX. Hey, don't forget to try the "silencer" and give us a report on that deal. Good job on the cases!

What do you get for a tune up...lol.
Excellent ideas guys, thanks. We may look into more of those this week or next week.
Looks really good. I'm from California where we can legally lane-split traffic and I think they are kind of wide. Is this a one off mod for your bike only or can you make this for me and how much? Of course I wouldn't want them that wide. How much did you pay for the pelicans? Thanks.
The pelicans shipped was just under $150... Yes these are a one off, that my buddy and I just came up with on the fly. The reason for the width is being able to open them with my trunk mounted. At this width they just barely clear the trunk for opening. If you don't have a trunk you could mount them to the point of just wide enough to miss your exhaust pipe. Now I do know a lot of people buy $75 racks off ebay to mount them to. I just like making stuff and hate spending money if I can make something, for lil $$$. The other reason for my mounts is I like the bags mounted up higher and back further, I like the clean look and the trunk and boxes just tend to blend together better.