5th Gear
Join Date: Sep 2006
Posts: 4,700
Sub Frame and Doohickey Day
---
Well, a few of us got together on Saturday and performed a couple Sub Frame upgrades, and swapped out a Doohickey on Major Lagg's '05.
We first took care of Sub Frames on my and Major Lagg's bikes. All went very well, and while I was at it, I installed a new spark plug and also removed my factory choke cable, since I had broken the lever last fall. I installed a plunger choke button directly on my carb.. All this work went just fine, and since Double A had been so kind as to grab a bunch of hardened bolts that came in his Sub Frame upgrade kit, it went very cheaply at $5 for each bike..
(we are KLR riders, after all)
We then went after the Doohickey on Major Lagg's bike.. It was a refresher for Double A and I, since we hadn't done this in over 2 years on our own bikes.. Instruction sheets were used as in addition to memory..
After tearing the first section of case off of Lagg's bike, we found the spring had been broken from his '05, at under 5,000 miles..
We're just glad he hadn't attempted to adjust it since he purchased it last fall!!!
Broken spring..
Major Lagg, working on his bike..
Double A putting the rotor back in..
Buttoning up the cases after finishing..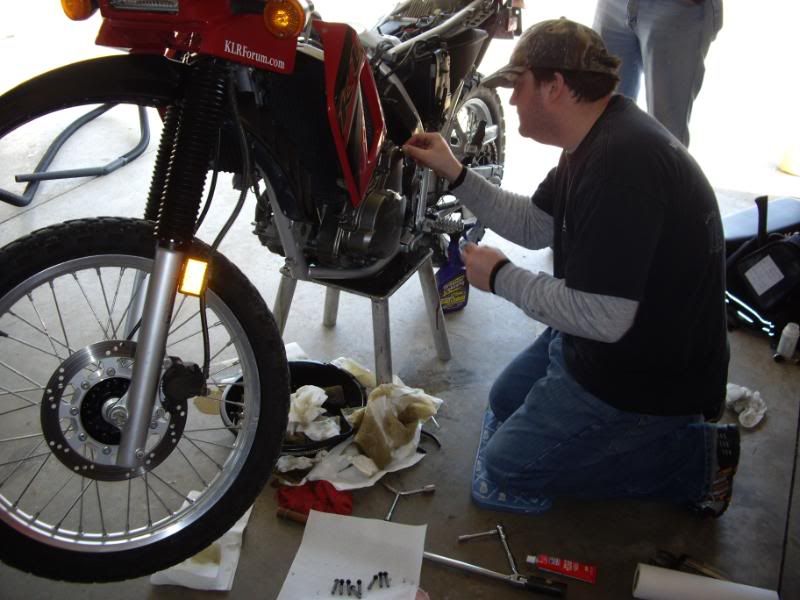 Remounting the skid plate..
60/40 resting on my 4 wheeler, with his Lime Green KLR, beer in hand..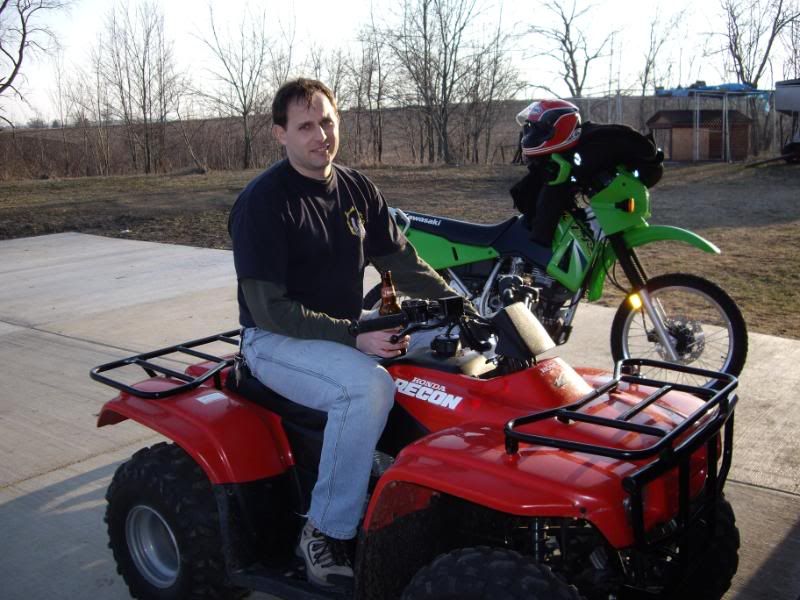 A well deserved beer after everything was done..
Double A's Evil Cat, helping..
And Double A's not so evil dog, actually staying out of the way..
Now, we have only 3-4 more friend's KLR's in the area to address with bolts and doohickeys.. Hope they bring beer, too..
---
Last edited by Paper; 04-06-2008 at

05:50 PM

.
It was a great time..and very productive. One of the few projects I have undertaken and not had anything compound into a bigger dilemma. Everything went real smooth.

We got a lot of stuff done in six hours, thanks to them I have improved my bike, learned a bit about motors, and made a few friends!

Looking forward to a great year of riding and adventuring.
Thanks again Paper and Double A, see ya around.

..lagg
---
majorlagg

The way that you wander is the way that you choose,
The day that you tarry is the day that you lose.
Sunshine or thunder, a man will always wonder,
Where the fair wind blows.
Great pics. Where did you get the choke plunger button? Any pics? I remember having one of those on my first bike 84 XL100. Thanks. Paulo
---
94 KLR,tank guards,sw motech centerstand,Doo done, african switch,mirror dampners, powerpegz, twisted throttle fuses, aluminum skidplate, Bigcee shark disc and jug holder and subframe upgrade, progrip grips,maier handguards/brushguards, avon distanzias,fmf q4 exhaust, headlight guard, handlebar risers, billet rear brake reservoir bracket and guard, dual star shifter,garmin 2820 gps, tmod,disc cover, pcv mod,corbin flat
5th Gear
Join Date: Sep 2006
Posts: 4,700
The plunger was picked up from Bike Bandit. It was actually a part number from a KLX250 and was around $25.

I'm going to be away from my bike (and home) for the next week, but I'll pop a couple pics when I get back.
Looks like you all had a very productive day......The strange part I am seeing more and more, is that all of the broken springs I have seen personally for the doo, has been on 05's.
I am waiting to see the pics of the choke plunger, I have been debating doing this mod. Is it relatively easy to reach? Of course I only have mine choked for just a few seconds when first starting it on colder mornings and I am off of the bike getting things ready while it warms up, so would think it wouldn't be too hard to reach under there and push or pull it.
5th Gear
Join Date: Sep 2006
Posts: 4,700
Well, they must have had a bad batch of springs, or maybe the spring machine was making very tight bends..
If I remember correctly, the reason Mike had found for all the spring breakage was a sharp bend on the spring ends. His bends are two 45 degree gradual bends, rather than one sharp 90 degree bend.
As far as the plunger, it's pretty easy, but the new plunger is small and tucked up tight against the carb.. It's gonna take a bit of getting used to being able to find it without looking for it.
Sweet operation, though. It pulls out to a detent, and stays there as it's warming. Give it a little push and it pops back to no choke.
Like your bike, mine only needs a bit of choke to get started. After 10 or so seconds, it'll settle into a slow idle, gradually increasing to a regular idle as it warms for the next 30-60 or so seconds (depending on outside temps).
---
Last edited by Paper; 04-07-2008 at

08:32 AM

.
5th Gear
Join Date: Sep 2006
Posts: 4,700
Here's a photo of my new choke plunger..
It's dirty under there..