Guest
Join Date: Jan 2008
Posts: 12
Leaky front brake
---
Yep, the leak is somewhere in the caliper. Any experts that can tell me what I'll need to fix it? Brake works fine. Nothing siezed. Haven't taken it apart yet. Would like to order parts before taking it off the road. Anywhere to find a blowup of the front brake?

Thanks,

Bob
Here is the link for kawasaki parts diagram:
http://www.kawasaki.com/DefaultFrame...HOWVEHTABS%3d1
Here it the blow-up of the front brake: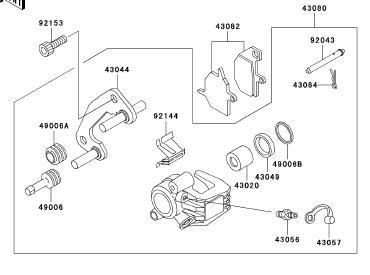 It sounds to me that the piston o-ring is leaking, or there is a crack in the housing somewhere. Also check the banjo fitting where the hose connects to the caliper.
Guest
Join Date: Jan 2008
Posts: 12
DXKLR, That's just what I was after. I hate to go into anything blindly. It's bookmarked for further reference.
I've got a good selection of o-rings at work so I'd better go take things apart so I've got a chance of fixing it for the week-end.

Thank you very much!

Bob
Always welcome...