Neutral
Join Date: Jul 2008
Posts: 10
new bike issues
---
Just did my first oil change on my "new" '02 KLR with 5,500 miles. Previous owner says he used Pennzoil regular oil. Stuff that came out was black and smelled burnt. Did the complete oil/oil filter change with the stock oil from the stealer, 10-40 stuff. Drained what I thought was every last drop, held the bike upright too. Cleaned the oil filter area with paper towel until you could damn near eat off it. When I refilled it, ran it for a bit then stopped and checked the oil level the oil seemed black still! Is that normal? Went for a quick spin and the shifting didn't seem as smooth as it was before. Is that possible? The other "issue" I need to check is the constant backfiring on deceleration. The PO had an aftermarket exhaust that he gave me with the bike. He said it was too loud for his neighborhood. He said he didn't change the needle valve or adjust it. I've left the stock exhaust on (for the same reason) but figure I may have an exhaust leak due to the PO changing it out. Where would be the most likely place for a leak and are there any gaskets that may need replacing? I'm thinking that the connection between the header pipe and engine exhaust outlet should be o.k. as I don't think it is disassembled at that location to put on an aftermarket exhaust, is that correct? Thanks for any wisdon you can share.....
---
Last edited by 92869; 07-31-2008 at

02:30 AM

. Reason: add text
Some oils just get black real quick. I have been using Castrol 10w40 the last couple of oil changes and have really liked it. It keeps its honey color a lot longer and the shifting is a bit more smoother. The oil from the dealer did get black faster than I liked. It's probably ok, but maybe run it a couple hundred miles and change it again to get any residual oil out. Normally backfiring on decel usually means a lean condition, but since you are using the factory exhuast I would think that is not the case. There is a valve in the carb, called a decel valve that helps richen the mixture when you decelerate to keep that popping/backfire sound from happening. It is possile it has gone bad. Just behind the rear brake fluid resevoir is where the muffler pipe slides onto the header pipe. You can check the clamp there. The only other place is the header pipe to the head, but if that were leaking you would hear it constantly, not just on decel. You might also consider going ahead and removing the factory plug from the air mixture screw and opening it up about 2 turns from being softly seated. This will help with cold starts and any mild surging you could have.
Heres a pic of the decel valve or offically known as Air Cut Valve: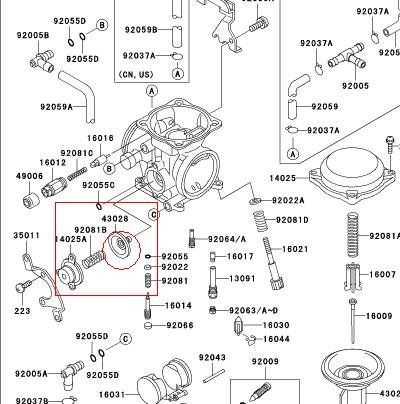 Prices
Join Date: Aug 2008
Posts: 3
Smelly Oil
---
I just wanted to post a quick reply to your question about the oil. If the previous owner used a standard automobile engine oil, you may have some bigger issues. While pennzoil is know to leave an abnormal amount of gunk in your crankcase, automobile engine oils carry friction modifiers that are not good for your wet clutch. This may explain the burnt smell. You need to make sure that the oil that you use has a API JASO classification. Vavoline makes a good one as does Mobil. Hope this helps.
Neutral
Join Date: Jul 2008
Posts: 10
I am in fact now using the "factory" oil from Kawasaki. I've noticed that "Rotella", an oil from Shell that is found in bulk at WalMart is popular by members of this and other KLR forums. Does that oil not produce problems with the clutch too?
Join Date: Aug 2008
Posts: 3
You can use a diesel engine oil like Rotella. They do carry some friction modifiers, but not to the extent that a gasoline engine oil does. With that said the JASO classified oils will give you the longest life for your clutch. If you are having shifting problems I highly recommend that you switch to a synthetic oil and to maybe a 20w50. I would start with the synthetic, going to the heavier grade will decrease your mpgs a little.
One item of note, for a bike that is still under warranty(I assume that yours is not), using a non-JASO oil(like Shell Rotella) will void the warranty.
As long as you stay with an oil that is "NOT" energy conserving, it will say "engergy Conserving" on the front of the oil container, it should be fine for the clutch. That would end up being most anything of 10W40 and up and most diesel oils. People have had luck with synthetics too..
Join Date: Aug 2008
Posts: 3
DXKLR makes a excellent point that i failed to mention. Make sure that the product is non-energy conserving and the oil will work. JASO is a japanese spec, that is related to performance and reliabilty. The american specs tend to be geared more to environmental concerns and fuel economy. Diesel engine oils are based on american standards. It is my belief that a oil that carries the JASO spec will provide greater protection. My two cents.
2nd Gear
Join Date: Oct 2006
Location: SoCal
Posts: 103
As an FYI, some guys from Shell ran the Rotella 15W40 Triple T thourhg the JASO tests, and it passed...... I don't have the link, but I've seen the posts, and it's not myth.

all the best,

Mike
Join Date: Jul 2007
Posts: 38
if you check Shells' website under FAQ it is JASO cert.
I used the factory Kawi oil at 500 miles and switched to Amsoil Synthethic 10w-40 at 3,500. There is a good comparison of all motorcycle oils, and the Amsoil came out on top, or close to it in almost all categories. The bike seems to like it so far after about 400 miles.