Side Rack Stiffiner Bar
---
So I bought side racks from dirt racks for my soft wolfman bags and plan to put mounts for my givi E21's. Wondering if it is worth while to fab up a cross stiffener bar. I see that other racks do have this bar and thinking it might be good to put one on.
Just wondering what y'all think pros and cons of having or not having stiffener bar.
My bike with racks no stiffener bar.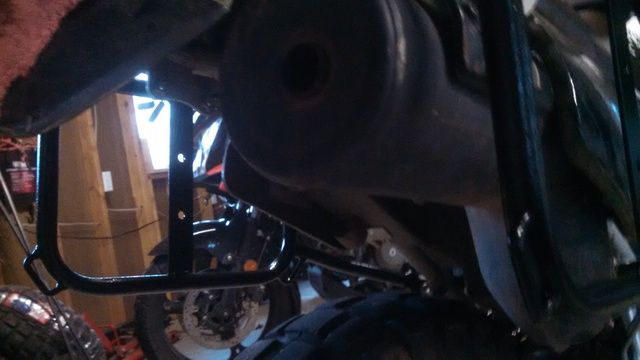 I probably should have bought the pannier mounts but....
---
'01 KLR 650, '09 Suzuki DL650, '08 Suzuki Bandit 1250, '16 CRF1000L, '09 KLX 250s
2nd Gear
Join Date: Feb 2013
Location: Maine
Posts: 368
I don't see how those mount. Even the most spread out mounting points are all forward unless you bolt to the stock turn-signal holes (which would put extra leverage on the rack mounts).
I mounted mine at the stock rack mount and passenger-peg mount and there's a sturdy bar across the back.
I've dropped mine many times in snow, mud, sand, and probably stuff I can't recall. My racks and luggage are still well centered after the abuse.
In my view there are no cons. It wouldn't be necessary if you never drop the bike.

The pro is that it will help to keep from bending/breaking the rack when you do drop the bike. It also helps to reduce metal fatigue on longer rides on rough roads.

I don't use any racks with my through-over soft saddle bags and in tens of thousands of miles on dirt road routes have not had a problem.
Neutral
Join Date: Jan 2014
Posts: 9
I've got the same set up from Dirt Racks. I welded up a nut behind the bar for mounting the gas cans to them and I bolt my pelican cases to the bike that way (using the Dirt Racks mounting kit). I have not done a cross-brace bar, and I have yet to crash hard on the racks/hard cases but I have dumped the bike repeatedly in the past (including more than once having the KLR tumble over top of me while crashing downhill) while using the racks with soft cases without issue. So, yes, I am wondering about the value of a cross brace verses the potential of weakening the actual rack in the process.... It is likely that I'll eventually pick up some round stock and cut/fabricate something that I can clamp to the original racks ... "one day". Yes, I am a tad worried about stress and vibration on the two mounting points over time as I ride on rough roads/trails and I tend to "ride above my pay grade" regularly.
Similar Threads
Thread
Thread Starter
Forum
Replies
Last Post
OEM rear rack and side pieces

outdoorgb

KLR & Other Motorcycle Related Discussion

1

05-13-2011

08:16 PM