5th Gear
Join Date: Sep 2006
Posts: 4,700
How many have a "Stock" bike, and why?
---
I'm a farkle hound.. I might have more money in doodads, upgrades, and geegaws than the actual value of my '02 KLR..
I admit it.. I don't have a problem with the changes on my bike, and I made them to personnalize the bike, upgrade ride/reliability, or for personal comfort..
I'm often asked why I do this, and it's something I do to most bikes in order to make it mine.. Put it this way, if you put 100 KLRs in a parking lot and attempt to hide mine in the bunch, I'll find my bike in seconds..
But what I'm wondering is the reasoning behind those who don't change thier bikes.. I'm not pointing fingers, and I wouldn't even consider calling you wrong. Your bike is YOUR bike, and nobody has a right to tell you to do something unless they're making your payments for you..
Most KLR owners I know are like myself, and tend to change their bikes.. Some more than others.. But I'm interested in hearing from those who don't..
I understand if you feel your bike is how you want it, right from the factory.. I know with my Goldwing, I felt pretty close to that, with my only changes being an electrical outlet (for electrical clothing or running an air mattress blower) and adding a GPS (I don't like Honda's version, and I can switch mine between the Wing and the KLR)..
That's all I've done to one of the bikes that is typically seen with extra lights and numerous stuff hanging off of them.. So, you see, I understand not changing bikes..
That said, tell me about your stock bike and why you like it that way.. I'm always interested in this!!!
3rd Gear
Join Date: Oct 2006
Location: Evansville, Indiana
Posts: 815
I have on 06' green.

Minor farkles include...

Highway pegs because I'm tall and like to stretch out on the backroads during longer rides.

11+ Windsheild that I put on as the cold sets in to get a some rides in here and there during winter.

And then the best farkle ever bought... Wolfman explorer tank bag. I use the sucker constantly and couldn't live without one. If something happened to it, another one would be here priority mail.

I just added a 1500 pelican to the back rack and starting to regret it (see.. some things are best left alone). I like it, but hate it...still deciding what to do with it.

I don't farkle because nothing will ever meet my expectations (except for the Wolfman) and it'll just be a waste of money. I was/am never big on saying the stock KLR is close to being a dirt bike, it simply isn't. However, I have taken this thing in places no KLR should really be and had a blast doing so. I get more skilled at riding it every time I take it offroad and continue to challenge myself with harder trails. I would take this KLR anywhere I took my KDX200 at this point. I always know my limits and crazy, insanse uphills and downhills are never my thing so I never rode them with the KDX and won't with the KLR either. I also hate mud, so that's out unless forced in to a situation. Basically, I have reached the level of riding I wanted to get to with the KLR and done so in stock form. I can't say I ride as fast compared to my KDX, but fast isn't that important to me. I ride fast enough to keep the KLR and me happy and relatively safe.

Basically, in stock form, the KLR has done everything I asked of it and more while trying to get out of a few spots that I didn't intend to be in. The one thing the KLR definitely lacks is interstate manners. I don't care how much crap can be put on the thing I will not enjoy hours upon hours of interstate on it. Why bother tossing money away trying to fake an interstate cruiser. Even with that said, I have ridden 140(2 hours) or so intercrap miles straight through when I was tired and wanted to blast home. Any more intercap then that would probably have me wanting to sell the thing.

When I saw the KLR online it was a no brainer the bike wasn't intercrap worthy so my plans were always to trailer the shitty roads we have around here to get to the good stuff 4,5 & 6 hours away. Until the last year or so I really didn't feel skilled enough to attempt many of the areas that are available. The bike simply had way more abilities then I did. Now that I'm caught up to the bikes potential it's time to get some trips setup.

I don't necessarily "like" it stock, but I accept it stock. If the KLR will do everything I am willing to do in stock form, then it seems silly to beef up the suspension, rework the engine, add more lights, tweak this tweak that to simply continue riding at the same level I have already reached. I have no intentions on riding hardcore dirt bike trails, not even with my KDX. So I see no purpose to improve the bike for trails I never intend to attempt.
---
Last edited by TheWanderer; 10-05-2008 at

05:37 PM

.
I only added a doohickey and a SS front brake line. For what I use the bike for, it's fine as is. I bought it specifically to commute and explore (mostly paved) on. I love it.

(Plus I need the farkle money to put into a Guzzi I am restoring.)
Mine is bone stock....
yeh right!
---
PPMC # 3

Yo! To the brothers.

RIP Darin, Ben, Carey


"I am the muffin man"
5th Gear
Join Date: Sep 2006
Posts: 4,700
Quote:

(Plus I need the farkle money to put into a Guzzi I am restoring.)
OOOOOOOOOHHHH!!!!
What Guzzi?? I'm guessing an 850 T3..
Huh? Huh??
Photos!! Must have photos!!!
Quote:
OOOOOOOOOHHHH!!!!
What Guzzi?? I'm guessing an 850 T3..
Huh? Huh??
Photos!! Must have photos!!!
I do have a T3, but it's been finished for 10 years: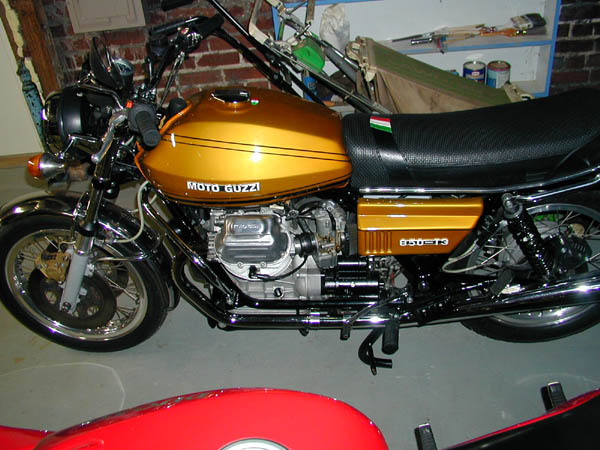 The one I am working on is an ex-race LeMans I:
I consider La Roja Grande to be pretty much stock. I've just added a few things to help her do her job a little better.

Center stand (best addon)
Highway pegs (second best addon)
Blackhawk handlebar bag
Kawi soft tailbag or Nelson-Rigg tailbag sometimes
Nelson-Rigg sidebags sometimes
Ebay side rack and big Plano boxes sometimes(way too big for everyday)
PVC fishing rod carrier sometimes
SS brake lines and speed bleeders (no change in braking noted)
Eagle dohickey (and adding a torsion spring when I get around to it)
MBZ pcv mod
22cent mod and finger adjustable low speed needle
AGM battery
SAE connector for tricklecharger, etc
1" bar risers
Removed handguards
KLX choke assembly - may go back to stock w/Stead plunger fitting
Relocated turn signals/ license plate

Will/may do:
80-90% street tires in next 1k miles
fork brace
replace or trim front fender
install 16t sprocket (probably when I do torsion spring)
may try tall windshield if I find a cheap one
may do Afrika switch

Didn't realize I'd done all this till I started listing it. I still consider her pretty much stock -- modded to me is bored, stroked and blown (he said with a grin).
My bike is pretty much stock except for the following:

Coretech Tail bag-This is my favorite add-on.
Rad Guard/Hwy pegs- not sure of the brand
Aluminum Skid Plate
CA emissions removal
PCV Mod
Renthal Cross Bar Pad
Small bag attached to inside of windshield-Ugly but handy
Acerbis Fender Brace and drilled front fender- I don't care what anyone says, It has helped alot.
Wal-Mart Atv seat cover-This my 2nd favorite add-on
Removal of all body stickers, except Fuel Tank stickers.
Added Round BMW/KLR sticker to fairing.
Handguards removed.

What I will put on soon (I hope):

Pelican 1430 hard cases/Rack
Taller windshield
Tank Bag-Not sure which one yet
DooHickey
685 or 705 big bore kit.

As soon as I sell my Sportster I will do the above. Just can't bring myself to sell yet, even I haven't ridden her in over a year.

My thoughts were to use my KLR as a second bike, but now that I have fallen love with her, she has been my primary ride. So with the type of riding I do, the engine upgrade and storage are a must. This will make an already great bike better. I unlike others, I like to get on the Interstate and ride to where I want to take her off road. After spending most of the past 20+ years riding Harleys and Triumphs, the KLR is like being on a Cadillac. This Red KLR will be my touring bike, and my newly aquired CR 125 (with big bore kit) will be my hardcore dirt bike.

That is what is and what will be for my KLR, I'm certain she will be with me for many, many years to come.

Mark
Bone stock here
---
'06 KLR650
'06 DL1000 V-Strom
VTX1300R....Gone
1st Gear
Join Date: Oct 2006
Location: Western Oregon
Posts: 33
Mostly stock on my 01'. I replace things that break or wear out with after market stuff. Smashed my stock skid plate up, replaced with an aluminum one. Doohickey spring broke so I upgraded to a EM one.

Thats about it except for luggage options.
---
West

Beer Bacon Backcountry