Neutral
Join Date: Aug 2016
Posts: 3
IMS Tank install question/help
---
I recieved my IMS 6.6 gal tank today for my 2007 KLR and am confused a little with the instructions. It says modifications must be made to the vent tube configurations. It goes on to say that there are 2 tubes connected to the rear of the stock tank, one black with a blue strip and one black witha red stripe and i need to use the supplied t to connect these. Here is my issue. I only have one vent tube coming off the stock tank which is solid black and it runs down the back of the frame. There is no other tube or place to hook one up to the stock tank. So my question is do i actually have to run the supplied gas cap vent tube that comes off the IMS tank to the rear of the bike and connect it to that single tube or just cut it down and let it hang in the front of the tank. I hope this doesnt sound to confusing but i'm stuck.
---
Last edited by madcopp94; 08-16-2016 at

08:39 PM

.
5th Gear
Join Date: Aug 2010
Location: Kelowna, B.C.
Posts: 2,839
just cut it and loop it over the handlebar and behind the cluster.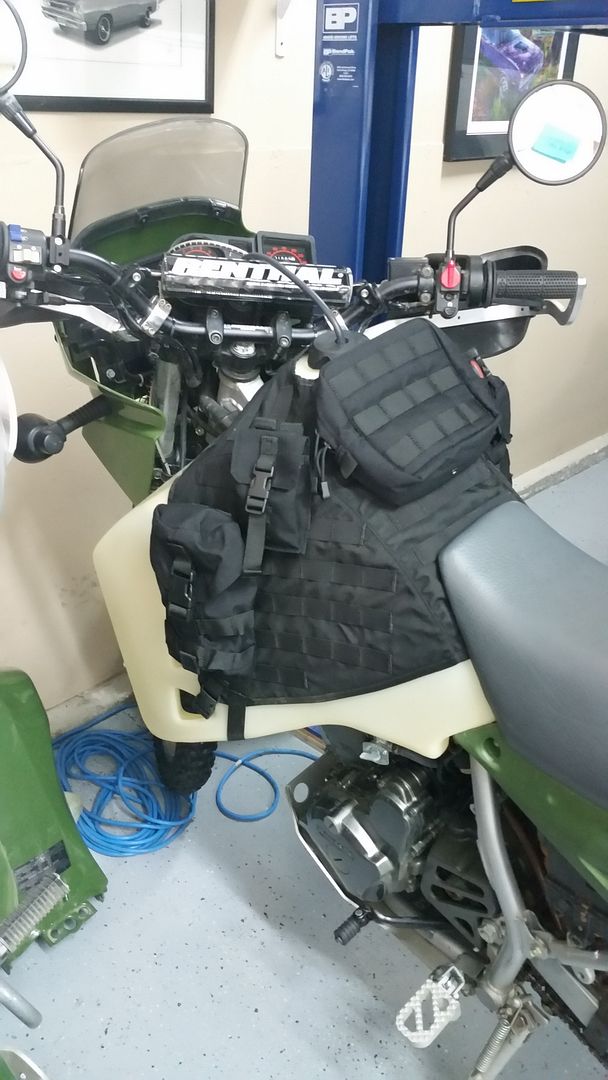 Dave
OverDrive
Join Date: Nov 2009
Location: Lander, Wyoming
Posts: 6,502
---
pdwestman
Modify at "YOUR OWN RISK"!

Still riding my 1987 KL650-A1. 85,000+ miles & counting
Hi,
Off topic so sorry for that; however what make is that tank cover/holder?
Thanks


Sent via Tapatalk
5th Gear
Join Date: Aug 2010
Location: Kelowna, B.C.
Posts: 2,839
Thanks. Think I'll be investing in one. Cheers


Sent via Tapatalk
Similar Threads
Thread
Thread Starter
Forum
Replies
Last Post
Can you paint an IMS tank?

SkiBumBrian

KLR & Other Motorcycle Related Discussion

16

03-22-2017

11:10 PM

IMS Tank

JLindy

KLR FAQ's & Useful Links

19

09-15-2010

11:40 AM

IMS Plastic tank question

Hardyreels

1987 to 2007 Wrenching & Mods

4

01-19-2009

10:28 AM