Replacement parts not available?
---
I've searched this site and the internet in general for a couple days now.

My radiator shrouds ( tank shrouds?) are pooched and I was looking for replacements. I thought that, surely, a KLR would have aftermarket support ( I mean, it ran the same body for TWENTY years...), but I'm not finding anything. Just looking for a new pair of black shrouds. Seems like nothing at all is available. A few sticker kits here and there, and a handful of universal fit fenders.

Also...piston rings for a first gen. Are there really NO replacement rings being produced for these bikes??! I was considering a simple re-ring and hone for my 40k mile bike when i got around to swapping in the KL 600 gears, but the bike runs great. Fresh rings I'm up for, but I'm not going big bore on a fine running bike.

It's my understanding the first gen rings got superceded by the second gen rings, which use an oil ring setup that require a different size ring groove. So...what do you do? Install second gen top rings, reuse 40k mile oil rings and hope for the best? Or are your stuck having to rebore? Buy a stock bore piston/ring set for a second gen? But then, doesn't that design have oil control issues?

To be honest, I'm kinda disappointed. As long as I can remember, the KLR was supposed to be THE bullet proof bike you could buy, go travelling and find parts all over the world. But basic body panels and piston rings are not available, and I'm seeing tons of threads on -30k mile bikes with burnt heads, failed rings, etc...what gives?? Maybe the introduction of the second gen caused the door to start closing on the spares availability for first gen parts?

I'm not disappointed with the bike at all. I love it! But parts availability seems to lean mostly to the farkle side of things, which I'm not particularly worried about.

I'm really hoping I'm just too dumb to find these parts, and my search keywords have been all wrong.

Thanks in advance for any info and insight.
5th Gear
Join Date: Aug 2010
Location: Kelowna, B.C.
Posts: 2,820
I'm sure others will chime in but FWIW;
- plastic and a few other parts are the only things that are a bit hard to find. I share your disappointment on the plastic; Acerbis or someone should have stepped up with aftermarket Gen1 KLR plastic long ago.....but since they haven't made Gen1's for almost 10 years, the business case will get even worse. Luckily most of the plastic is available from Kawasaki. If they don't have the year you are looking for remember that a sticker change will change the part number but usually several years used the same plastic. Look here for info on what years came in which colors.
http://www.watt-man.com/uploads/KLR_Timeline.pdf
. A member on the KLR facebook group recently bought all new black plastic from Kawi.
Additional thoughts on plastics; many people swap tanks for an IMS that doesn't use the shrouds so there are often take-offs available on Ebay and other places. Also there are numerous ways of making the stock plastic look better; many paint them but I'm not a fan. Hydrodipping looks great and various vinyl wraps and products work too. I did a combination of the heat gun trick, a couple new pces and FactoryEffex numberplate background and clear on mine and they look great if I do say so myself.
With regards to the rings.....I'll be blunt; there are many KLR's with 100,000 miles that haven't ever had their engine's opened up.....and a few with 120,000 - 130,000. If your bike is running well and not showing an oil burning problem, I'd leave it alone. Someone with more knowledge on the subject than I will probably chime in but using Gen2 rings isn't likely an option as the piston/rings changed in 2008 (and a couple times subsequently). As there were widespread issues with the early Gen2 rings, I certainly wouldn't be trying to install any of those!
My advice; run it until there is a problem and when the bike actually does need a rebuild, buck up for the 685 kit from Eaglemike as it has more benefits than a simple rebuild - lighter piston/less vibration and correspondingly less stress being a big one.
The KLR is far from perfect but they have excellent reliability once a few simple things are addressed, unsurpassed longevity and parts are really very common though you might have to go aftermarket or used in some cases.
Hope this helps,
Dave
Thanks for the info. I'm curious where the fella you mentioned found his new plastic. I'll see if I can find what year ( if any) used solid black plastic and go from there.

Edit: Looks like 2007 was the only year for black plastic. Thanks for the link! I'm on the right path now...
---
Last edited by shinyribs; 08-21-2016 at

01:57 PM

.
1st Gear
Join Date: Jul 2016
Posts: 22
The engine parts I can understand, but the plastics? My KLR is a rough and tumble machine. She's beautiful because of what she is and what she does. It's got nothing to do with how she looks.
5th Gear
Join Date: Aug 2010
Location: Kelowna, B.C.
Posts: 2,820
I'm one of those people who likes to keep his bikes looking good; it's a habit from my racing days, a clean bike makes it far easier to see problems before they turn into bigger problems. if my plastic is broken or badly scratched/faded, it gets replaced.....just like any other part on the bike. I also use my bikes offroad extensively so they take periodic dirt naps.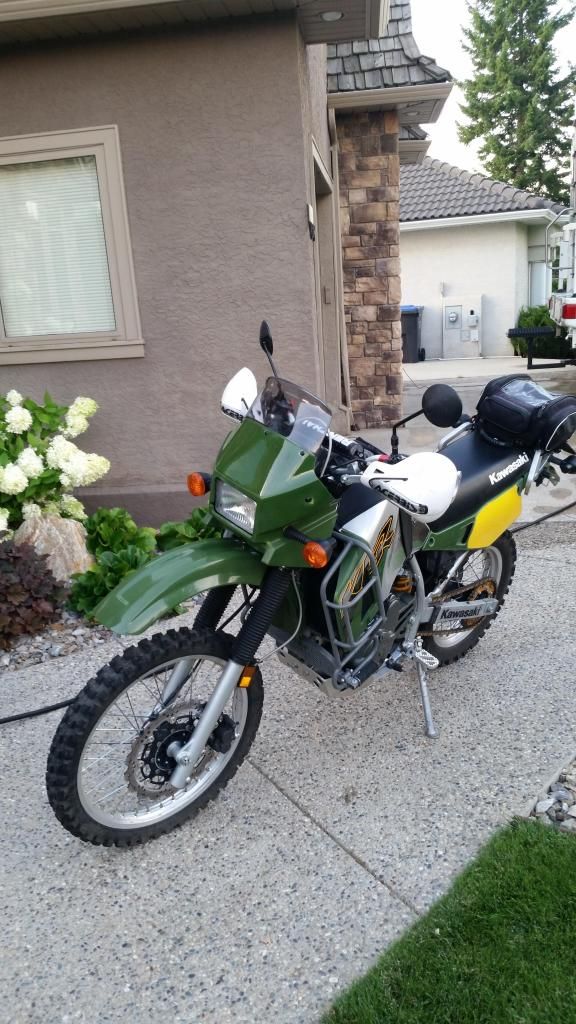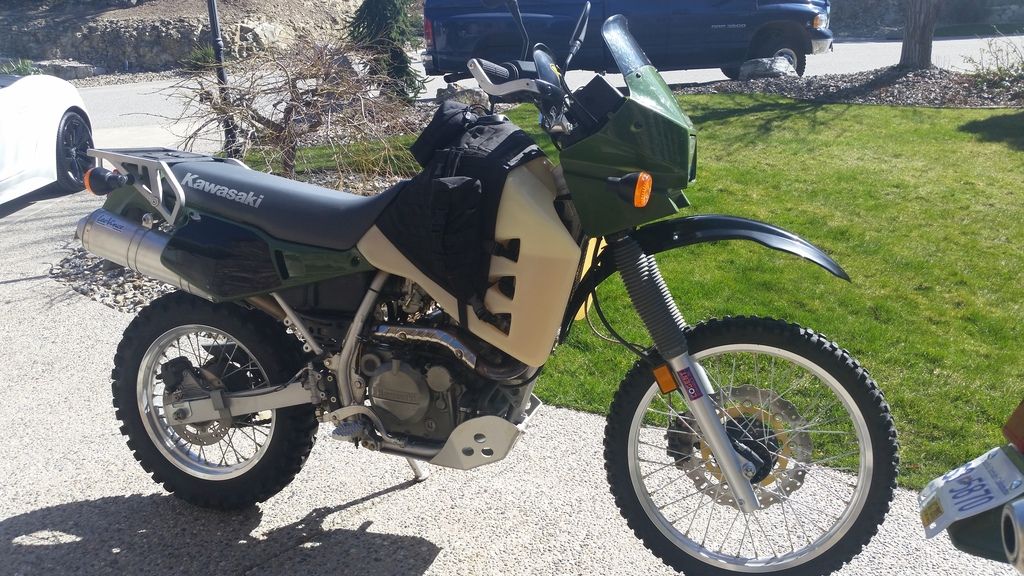 Dave
4th Gear
Join Date: Oct 2013
Location: Chilliwack, BC, Canada
Posts: 1,481
I have a bunch of good used pistons here so if someone needs a later piston to re-ring and engine, let me know and we can work out best how to ship.

I'd like to get rid of them but hate to toss parts which someone might use.
I like to keep my bikes in good shape, but scratches and such don't really bother me. But, speaking of rough and tumble, that's why I'm surprised there is a lack of replacement plastics. These bikes get beat on.

Scratches are not a big deal, but busted up and shattered plastics are a different story.

And riding with cracked/shattered plastics is very bad. I've still got a scar where cracked plastic caused me a trip to the ER and quite a few stitches. If i hadn't been riding with a busted side panel it with have been a simple off.

I've got a cracked rad shroud and seeing it just gives me bad vibes.
Dave, what crash bars are those? Man, they really tuck in nicely! Any complaints?
5th Gear
Join Date: Aug 2010
Location: Kelowna, B.C.
Posts: 2,820
They are the Happy Trails Paris Dakar "Nerf Bars". No complaints though I recently switched to an IMS on that bike as well; the IMS bike just felt better and the IMS is 12-14 lbs lighter than the stock setup + bars. ....never mind never worrying about chips, dents, rust and being able to get rid of the stock gas cap/vent system.

Looked better though.

Dave