1st Gear
Join Date: Apr 2017
Location: Spain and Gibraltar
Posts: 89
Plastic/Polythene fuel tanks.
---
Does anyone have an opinion on these plastic fuel tanks?

My 1988 KLR650 was standing for many years without use with the result that the stale fuel seemed to cause the tank to be very rusted internally.

I cleaned the tank with a very powerful rust cleaner plus shaking it around full of old nuts and bolts, however fine rust deposits are still passing through the petcock filters and ending up in the float bowl.

Now that I'm using the bike again and getting very attached to it (just like an old girlfriend) I don't want fine rust to pass through the carb and maybe wear the bore and piston.

The eBay images of these plastic tanks don't look very appealing but I suppose they can be painted to improve looks?

Any opinions would be very much appreciated.

James.
5th Gear
Join Date: Aug 2010
Location: Kelowna, B.C.
Posts: 2,833
James,
There are options; there are products to recondition the inside of tanks......classic car guys do it all the time; you can buy a used tank in good condition as all Gen1 tanks are the same; lastly, I'd strongly consider the IMS 6.6 as it addresses a number of issues: no rust, no dents, no scratches, it protects the rad without using 11lb crashbars, has a slimmer feeling, carries more fuel or the same amount lower and (depending on color) you can check the fuel level from 10' away.
As far as looks......I'm a form follows function kinda guy so I like them;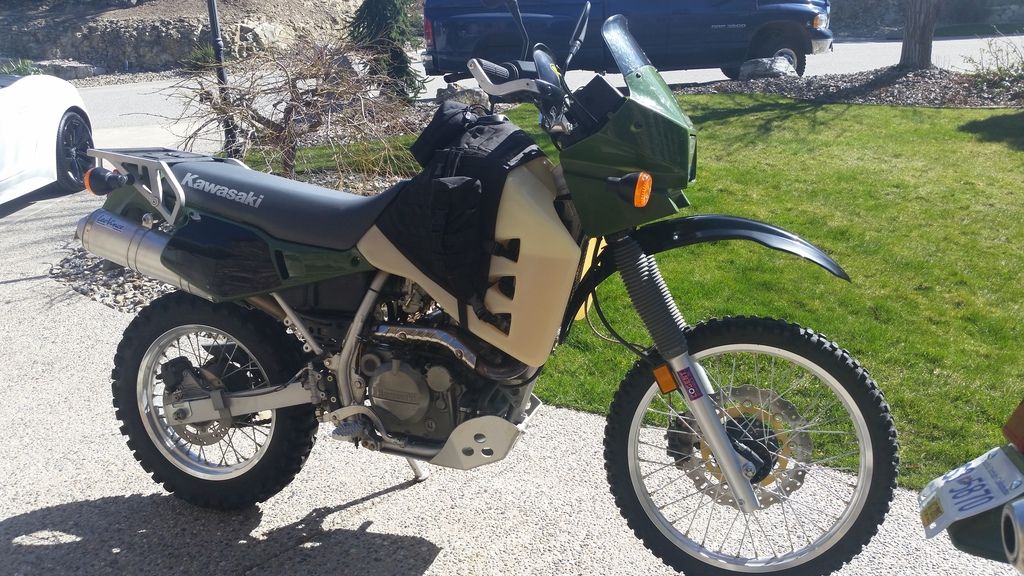 Cheers,
Dave
5th Gear
Join Date: Aug 2010
Location: Kelowna, B.C.
Posts: 2,833
Oh and people occasionally try to paint an IMS tank but it almost never works out well.

Dave
1st Gear
Join Date: Apr 2017
Location: Spain and Gibraltar
Posts: 89
Thanks Dave, I can see from the photo that your bike it's around 3/4 full
I'm not too worried about colour and looking at your bike with the tank bag fitted it looks very nice.
I would suspect that to have my tank professionally de-rusted and coated would cost about the same as the plastic tank. However tanks like yours only seem to be available in the USA or Australia, the initial price is OK but shipping to Spain is almost as much as the tank
James.
1st Gear
Join Date: Apr 2017
Location: Spain and Gibraltar
Posts: 89
Topic resurrection
---
I eventually solved my rusty tank problem after getting fed up with changing the in-line fuel filter and regularly removing the carburettor for cleaning.

I removed the drained tank from the bike along with the filler cap and petcock.
I managed to get a grit blaster nozzle in and get off the surface rust. The next step was to clean out the tank with compressed air.

I bought a rust dissolver and a two part epoxy resin pack from a local paint store (see photos)

After sealing the filler port and petcock openings, I left the rust dissolver in for 24hours then rinsed and thoroughly dried the tank.

I mixed the two component tins of epoxy and poured it into the filler opening. This I 'sloshed' around making sure that every part of the tank had been coated.
After draining the excess resin from the pet cock opening, I left the tank to dry in the sunshine.
The following day when I was satisfied that the resin had cured I reassembled the petcock and filler cap.
I then refitted the tank to the bike but still left it for another couple of days before putting in fresh petrol/gasoline.

That was last year and it's still running perfectly clean fuel into the carburetor.

The total cost of materials was something like 35 Euros.
---
No trees were harmed creating this message, however some electrons were very inconvenienced.
Pretty in Pink, dunno why
Join Date: Feb 2009
Location: Redondo Beach
Posts: 8,097
I know that I am going to burn in hell for this; I've known this for almost 40 years. It's time to come clean.

In order to try and avoid the ire of at least one member, I am going to be somewhat circumspect.

I once had a motorcycle that had a fiberglass tank. That tank leaked where the petcock fitting was molded into the tank. This motorcycle's marque began with an "N" and it's model designation included a reference to not wearing underwear.

In order to seal the tank I used this same sort of resin, just 40 removed in the formulation. It worked for quite a while and was still gas-tight when I got rid of it. I have often wondered if it has lasted to this day or if I am, somewhere, being cursed as a "dipshit previous owner". Given the state of resins 40 years ago versus today, I suspect the latter.
---
Tom
[email protected]

rdoo.com
"On the way downtown I stopped at a bar and had a couple of double Scotches. They didn't do me any good. All they did was make me think of Silver-Wig, and I never saw her again."
-Philip Marlowe
"'Why'
and
'How'
are words so important they cannot be too often used."
-Napoleon Bonaparte
Sting like a butterfly.
Noli Timere Messorem
1st Gear
Join Date: Apr 2017
Location: Spain and Gibraltar
Posts: 89
Like you, it's still probably going strong
https://en.wikipedia.org/wiki/Norton_Commando
---
No trees were harmed creating this message, however some electrons were very inconvenienced.
2nd Gear
Join Date: Apr 2007
Location: Sacto
Posts: 101
The IMS tanks are an excellent practical solution. Some of these do have fitment issues with petcock sealing, but those just take an hour or two of craft to sort out. In my experience they are rugged and reliable and a KLR worthy accessory.
If looks and appearance are important, the IMS plastics can difficult to deal with 'cause they don't typically take paint well. But, there are some tricks to deal with these issue.
The challenge is the porous nature of the plastics which do pass fumes (volatile solvents) through the wall of the tank and these interfere with the adhesion of either paints or even sticky backed graphics or decals.
I've seen some very clever work done with sticky graphics, where the user drilled hundreds of tiny holes in the graphic to allow fumes to pass through rather than build up and attack the adhesive.
Also, out of the box thinking required, skin the tank with custom tailored fabric, like 600d nylon in any color and pattern that your imagination can develop.
Dang ole KLR has always been a bit of a canvas to some of us.
---
Last edited by foo; 01-19-2020 at

04:32 PM

.