1st Gear
Join Date: Apr 2017
Location: Spain and Gibraltar
Posts: 53
Plastic/Polythene fuel tanks.
---
Does anyone have an opinion on these plastic fuel tanks?

My 1988 KLR650 was standing for many years without use with the result that the stale fuel seemed to cause the tank to be very rusted internally.

I cleaned the tank with a very powerful rust cleaner plus shaking it around full of old nuts and bolts, however fine rust deposits are still passing through the petcock filters and ending up in the float bowl.

Now that I'm using the bike again and getting very attached to it (just like an old girlfriend) I don't want fine rust to pass through the carb and maybe wear the bore and piston.

The eBay images of these plastic tanks don't look very appealing but I suppose they can be painted to improve looks?

Any opinions would be very much appreciated.

James.
4th Gear
Join Date: Aug 2010
Location: Kelowna, B.C.
Posts: 2,398
James,
There are options; there are products to recondition the inside of tanks......classic car guys do it all the time; you can buy a used tank in good condition as all Gen1 tanks are the same; lastly, I'd strongly consider the IMS 6.6 as it addresses a number of issues: no rust, no dents, no scratches, it protects the rad without using 11lb crashbars, has a slimmer feeling, carries more fuel or the same amount lower and (depending on color) you can check the fuel level from 10' away.
As far as looks......I'm a form follows function kinda guy so I like them;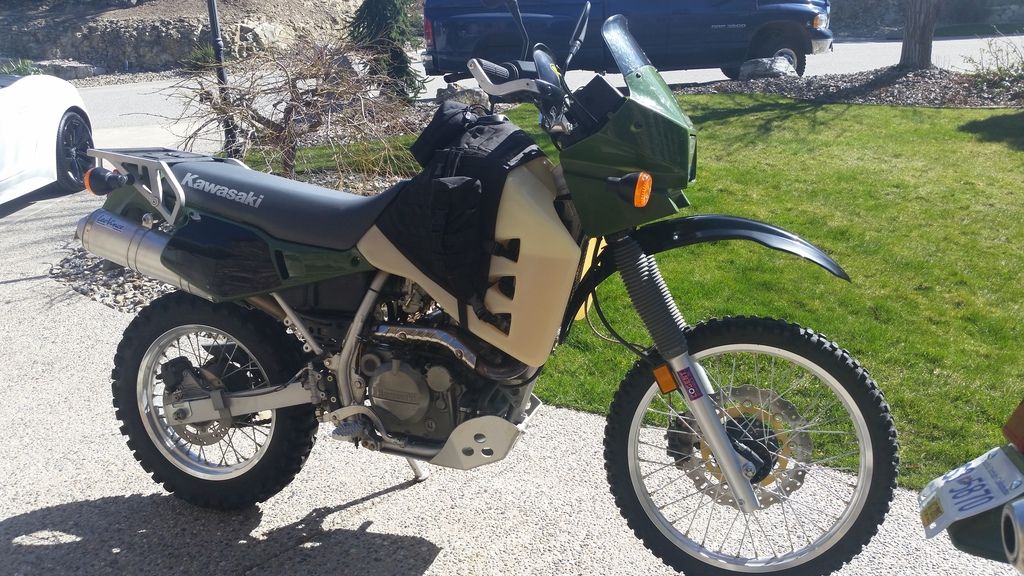 Cheers,
Dave
4th Gear
Join Date: Aug 2010
Location: Kelowna, B.C.
Posts: 2,398
Oh and people occasionally try to paint an IMS tank but it almost never works out well.

Dave
1st Gear
Join Date: Apr 2017
Location: Spain and Gibraltar
Posts: 53
Thanks Dave, I can see from the photo that your bike it's around 3/4 full
I'm not too worried about colour and looking at your bike with the tank bag fitted it looks very nice.
I would suspect that to have my tank professionally de-rusted and coated would cost about the same as the plastic tank. However tanks like yours only seem to be available in the USA or Australia, the initial price is OK but shipping to Spain is almost as much as the tank
James.