Neutral
Join Date: Nov 2017
Location: Liverpool, Texas
Posts: 5
Just put the Lexx Exhaust on, Question ?
---
I just put the Lexx exhaust on my Bike ( 2007 KLR650) I have to say there are a few fitment problems I seem to have. First the muffler is so tight on the mid pipe, it was so tight that getting it on was hard enough, and getting it back off was terrible, but once on and fitting it there was no way to adjust it once on, so it took a few times. But its on. But does any body have one of these that when the side panel is on the panel is against the muffler? And of course rotating the mid pipe can move the muffler in or out some, but right now its rotated with the curve before the muffler in as far as it will go inward toward the bike, the spring tap on the mid pipe is practically against the frame, a tiny bit of space, ( would have to be measured with a feeler gauge) which is moving the muffler slightly in, but the mounts are pretty much keeping the muffler in place, but rotating it away farther from the frame moves the muffler slightly down but outward, but also then it moves the inside of the curve against the back of the passenger peg mount. So with it all on, and looking pretty good, everything tight, when I put the side panel on, its against the muffler. Everything is on right, Just like the directions, the pictures on the instructions, and even pics on the internet I have found, everything is lining up and screwing in. Just its out against the side panel. Is this the way anybody else's is? and does it get Hot enough to burn, discolor, or warp the side panel ?
2nd Gear
Join Date: Mar 2017
Posts: 389
Mine is not touching, but it is very, very, very close. FWIW there is an OEM Heat Shield/Pad on the back of my Panel that Kawasaki evidently found necessary to protect it from the heat of the stock muffler. Not sure if the attached pictures are clear enough to help. Also I do not having had any issues with the installation of the Mid-Pipe on my bike.
---
Last edited by Bluehighways; 08-31-2018 at

01:20 AM

.
5th Gear
Join Date: Aug 2010
Location: Kelowna, B.C.
Posts: 2,833
I don't have the Lexx but I have the LeoVince X3 on my 2000 and the FMF Q4 on my 2001. The LV is also a 2 pce arrangement and what I've found on both bikes is that you are going to contact either the side panel or the rear fender. My solution has been to shim the muffler mounts with washers to get the silencer positioned where I want it to be.....I split the difference but ultimately I prefer contact at the rear fender which I trim slightly. I've also trimmed a bit of the side cover edge to gain a bit more clearance there.

Whatever you do, make sure you aren't using the mounting bolts to pull the silencer into position as there is a risk of an exhaust leak which can cause you to melt the airbox.....holes in the clean side of the airbox can be fatal to your engine. line everything up to the best compromise position, shim as necessary and only then tighten down.

As Bluehighways said, the stock sideplate has a heat pad on the back so make sure yours is there. The PO of my 2001 had soft bags without pannier racks that pushed on the side panel and melted it. You could also add a washer to the back side rear sidepanel mount to move the sideplate out a bit too.

Dave
Neutral
Join Date: Nov 2017
Location: Liverpool, Texas
Posts: 5
Well, the main reason for me having trouble with getting it on "Lose" and getting everything positioned right was due to the fact the mid pipe was so tight into the muffler. Way too tight, I have DG, Two Brothers racing, and another aftermarket on my RC, ( carbon fiber cans but no name I can find on them) But I have taken them all apart and the muffler is tight but movable on all of them, which it should be. Once the Lexx was over 1/3 way on there was NO way to turn it. I am confident that that joint is aligned pretty good though, I emery clothed it some until I could force it on about 1/2 way and still turn it, (staining), then I positioned it all on and clamped it, moved it, until it was pretty close and it all looked right, then marked it, took it off and then got it all the way on, and that is where it will be until the end of time, I can tell you I do not need the springs, its on there. ( took about an hour), but it all then bolted up pretty good, the muffler actually looks farther forward in the band clamps than others I have seen on the internet, with the muffler all the way on and the mid pipe all the way bottomed on the header pipe, my rear clamp strait down from the mounting hole is about in the middle of the Lexx emblem on the muffler, but that's okay, I don't care about that, Id rather it look farther on than not on as far. But as far as the side panel, no way to shim the muffler without moving it out more or putting it in a stress situation. The side panel if I shim on the top out, it moves the bottom closer in. And the factory heat shielding is actually higher up in the panel where the factory muffler was, the lower end where the Lexx is, is bare. I had some metallic heat shield tape that I put on it all the way to the bottom, but what I had was really kind of thin. But anything helps. The one thing I did that has helped was I had some rubber washers, and I found some that I could pop over the "Nipple" on the lower side panel that pops in the grommet, I put two on it and it still slightly pops in but now its not touching. But CLOSE. We will see if that works. If it seems to start warping, or discoloring, or if it leaks, I'm just taking it off and getting a DG or something and Ill just eat the $185. I didn't want to spend too much on this bike, as I have put ssooo much money into my other bikes. ( Don't even ask how much the complete Two Brothers system was for the VFR800, which I had to get the complete system to get rid of the catalytic converter). But well see.

I'm going to ride it later, Just got thru with the 22 cent mods, 2 washers, which I could not find #4 washers, even at Home depot, #6 was the smallest they had I looked at every peg, but I found that 3mm stainless worked perfect, I mic'ed the two and it was about 0.52 so that should be okay. 7/64 thing and two turns out. yadee yadee. Now I'm putting on the new chain and sprockets, didn't feel like cleaning the old chain which was way too lubed and thick on everything, caked on the sprockets, I'm just replacing, and I like a gold chain, that's just my preference. ( gota have that Bling) So when I get them all on, I'm rolling it out. ( I have a room off my dining area I use as my Bike shop area). I prefer being AC'd and Heated, and after work home I'm working on the bikes I can be catching my Judge Judy and Modern Family while working on them.
5th Gear
Join Date: Aug 2010
Location: Kelowna, B.C.
Posts: 2,833
Blingy chains and sprockets on a KLR? who would do that? ;-)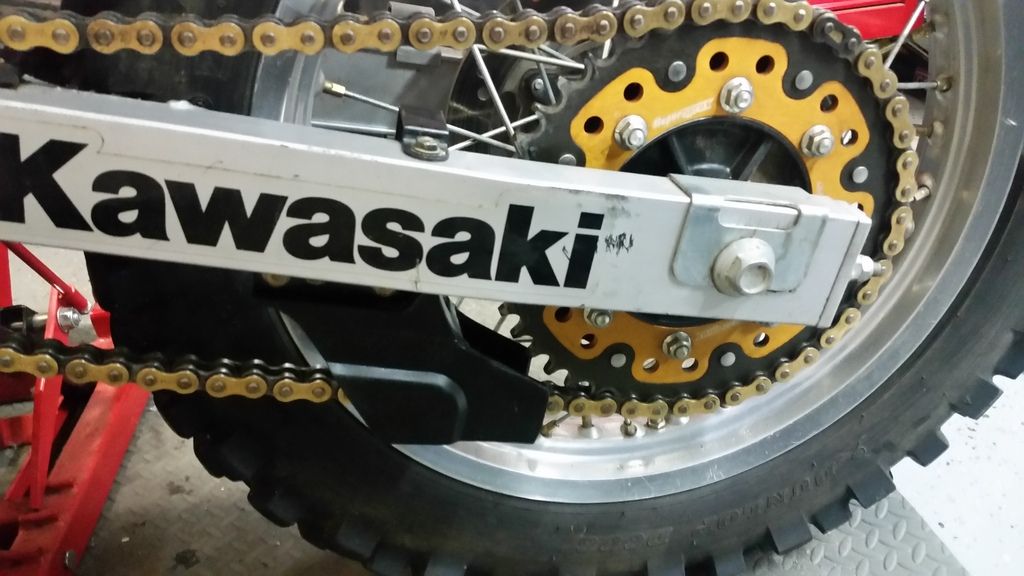 3rd Gear
Join Date: Feb 2017
Location: Van Nuys Cali
Posts: 623
The end of one spring pulled out when I installed the Lexx. The other went MIA. Neither have been on the last few thousand miles with no issues.
---
2016 KLR 650
2017 BMW S1000RR (traded in for
2018 Ducati V4S
1983 GL1100 Goldwing
2017 Yamaha R1
Neutral
Join Date: Nov 2017
Location: Liverpool, Texas
Posts: 5
Ohhhh I Like that !!!! I like the black lower chain guard too, mine is white, I mean whats up with that , a chain guard ( known to get greasy ) on a dirt bike ( known to get dirty ) and they make them white. And nothing else on the bike white. HHuuuaaaa. But if I had that sprocket I would go crazy every time I went in dirt cleaning it afterwards.

Well all I got left is to put the rear tire back on and the new chain and I'm going to ride. Beautiful day here in south Texas today, so I will find out how different it is with the Lexx, 22 cent, new filter, de snorkle'ed, cleaned screen, ( had lot of pieces of foam in it coming off the old filter ) New chain, and sprockets, and it did have a 14 in the front and the new set I got a 15 front as I mostly ride on street and I'm sure I would be fine off road. Back to work
Neutral
Join Date: Nov 2017
Location: Liverpool, Texas
Posts: 5
Okay just rode it. Yesterday I started putting on the new Lexx exhaust, finished installing morning, ( took a little longer than I thought with some issues) Did the 22 cent mode, 2-washers, 7/64 drill out, unplug and screw low mixture to two turns out, new air filter ( HiFloFiltro, seem good and I like the name), Took out snorkel, (No holes, just de-snorkel), new chain and sprocket, to 15 front from 14 that was on it., 43 on rear. New chain, (Gold), So I just rode it, and no leaks on exhaust, and before it got too Hot I ran it with my fingers right on the joint and I couldn't feel anything. It did seem to defiantly have some extra pull, noticeable. But a couple of other things could have affected that, one, when I pulled the old filter it I found it had started to deteriorate, and the back fire screen had foam on it, not too excessive but defiantly could have had a little restriction added. And going up some on gearing can sometimes make it actually feel like it has a little more pull sometimes, when I first got my KLR250 it had a smaller sprocket on it and I went up to stock, and it felt much better, so as with it I may be feeling a longer steadier pull thru first and second due to that. But I'm sure its running better, in 5th going about 55 I can defiantly tell when I just open the throttle it starts pulling harder. ( no need to drop down to 5th on this one ) All in all for whatever reasons, probably a little of all items, it is defiantly a better running bike now, peppier, more pull, and sounds better, not too much louder but now I can hear it when riding. And for me always must, Its not stock, I always feel better about all vehicles I own, bikes, boats, Truck, always exhaust, CAI filter system, programmer's, Mods, when I do some modifications and pull some more out, it always makes me feel like its more MY vehicle, I maid it better than it was, for me its actually the Hobby behind the Hobby's. I know there are a lot of you out there like that. But I'm Happy, good day for the KLR. You all helped a lot more than just this thread, I had it all planned out and researched from this site way before yesterday. Thanks Guys !

Then again, it could be running better due to the GOLD chain, the Gold chains seem to always have better performance to me.