Que es esto? What's this and will it 'fit' my '03 (larger 'n OEM Rotor)???
---
This is either an After-Market or '08+ Rotor, yes?
It's slightly larger 'n my OEM and I want to know if I can USE IT!
Same story on F and R...
Front 'other' Rotor is 3/8" wider and
Rear 'other' Rotor is 1/4" wider.
Will they fit in the OEM Calipers or are they slightly too big?
FRONT ROTOR...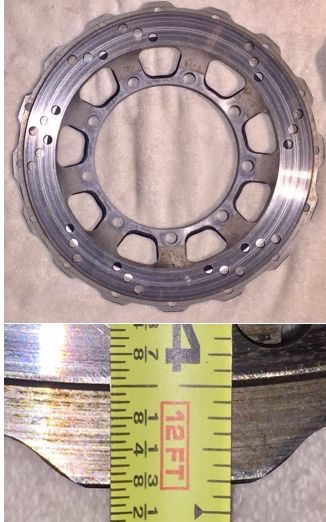 REAR ROTOR...
---
Last edited by KLRCraig; 07-27-2018 at

07:21 PM

.
Anyone,
Anyone,
Fryyyyye,
Fryyyyye...
OverDrive
Join Date: Nov 2009
Location: Lander, Wyoming
Posts: 6,221
Haven't had any reason to investigate the 'swap', KLRCraig.

If the 'waves' clear the top of the calipers they could work, as is I suppose.
---
pdwestman
Modify at "YOUR OWN RISK"!

Still riding my 1987 KL650-A1. 85,000+ miles & counting
Yeh, and only way to tell that is installing and uninstalling if not... just hoping to avoid that.
Thanks!