1st Gear
Join Date: Jul 2010
Posts: 20
doo hickey tools
---
am currently buying a 2003 and am planning to do the doo hickey as soon as i get it, is it possible to do the doo with out buying the puller (finding a big bolt to fit?) and with out the rotor spanner (am sure iv seen adjustable spanners with a hinged handle) or is there anyone who has the tools that could lend me them. i live Cumbria UK. also do i need to buy the gaskets or is there a good enough chance that they will be reusable?
other mods+fixes it needs / i want.
rear shock is dead and needs replaced to be road worthy (whats the best price for one with postage to uk?)
bark busters & crash bars + skid plate, before i take her off road
the tachometer is also dead (hope its just a connection, engine runs perfect)
any advice welcome
Hi rob-grout...welcome to the forum. Hope we can be of some help to you. Sounds like you need to improvise some tools for this project. This can be easily done, if you have access to a torch, a vise and a welder.
The "doohickey wrench" is a 32mm open end wrench that looks like this after it has been heated and bent to a usable shape.
copyright dualsportplus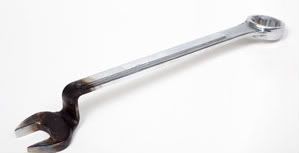 The cheapest 32mm wrench you can find will work. Under 10 dollars in the US. Heat. Bend. Use.
For the Rotor puller bolt, I use a M22 x 1.5 thread pitch truck lug stud, as used on an 18 wheeler truck. In the US, these are found at most truck repair facilities for a few dollars. They are designed to take much more torque than required to pull that rotor. I welded a 19mm nut to the flat head of the wheel lug stud. I use a four way automobile lug wrench to pull the rotor. I can apply steady, even pressure, increasing or decreasing as I see fit, something that is hard to do with an impact wrench.
That'll take care of your special tools. I have yet needed to replace gaskets when putting in a replacement doohickey.
You do your own homework as far as shipping and vendor. I can steer you towards a few vendors that handle these parts, have displayed good customer service and / or support this site.
Dual Sport Plus
221 Barton St., Unit I
Stoney Creek, Ontario
Canada, L8E 2K3
Phone: 905-664-8811
Fax: 905-664-8817
24HR voice mail
[email protected]
This above business is located in Canada. It may or may not help with shipping costs.
http://klr650.com/Doohickey.htm
email for shipping rates. This business supports this site by listing us in their links. One hand washes the other.
http://klr650.com/Links.htm
*********
http://www.tpimotorcycleparts.com/
Nice folks.
**********
You can save yourself some money by using an '08 and newer balancer lever from Kawasaki, which you should be able to buy locally. This is an improved design, and I have not encountered a failure in the '08 and newer balancer lever / doohickey at this time. The tension spring, from Kawasaki, has proven to be inadequate. I would contact one of the above for a replacement spring, which should limit your shipping costs. The torsion spring is popular, something you might consider, although it does require drilling a hole to support it. Top Gun Motorcycles has developed an original type spring that seems to perform as needed.
http://www.topgunmotorcycles.com/Pro...s/klrprod.html
The spring is all you really would need to order from the states, as I have no means of steering you to a European source of spring that I know to be reliable. Spring failure can lead to catastrophic engine failure. You want to install a better spring than you are removing.
---
******
"many a trip continues long after movement in time and space have ceased"- Steinbeck, [I]"Travels with Charlie"
[/I]
[IMG]http://i718.photobucket.com/albums/ww187/vatrader01/KLR%20mechanical/04e28c5e.jpg[/IMG]

[FONT="Century Gothic"][I]Sometimes your only available transportation is a leap of faith[/I] [/FONT]
1st Gear
Join Date: Jul 2010
Posts: 20
thanks for the reply, really impressed with the amount of great info on the forums
unfortunately i don't have any access to a welder -might have a spanner made of cheap enough metal to bend in a vice. - would a rubberised strap spanner/grip thingy used for car oil filters grip it? is there enough room to use one? hopefully ill be able to cobble something together to hold it enough.
Item Options Quantity Remove Amount
465 Suspension Special for Lowered Height Shock/87-07
Item # Kit#: 134-Amodel-2 comes with 134-1044 and 134-1151 $472.90
15 and 43 Tooth Sprocket and Chain Kit
Item # Kit # 013-6599 $105.00
Complete Engine Guard and Tank Guard Package
Item # 49089-1078-1AS $208.17
Doohickey with Torsion Spring
Item # 13168-1436-5AS $47.22
Item total:$833.29
Shipping to Shipping & Handling to United Kingdom Change:$35.50
Ship to (optional)Select ship-to country (optional)
Ship outside U.S.?
Cancel
Ship to U.S.?
Cancel
Total:$868.79 USD
thats what am planning on ordering so far
even though so of the items are a little more expensive than other places the combined shipping makes its the cheapest iv found in total (there skid plate is far to much though) i know that the crash guards are supposed to be worse than the HT ones (from reading the forum) but am skint with almost no off road experience - iv done just enough to want to do a lot more, already trashed the side of one bike from it
the sporty road tyres might have played a part in that though .............
edit: the bike has just had fresh oil in it and it seems a shame to have to change it after less than 200miles, so could i lay the bike on its none doohickey side (right?) and keep the oil in - would that work?? -id put the crash bars on that side first and put something like old carpet on the floor to protect it.
also is it possible to change the fork springs with out taking the forks off? prop front wheel in the air on bit of wood loosen the thingys and slide the forks up a bit (to get the pressure of the clamps off form near the threads of the top cap) then tighten the lower thingy to hold them while wrenching the spacer is on top of the spring isn't it?? so i don't need to tip it upside down to get it out?? then does the tighter wound end of the progressive springs go up or down? would my plan work ??
and yes am so skint i don't want to have to buy oil or fork oil if i can avoid it
---
Last edited by rob-grout; 09-13-2010 at

03:26 PM

.
Neutral
Join Date: Sep 2010
Location: Klamath Falls, Oregon
Posts: 2
Hey rob-grout,

Be sure to read my post regarding cheap doohickey tools, so you can see what can happen if you don't spend the money and wait for good tools. Vatrader's wrench is exactly what we did for the wrench, and the truck lug stud is an excellent idea, because it's probably made of harder material than the cheap one we used. Be sure to put plenty of grease on the puller so it doesn't strip out. There are probably other good companies out there selling good doohickey parts and tools, but from what I can tell, Eagle Manufacturing is a good place to get everything. For $138, you can get the best parts, and that includeds the tools as well. I wish that my friend had done that.
1st Gear
Join Date: Jul 2010
Posts: 20
could you drill a hole though the puller to thread a wire though add a none stretchy very strong steel wire to the puller and a hammer to the other and use that to pull it out (look up aid climbing for where i got that idea from)
1st Gear
Join Date: Jul 2010
Location: S.E England
Posts: 22
I would have a look at the Hagon website for rear shocks, and weemoto for chain and sprockets, both in the uk, your idea for fork spring removal sounds ok think the tight coils go to the top, have a look on ebay for a m22 x1.5 flywheel puller, I have found strap wrenches to be usless !
cheers Chris (in kent UK !)
Similar Threads
Thread
Thread Starter
Forum
Replies
Last Post
doo hickey

sm3

2008+ KLR650 Wrenching & Mod Questions

16

07-16-2019

10:17 AM

Yet another Do-hickey thread

joe28

2008+ KLR650 Wrenching & Mod Questions

2

08-26-2010

11:55 AM

2008 Doo Hickey

maprimm

2008+ KLR650 Wrenching & Mod Questions

5

05-04-2009

09:14 PM

The Doo Hickey & more

Hardyreels

1987 to 2007 Wrenching & Mods

19

01-15-2009

03:58 PM

Doo hickey in NC

Jds II

2008+ KLR650 Wrenching & Mod Questions

3

10-24-2008

05:20 PM