Seat suggestions
---
Even with the Sargent seat, my rear is going numb and hurting after about 25 miles. It is better than stock. Help! Suggestions please!!!
5th Gear
Join Date: Sep 2006
Posts: 4,700
Depends on what you want to spend..
If you aren't against spending money on comfort, there's only one seat.. Russell Day Long.. They're not cheap, and some consider them ugly, but your butt will be happy..
http://www.day-long.com/
4th Gear
Join Date: Apr 2011
Location: Kansas
Posts: 1,205
I'll take your sargent seat if you don't want it.
2nd Gear
Join Date: Apr 2008
Location: San Jose, CA
Posts: 257
I dunno efi.. I can do very long days on the stock seat just fine. I just threw a walmart atv seat pad on it to take care of the pinching from the corners of the pan.
Sargent makes a very good saddle, I've owned three of them. The last one I had will be just that....the last one. While the saddle is attractive and well built, in regards to comfort, it is only a baby step above the stock ass hatchet. In my case, too soft of a saddle creates hot spots I cannot live with. Cannot. Will not.
Some may find Sargent wonderful and the greatest thing since Monkey Butt Powder, it didn't work for me. I need a firmer seat, spread out over an area larger than the cutting edge of an Axe. Russell Day Long fills the bill, but I ain't ebaying a kidney to buy a $700.00 saddle for a pack mule.
Enter "Sweet Cheeks". The frugal man's Day Long upgrade.
http://cycle-analyst.com/sweetcheeks.htm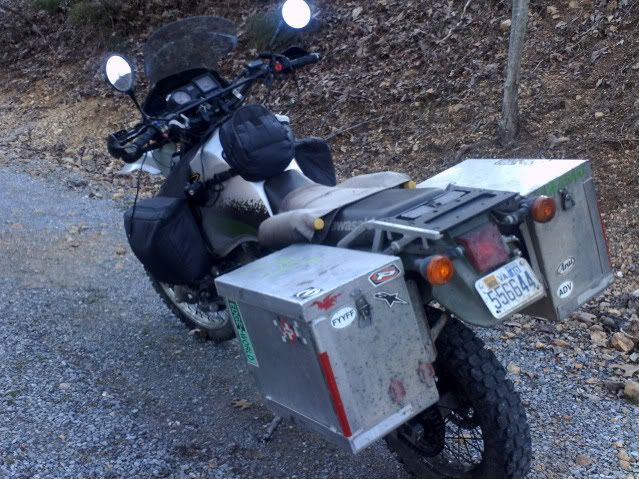 Adding about eight more inches in width to the seat, I can adjust the softness / firmness by letting air out or into the 2 liter bottles. I have a chunk of kneeling pad [thick density foam] stuffed in the center pocket over the actual seat, increasing seat comfort. It also gives me about a gallon of water on hand, enough to carry me over 'till the next water hole when I'm in the sticks. I run straight air in them in the winter. That water sucks the heat out of my butt on those days I hope the temps get up to 20. One big plus to this set up for me is that when I gotta actually ride this bike, not just sit on it, I can stand on the pegs and push the Sweet Cheeks back out of the way, giving me better control than I would have with a Russell saddle.
*****
---
******
"many a trip continues long after movement in time and space have ceased"- Steinbeck, [I]"Travels with Charlie"
[/I]
[IMG]http://i718.photobucket.com/albums/ww187/vatrader01/KLR%20mechanical/04e28c5e.jpg[/IMG]

[FONT="Century Gothic"][I]Sometimes your only available transportation is a leap of faith[/I] [/FONT]
2nd Gear
Join Date: May 2008
Location: Nanaimo, BC, CANADA
Posts: 269
---
02 klr - heated vest and grips, corbin dished, EM doo, petcock mod, MB PCV mod, stainless oil filter, bash plate, mayher hand guards, low mount fender, power socket, tall windscreen, jardine exhaust, jetted, studebaker shifter, magnetic plug, airbox mod, k&N, kenda knobbies, DIY pelicans, HID light
96 zx11 - bone stock - saving for a collector plate
2011 BMW f800 GS -
[email protected]
crash bars, altrider skid plate, barkbusters, kako, aeroflow med, heated corbin, wolfman, kenda big blocks
Corbin Dual Platform = My butt be happy.. My back too..
I'm selling my Corbin Dished if you're interested -
http://www.klrforum.com/showthread.php?t=10705
---
Sent from my rotary phone
================================
Track me here -
https://spotwalla.com/tripViewer.php...354a61e5f3997a
Michael G in SF
|
2018 KTM 1090R Adventure | 02 XR400R (Plated)
|
2011 FJ Cruiser Army Green
|
------------------------------------------------------------
"If you have the will and not the way, you wont get very far."
Snakeboy66
2nd Gear
Join Date: Jul 2010
Location: Maine
Posts: 127
I have to say that I love inventions like this that are low tech.
I'd never even heard of this thing. The website didn't have clear pictures, do you have any close-up shots or shots where you you can see a rider on it?
---
2001 KLR650
"For strange effects and extraordinary combinations, we must go to life itself which is always far more daring than any effort of the imagination." - S Holmes
I like the idea of the sweet cheeks setup as well, almost bought one before I got my Seat Concepts kit. I do like the seat concepts kit, I think it adds about 4 inches of width to the seating area. I find it comfortable so far but I haven't taken any long trips with it yet so I'll have to wait and see on that aspect. Only bad thing is now I have my legs spread more when putting my feet down, so only my tip toes were touching. Lol, had to lower the bike again so that I could back up and such. Wish my legs were two inches longer!
---
1st Gear
Join Date: Jan 2011
Posts: 27
I started out with the stock seat = my hind end was burnin after 45 min.
I then got a corbin flat seat that was used and it was maybe slightly better.
I then got what I think is a Russel day long seat or as I call it the old mans seat and I used this for a 12,200 mile trip in 29 days and it was good.
I now also have a sargent low seat which is pretty good for a 450-500 mile day, any more and you will not be able to repeat this the next day
...
I really feel that finding the right seat is half the battle, and that wearing your butt into said seat is the other half. I think if you were to ride the stock seat long enuff your rear would develope what it needs to put up with it. The trick is surviving it
Similar Threads
Thread
Thread Starter
Forum
Replies
Last Post
Tank Bag Suggestions plz

ucatch33

Bike and Rider Gear

27

10-31-2009

09:59 PM

clutch suggestions.

stigedis

KLR & Other Motorcycle Related Discussion

8

08-11-2007

10:21 AM

Taking Suggestions

klr650

Forum News, Suggestions & Help

38

10-05-2006

10:51 AM