Starter Motor
---
I pulled the starter motor. I used a soft drink bottle lid to seal the hole, with a bit of gasket sealent.I know it's a cheap, and nasty fix, but it's oil tight.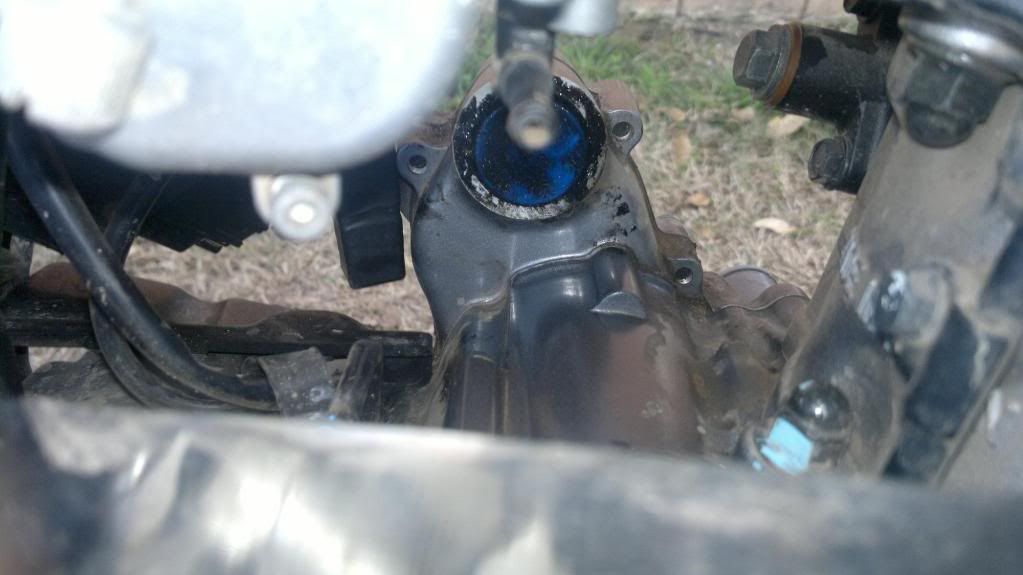 Pretty in Pink, dunno why
Join Date: Feb 2009
Location: Redondo Beach
Posts: 7,614
Pete-
You should pull the side case off and figure out a way to engage the starter gear train so that you've got a crank shaft driven
PTO
.
You could then run a decent blender (as the PTO would spin at about a bazillion rpm) for making
Margaritas
at the trail side...
Now
that
would be the best farkle of the year!
T
---
Tom
[email protected]
ďThe kid poured him another straight rye and I think he doctored it with water down behind the bar because when he came up with it he looked as guilty as if he'd kicked his grandmother.Ē
-Philip Marlowe
ď'Why'
and
'How'
are words so important they cannot be too often used.Ē
-Napoleon Bonaparte
Sting like a butterfly.
Noli Timere Messorem
---
Last edited by Tom Schmitz; 07-12-2011 at

12:39 AM

.
Kawasaki Blender
---
My neighborhood has no shortage of colorful characters. Here's one of our mad scientist's modification to his 500 Ninja Frankenbike.


---
******
ďmany a trip continues long after movement in time and space have ceasedĒ- Steinbeck, [I]"Travels with Charlie"
[/I]
[IMG]http://i718.photobucket.com/albums/ww187/vatrader01/KLR%20mechanical/04e28c5e.jpg[/IMG]

[FONT="Century Gothic"][I]Sometimes your only available transportation is a leap of faith[/I] [/FONT]