Beep Beep No More
---
I realized from day 1 that the stock KLR horn was next to useless, especially at freeway speeds. Today I solved that by installing a Stebel Nautilis horn. Leapin lizards is that thing loud! Guaranteed to make an inattentive driver crap their pants. I ordered it from Twisted Throttle along with their 08+ KLR mounting bracket. Due to the position of the HT crash bar brace, their bracket wasn't going to work. I fabbed up a simple bracket out of some aluminum that was laying around and used existing holes. Had to use some longer bolts for mounting to the overflow bottle mounts and a couple nuts to space things out for clearance. I removed the stock horn and bracket and used one of its mounting holes to attach the relay. Wired up the relay and was done in no time.
Bracket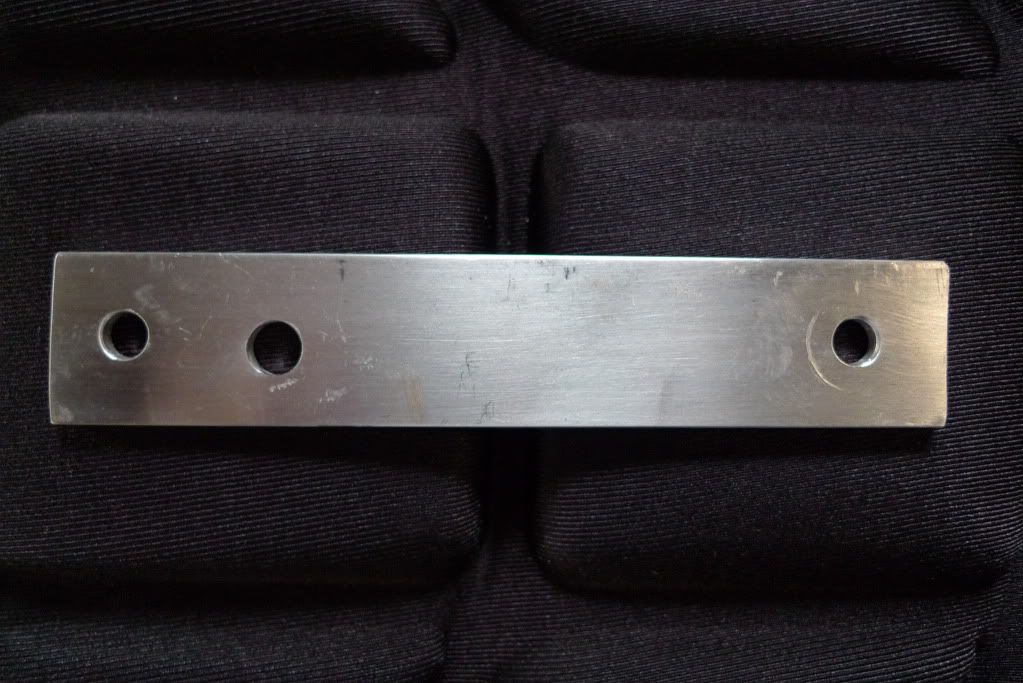 Bracket Mounted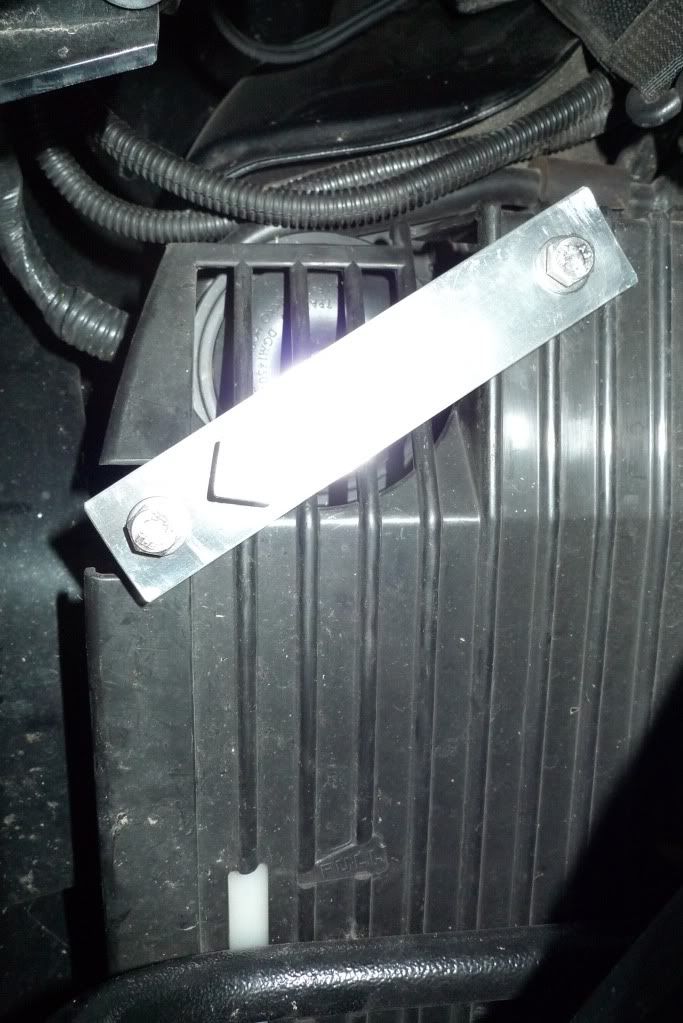 Horn Mounted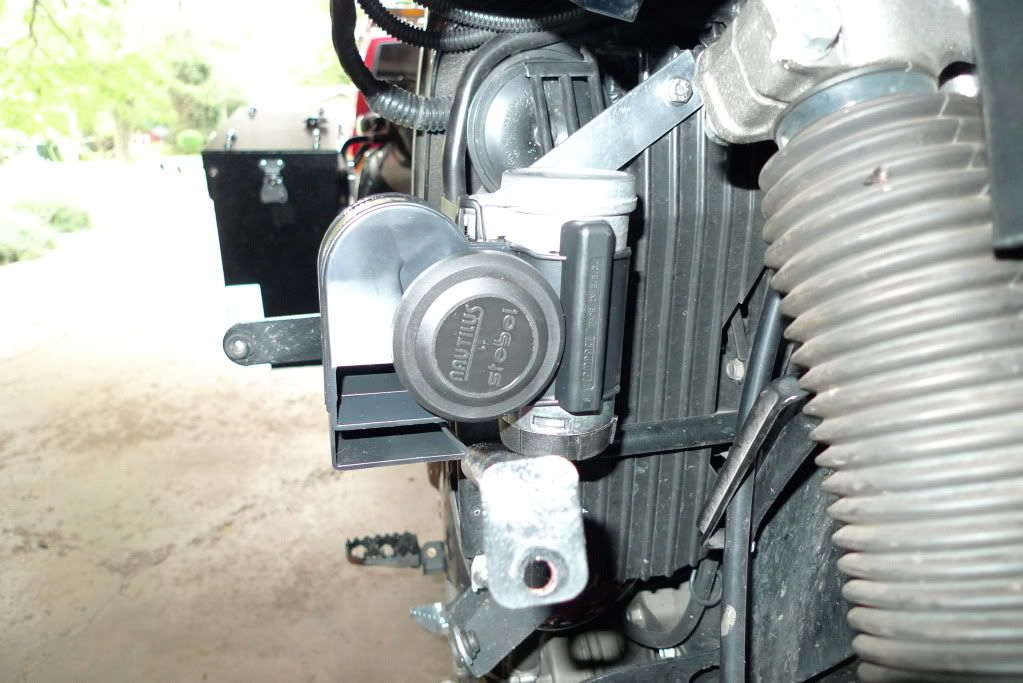 Relay (Red Cube) Mounted and Wired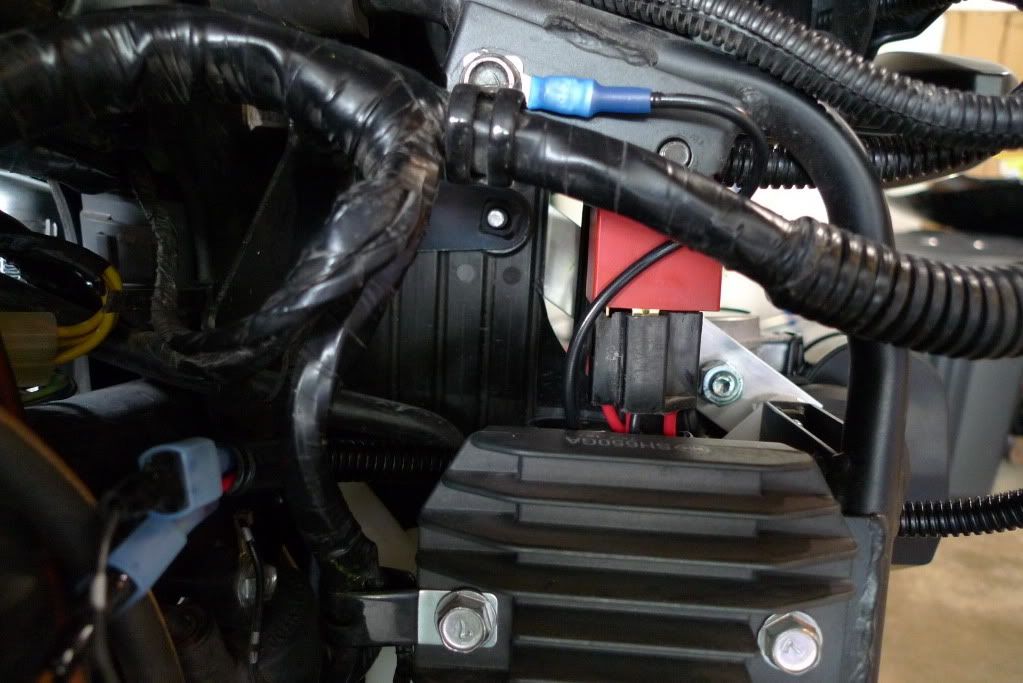 Finished Product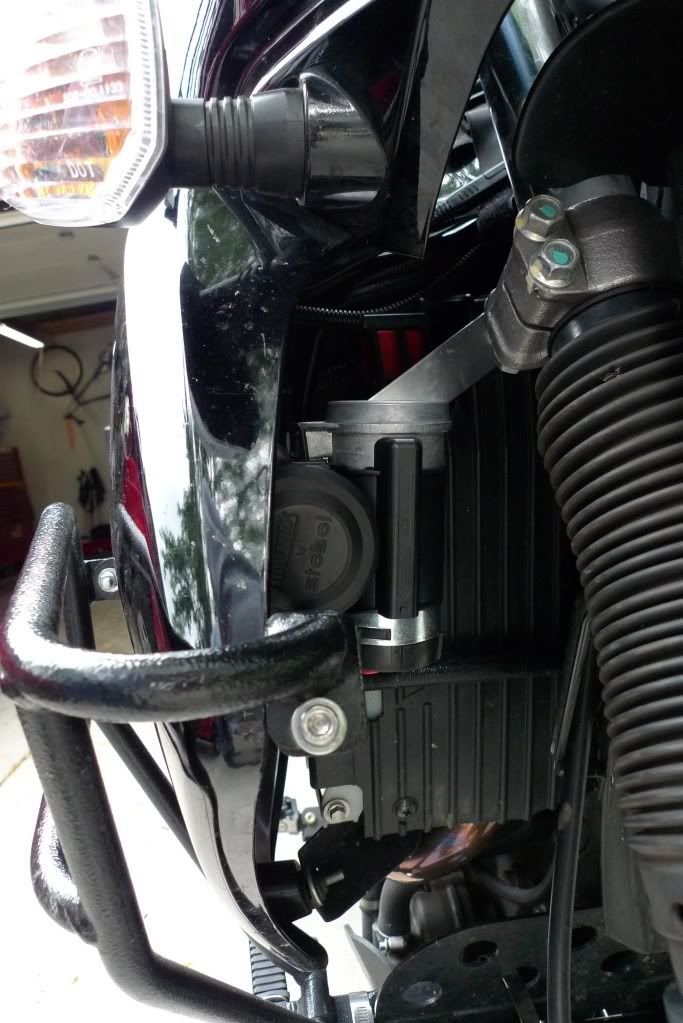 ---
09 KLR650
01 Jeep XJ w/ 200,000 miles as of 3-26-11
---
Last edited by sardog1; 09-16-2011 at

04:56 PM

.
OK, why do the photos that I've rotated to proper position get rotated back to the wrong position when I post it?
---
09 KLR650
01 Jeep XJ w/ 200,000 miles as of 3-26-11
Pretty in Pink, dunno why
Join Date: Feb 2009
Location: Redondo Beach
Posts: 8,095
Gad, but I love it when I see a job well done.

Nice, sardog1.

T
---
Tom
[email protected]
"On the way downtown I stopped at a bar and had a couple of double Scotches. They didn't do me any good. All they did was make me think of Silver-Wig, and I never saw her again."
-Philip Marlowe
"'Why'
and
'How'
are words so important they cannot be too often used."
-Napoleon Bonaparte
Sting like a butterfly.
Noli Timere Messorem
OverDrive
Join Date: Jan 2011
Location: NW MO
Posts: 5,453
Nice work and, in my opinion, a very worthy addition. May do the same one of these days.




Maybe we can have deuling nautilus' when I roll into town.
---
Erik
2003 Bandit 1200S
2009 KLR 650

74 Honda CB360
What's you're 20? That's kind of creepy by the way... reminds me of vatrader's avatar!
---
09 KLR650
01 Jeep XJ w/ 200,000 miles as of 3-26-11