Frugal fender
---
Hi all. Long time no see, if you will. Recently moved and lack of Internet has been keeping me away. Did I miss anything? I'm sure I got days of catching up to do. Anywho. Was tinkering in the garage the other day and had an idea about a frugal supermoto fender. My idea was to take the exsisting worthless beak that has been taking up space in my garage and modifying it. So basically I hacked off the front portion of the fender and installed it backwards.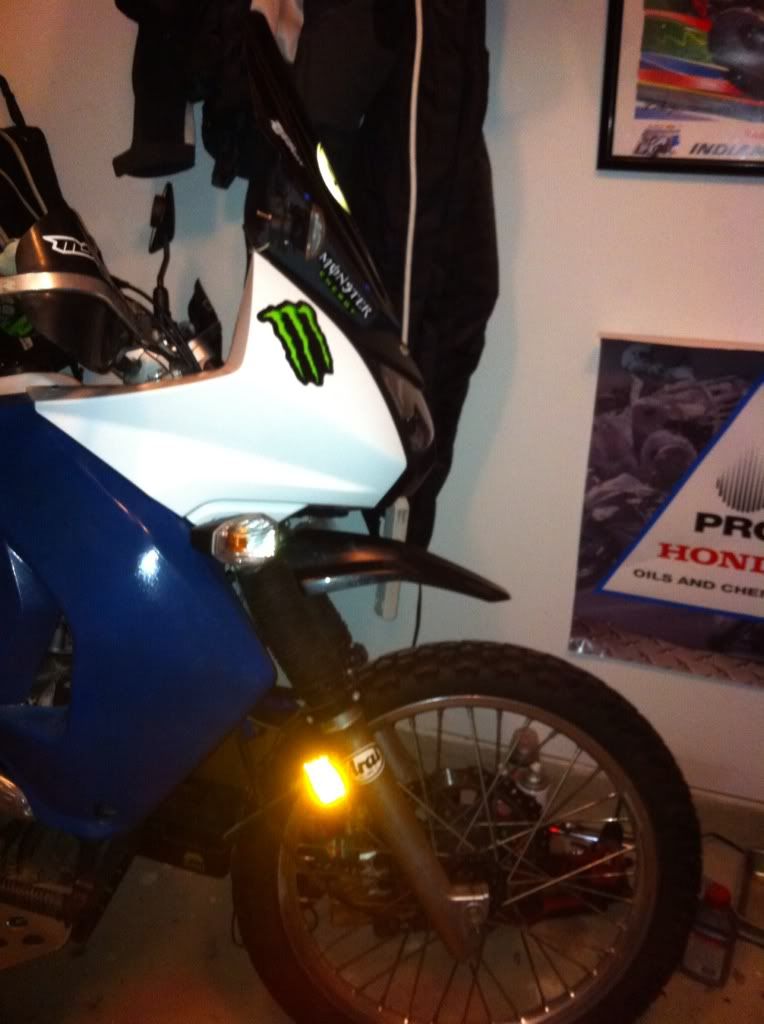 I think it looks pretty good. And the "free" price tag can't be touched. I'll have to take some more photos to give you a better idea of what I did exactly. Pics are also showing off my new paint scheme. I'm diggin it. Something different anyways.
---
"If you don't ride in the rain, you don't ride."
"Work to ride and ride to work."
"Accidents hurt - safety doesn't."
OverDrive
Join Date: Jan 2011
Location: NW MO
Posts: 5,453
Hey Aron31, glad to have you back. KLR's lookin' good!




4th Gear
Join Date: Apr 2011
Location: Kansas
Posts: 1,205
Honestly, I don't care for it. I do like the white and blue paint scheme though.
It looks like you have 2 - 55w fog lights mounted up. I'm thinking about doing something like that but I hear the stator can't handle it.
---
Kawasaki KLR650 - Adventure Lite
Tagged KTM250XCF-W - Rocket
Tagged KLX300 - Trail Tractor
'84 XR250R - Retro Ride
RMZ250 - Dirty
CRF80 - Kids
CRF70 - Kids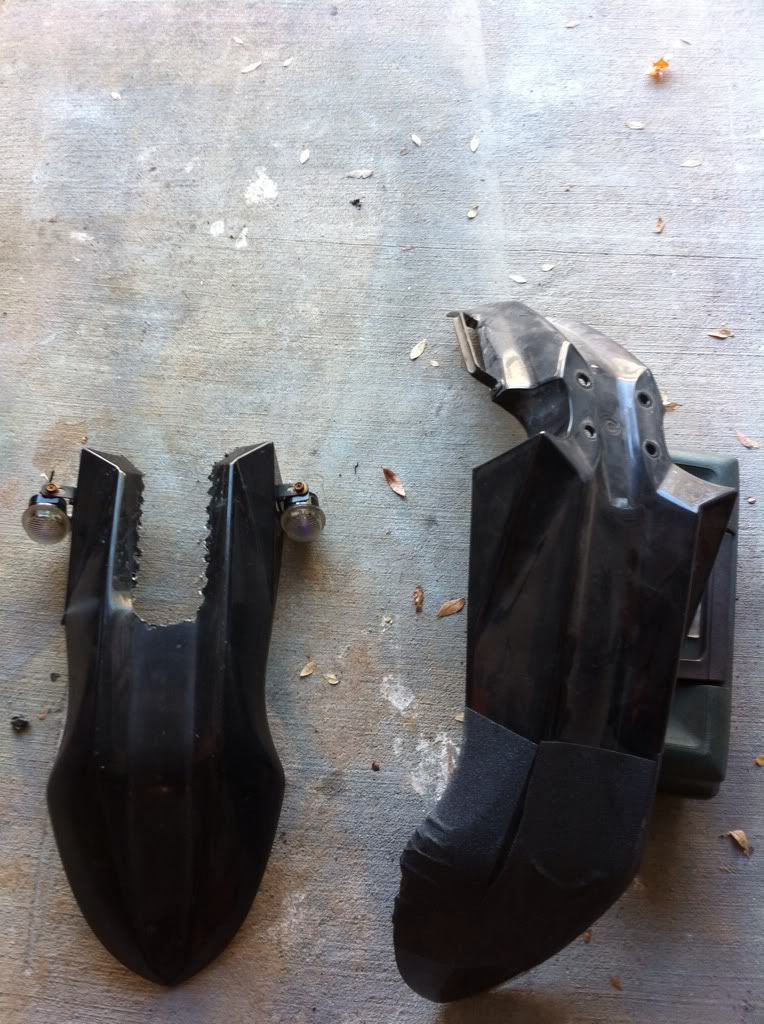 Basically what I did was take the stock fender on the right and cut off most of the front as seen on the left.
Here the front and back pieces after being cut apart.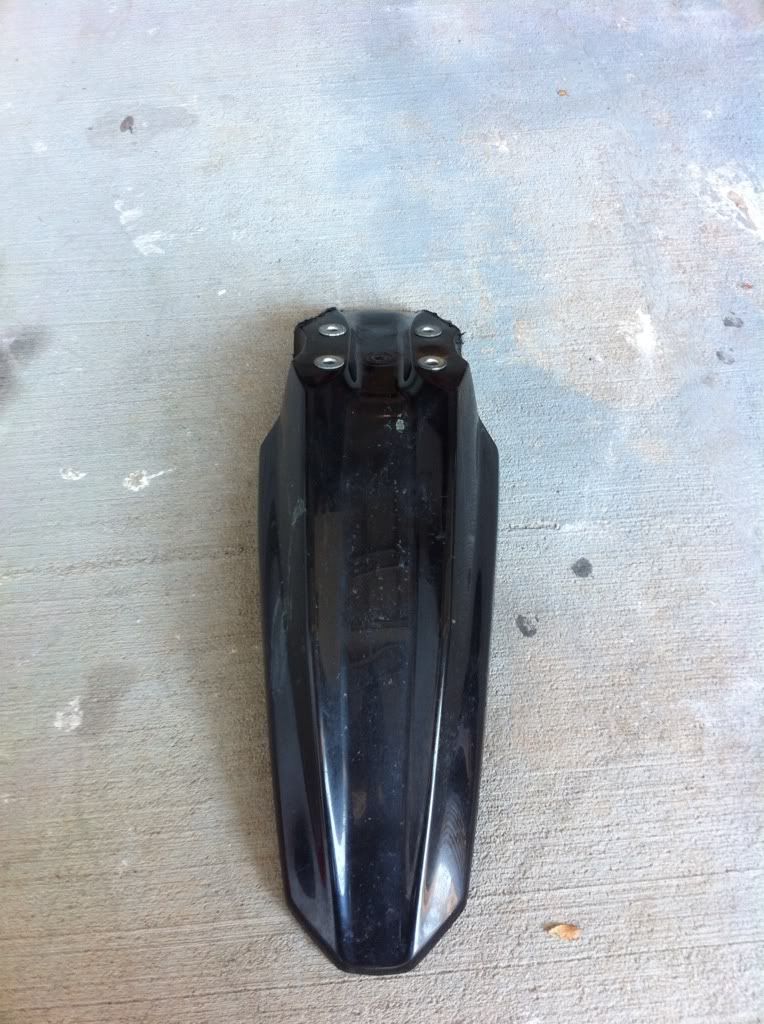 That leaves me with just the trimmed rear portion of the fender which then got mounted backwards. I know it's not for everyone but it's something in the meantime. And the price was right. I was rolling fender less for quite awhile and I really like that style but now it's rainy Season out here and this should help with the spray. What I really want is a superbike fender like the ktms got. I just haven't found a product that people seem happy with that will mount on the fork brace. So until then...
---
"If you don't ride in the rain, you don't ride."
"Work to ride and ride to work."
"Accidents hurt - safety doesn't."
Looks good man!




---
"In a car you're always in a compartment, and because you're used to it you don't realize that through that car window everything you see is just more TV." R. Pirsig
PPMC #1.
Soon, we ride.
AKA JD Mader or you can call me "Dan" just not early for dinner.
Click my handle for a link to my homepage/blog...which has nothing to do with MCs. Free literature and music! Viva La Revolucion!
-------------------
2008 KLR 650
RIP DM - Soon, we ride.
Good thinking, and nice work!

The Cheapster followed the same road.
I traced out the lines I wanted for a final shape then
cut roughly the same shape you have on my front side while
leaving the thing right on the bike to hold it while it got cut.

Looks good, can't beat the price, and the batcycle is
much more stable at warp speed. (which for a KLR is anything over 90 lol)

Cheeeeeeeeeeeeeeeeeeeeap
---
This is my son, with whom I am well pleased." ----God