1st Gear
Join Date: Jan 2012
Location: Ft Worth TX
Posts: 55
Put hard saddlebags on
---
I got these on ebay for 180 shipped and installed them yesterday.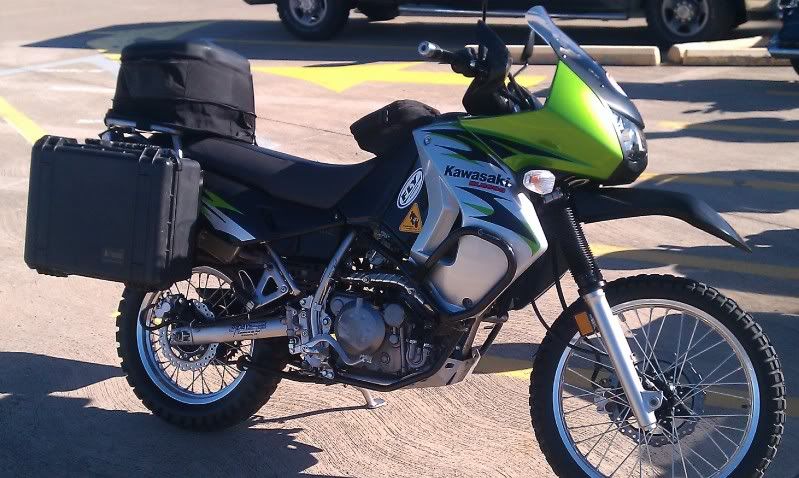 ---
2010 BMW S1000RR motosport color
2008 KLR 650 modded for extended offroad riding
2004 Hayabusa limited with stage 1 turbo
2002 Hayabusa with dry 50HP shot of nitrous
2001 Ducati 996 with full titanium exhaust
Moderator
Join Date: Mar 2007
Location: Fort Sask , Alberta, Canada
Posts: 3,560
Are those Pelicans?? That's what I use. Work great for me.
---
My Kaw Barn - 2004 KLR, 2006 Concours (sold), 1997 Bayou 400.
"It's a friggen motorcycle, it's not supposed to be comfortable, quiet or safe. The wind noise is supposed to hurt your ears, the seat should be hard and riding it should make you shit your pants every now and then. "
<--- Please fill in the 'Location' on your personal profile page. User CP/Edit Your Details

This information makes it much easier for other members to answer/comment on your posts.
1st Gear
Join Date: Jan 2012
Location: Ft Worth TX
Posts: 55
They are pelican and I love them compared to the soft bags, these are waterproof and with the metal bar across the back I can pick the bike up and move it easier
---
2010 BMW S1000RR motosport color
2008 KLR 650 modded for extended offroad riding
2004 Hayabusa limited with stage 1 turbo
2002 Hayabusa with dry 50HP shot of nitrous
2001 Ducati 996 with full titanium exhaust
1st Gear
Join Date: Feb 2012
Location: Iowa
Posts: 20
Can I ask what side rack you used and how you attched them to the rack itself.
Thanks