2nd Gear
Join Date: Sep 2009
Posts: 257
Accessory outlet location
---
I have a 'side-mount' type 12v outlet and am looking for ideas as far as location goes.
Can I see some pics of what all you guys have done?
Thanks
I'm not sure how helpful this will be as my outlet is probably different from your but this is the spot I decided on.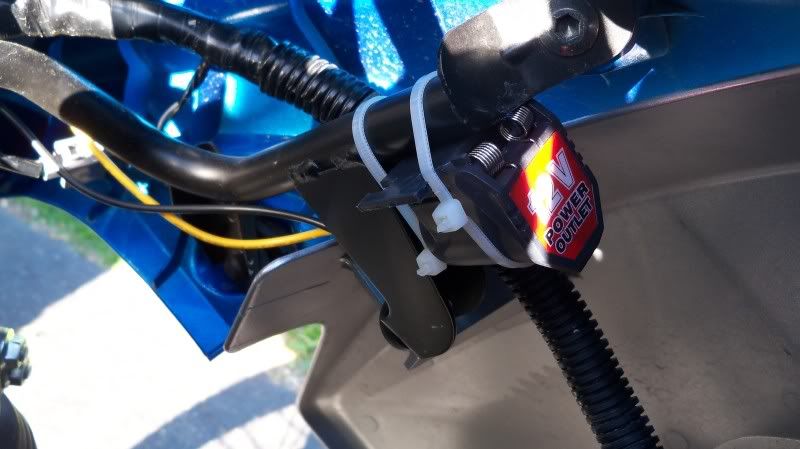 ---
A bad day on the bike is better than a good day at work...
There's no such thing as enough storage space...
2nd Gear
Join Date: Sep 2009
Posts: 257
Armed, that is where i'm think also. Only i would most likely drill two small holes in that flat piece piece of metal just below it. Although i will see if i could adapt to how you did yours.
---
Last edited by basement; 04-23-2012 at

02:15 PM

.
1st Gear
Join Date: Apr 2012
Posts: 18
I have the same outlet and have it zip tied to my bars between the clamps. Zip ties are around bar and go into the screw slots on the outlet. Never had an issue with it moving.
2nd Gear
Join Date: Apr 2012
Location: Cairns, Australia.
Posts: 191
This is where I put mine, installed it yesterday. I went to a boating place to get a marine type cigarette lighter outlet, figured it might be a bit more weather proof. Ran leads straight to the battery with a 5 amp. in-line fuse on the positive side.
It has a rubber cap that is open for the photo.
2nd Gear
Join Date: Oct 2009
Location: SRNCA
Posts: 186
I bolted mine to the left side inside faring support arm using the existing support arm bolt. The single bolt applies plenty of force to hold both the plug and reach the faring. I wanted a fixed location that would not flex the new wires. Sorry no way to get a good image.
Its tough to see, but mine is on the front fairing on the right side. It has a black weathertight cap. The previous owner put it there.
Pretty in Pink, dunno why
Join Date: Feb 2009
Location: Redondo Beach
Posts: 7,692
Mine's on the left side of the cowling.
T
---
Tom
[email protected]
"Some days I feel like playing it smooth. Some days I feel like playing it like a waffle iron."
-Philip Marlowe
"'Why'
and
'How'
are words so important they cannot be too often used."
-Napoleon Bonaparte
Sting like a butterfly.
Noli Timere Messorem
Picked up this auxilary dash on e-bay, great set up.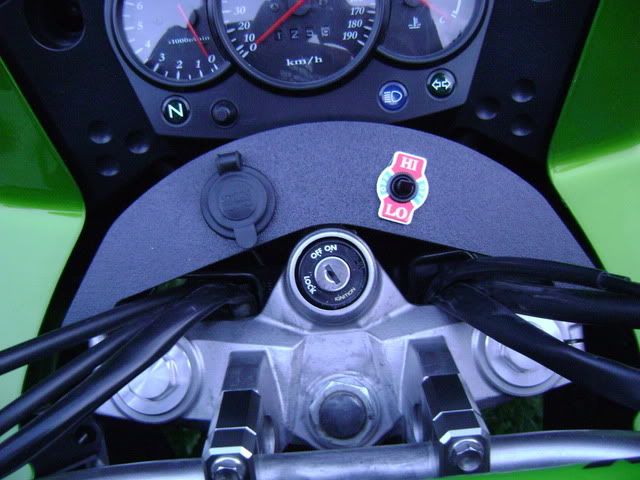 ---
"All in all you're just another brick in the wall"