2008+ Wiring
---
Long story short:
I've got an 08 that had the recall done prior to me purchasing the bike. I've been stranded in the middle of nowhere with no headlights, and had my horn randomly blaring while slabbing down I-5 due to wiring issues after the recall.
My recommendation to you, would be to look at your wiring and make sure that you do not have the same issues I had.
Long story, not so short (but still a short story
I couldn't pass up that pun):
My headlight issue was 5k+ miles ago, the headlight fuse kept blowing. I made it the rest of the way to Seattle on the trip, had a mechanic look at my bike, got a "lucky fix" and charged me about 100 bucks. My headlights worked fine after that, no real issues.
About 1000 miles ago, I slabbed to and from San Diego, on the way home, my horn started randomly blaring, so I disconnected it at a gas station, and rode the rest of the way home. I pulled apart my switch, seemed to be working okay, and I kinda forgot about it.
It was T minus 1 week before a trip, I pulled apart my bike to do the 22 cent mod, my valves, this, that, the other thing (nothing electrical). I got my bike back together 2 days before I was supposed to leave, surprisingly it ran great, no issues. I rode to lunch, got to lunch and realized my headlight had shorted out. At that point I rode home and decided I was going to pull apart my entire wiring harness, from headlight to taillight. Fortunately, I had a constant short now (first time ever), so I was able to have my multimeter telling me that it was still shorting with a constant ping. I pulled apart my entire harness, not really finding any rubbed or raw wires. I started tracing every single connector everywhere, eventually finding the issue.
Issue:
The left-hand controls wire bundle connector had been shoved between the frame tubes and a couple gusset plates, and zip-tied in place. The way it was shoved in there, caused the insulation on the horn switch and the high-beam switch wires to be rubbed raw, the bare wires coming in direct contact with the frame.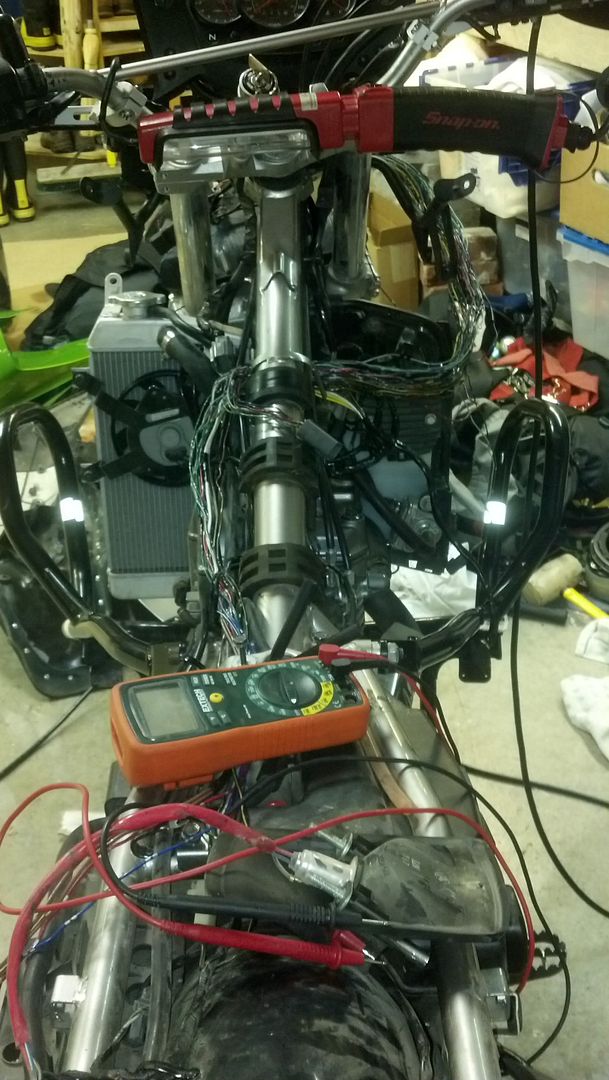 What I hope you don't have to do.
The general location of the issue.
Note the connector jammed in there.
All it takes for such an issue.
Fix:
Buy a BMW. Or move the connector to close to the radiator, find a nice clean way to route it. If necessary, cut and rewire the connector, or tape up (very well) the raw spots. Add the plastic cable protector sheaths, and never force wires into a spot like that.
---
PPMC #8

Ridin an 08 and loving every second of it
Banned
Join Date: Jan 2010
Location: Mid-Atlantic
Posts: 763
Congratulations on your diagnosis and repair; also, thanks for the lucid explanation and recommendations!
Nice detailed write up Kmbsar, may be very helpful to someone having similar issues. Couldn't help but notice two hammers next to wire pliers. LOL
Fixed just in time.
---
Sent from my rotary phone
================================
Track me here -
https://spotwalla.com/tripViewer.php...354a61e5f3997a
Michael G in SF
|
2018 KTM 1090R Adventure | 02 XR400R (Plated)
|
2011 FJ Cruiser Army Green
|
------------------------------------------------------------
"If you have the will and not the way, you wont get very far."
Snakeboy66
OverDrive
Join Date: Jan 2011
Location: NW MO
Posts: 5,386
Sorry to hear you had to endure this, but thanks for taking the time to report this with great detail. It is much appreciated and an area I will be looking at the next time I have mine stripped down. Great pun, by the way.




Great write up and photos, thanks. No issues like that or any other on my '08 as of yet. I did the wiring recall myself a year or two ago but will be looking again where you had your problems while inspecting the valve clearance again soon at 10,000 miles.
Neutral
Join Date: Jun 2012
Posts: 1
Thanks for posting this, I am in the process of protecting my wiring right now!! I will pull that connector out of there and see what I cna do to protect that area.
4th Gear
Join Date: Apr 2011
Location: Kansas
Posts: 1,205
Agreed with what others have stated.
I'll try to remember to check mine out next time in there.
---
Kawasaki KLR650 - Adventure Lite
Tagged KTM250XCF-W - Rocket
Tagged KLX300 - Trail Tractor
'84 XR250R - Retro Ride
RMZ250 - Dirty
CRF80 - Kids
CRF70 - Kids
2nd Gear
Join Date: Oct 2009
Location: SRNCA
Posts: 186
My 09 wiring failed near the coil. A multi-cable had been routed over the bottom edge of the coil body and it rubbed thru.
Thanks for the heads up. Will be checking while my tank is off.


Sent from my Motorcycle iPhone app
Similar Threads
Thread
Thread Starter
Forum
Replies
Last Post
Wiring Harness

efigalaxie

KLR & Other Motorcycle Related Discussion

3

04-03-2018

12:50 PM

gps wiring

DCardoza

Gadgets & Gizmos

15

08-06-2014

12:17 AM

wiring up electronics ?

divinsailor

Gadgets & Gizmos

21

02-19-2010

12:30 AM

Wiring GPS

ucatch33

Gadgets & Gizmos

4

02-25-2009

09:15 PM

Wiring diagram for the '08??

Timbo

KLR & Other Motorcycle Related Discussion

0

06-25-2007

03:18 PM