KLR Dash Riser Modification
---
This is the best thing yet I've found to work for me... I was using the fixed riser before with ZG double bubble with an extender for the freeway (velcro on piece), then switched to a Kawi extended height but this is much better.
For offroad you can just slide it in the slots to lose 2.5" or so off the height. Works great.
Now I'm happy with it I guess I can move on all the other parts I bought trying to find an acceptable solution!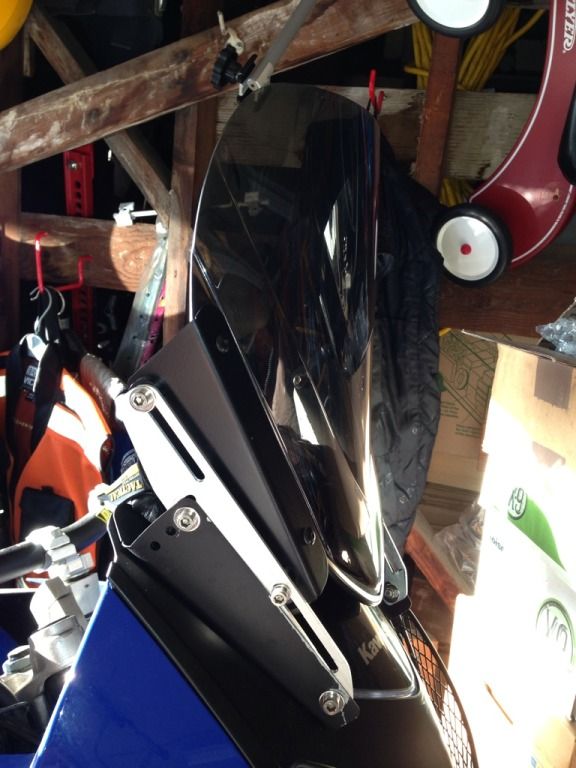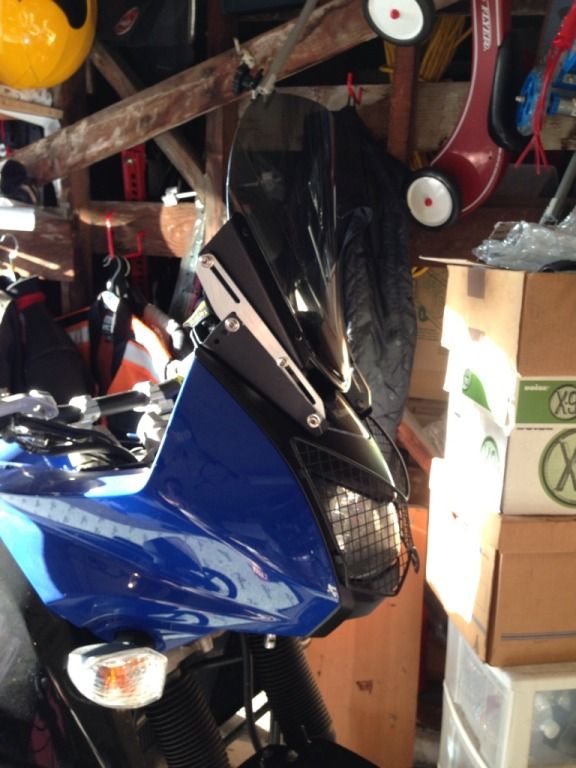 You make that yourself??
---
Erik
2003 Bandit 1200S
2009 KLR 650

74 Honda CB360
The black bit is a KLR Dash riser. The Aluminum plates I made...
That is slick.
---
"In a car you're always in a compartment, and because you're used to it you don't realize that through that car window everything you see is just more TV." R. Pirsig
PPMC #1.
Soon, we ride.
AKA JD Mader or you can call me "Dan" just not early for dinner.
Click my handle for a link to my homepage/blog...which has nothing to do with MCs. Free literature and music! Viva La Revolucion!
-------------------
2008 KLR 650
RIP DM - Soon, we ride.
I was hoping you made that whole deal so I could get it to go with the headlight protector I got from you
---
Erik
2003 Bandit 1200S
2009 KLR 650

74 Honda CB360
If you buy the KLRDash riser from them and source some Nylon spacers and bolts yourself you might be able to twist my arm to make the Aluminium plates for you
I guess I could look and see if my local shop has similar spacers for you too....
Www.klrdash.com
is the site I think. Screen is a zero gravity double bubble. The screen below it is a stock one with top cut off to follow the profile of the gauges.
Much cheaper than a Madstad setup.
1st Gear
Join Date: Mar 2011
Posts: 30
I'm REALLY interested in this as I just spent some money to buy a piece of Lexan off of Amazon to make my own windshield. None of the ones currently offered seem like they would take the wind over the top of your head except the Madstad, and it's expensive! Right now with my stock windshield, the wind hits me under the helmet and makes horrible wind noise.

Can you comment on where the wind hits you now while driving at 70-75mph? (bottom of helmet, middle, top, or goes right over your head)

Also how did this affect wind noise?

All comments I'm seeing about the Madstad say the wind is virtually eliminated as if you're in some kind of protected bubble.
This is the only setup I've had where it takes it over the top of my head similar to what people describe with the Maadstad.
All my other setups including this one with the Kawasaki "tall" shield fitted hit the top of my helmet & caused buffeting.
The Kawi tall shield may work with this setup if the angle was increased further with a wider aluminium plate but the ZG double Bubble seems to generate really clean air to me & I can still see easily over the top of it.
On mark two I might be inclined to give myself 1/4" more travel in the slots for when I ride with my Airhawk in place....
I use a Sargent Low saddle & I'm 5'8" if that helps.
Very nice craftsmanship!
Would you mind posting a photo of the windshield in the down position?
You know people are going to start coming to you for orders
Unfortunately I don't have one to hand in the down position.
Mark 2 if I ever get around to cutting it will have the slots reversed so that the Aluminum bracket slides with the shield.
Similar Threads
Thread
Thread Starter
Forum
Replies
Last Post
08 klr (dash lights not working)

LordMDP

2008+ KLR650 Wrenching & Mod Questions

16

03-29-2013

10:38 PM

KLR Dash

CarolinaTraveler

2008+ KLR650 Wrenching & Mod Questions

2

12-17-2011

11:46 PM

KLR Dash Thoughts

TrabFTW

KLR & Other Motorcycle Related Discussion

3

02-13-2011

12:21 AM

klr body modification

ti_guy

KLR & Other Motorcycle Related Discussion

0

10-16-2009

08:23 PM