Keep battery cable connection tight?
---
A loose battery cable has waylaid me again...fourth time in the past couple of years. Good thing is that has happened often enough now that I pretty much know what it is when my bike goes dead. Tighten it up, and it's all good. But here's the question: how to best KEEP it tight? Can you use locktight in the batttery terminals? Of course, the terminal connector nuts made of cream cheese don't help any. What do you guys do to keep 'em tight?
5th Gear
Join Date: Jan 2011
Posts: 4,434
True confession, I have used thread-locker on battery terminal bolts.

The purpose of the fasteners, of course, is to keep the cable in contact with the terminal; I tried to keep contact surfaces clean and clear of any of the goop.
It's funny, I've never had a battery cable come loose... I do remove my battery in the winter (3/4 of the year here... sniff) and bring it inside, so I guess I am inadvertently checking and tightening it once a year.
Here in the south, we can ride 12 months per year. It's actually more comfortable to ride on a 45 degree winter day than on a 95 degree summer day!

In any event, I'm gonna thread lock that battery connection. Maybe that'll hold it until I'm due for a replacement. I have an '09 model, still on the original battery.
I know I've overdone this......KLR = Keep Loctite Ready.

A drop of blue on most everything I re-assemble.
---
Gray-haired riders don't get that way from pure luck.

Unknown
OverDrive
Join Date: Jan 2011
Location: NW MO
Posts: 5,367
I use these: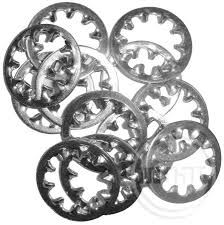 also have an 09 second battery never once had a connection loosen up
---
Never ride faster than your angels can fly
Pretty in Pink, dunno why
Join Date: Feb 2009
Location: Redondo Beach
Posts: 7,702
I replaced the JIS head bolts with decent stainless hex-head bolts. Snug 'em up gutentite and have had no issues with them loosening.

planalp's idea on using throwing stars is a good one, as is a bit of LocTite.

T
---
Tom
[email protected]
"Some days I feel like playing it smooth. Some days I feel like playing it like a waffle iron."
-Philip Marlowe
"'Why'
and
'How'
are words so important they cannot be too often used."
-Napoleon Bonaparte
Sting like a butterfly.
Noli Timere Messorem
---
Last edited by Tom Schmitz; 07-05-2013 at

11:19 AM

.
Well, it wasn't a loose terminal...at least not the screw and nut...all were gutentite.

But then I found I can wiggle the negative post, and power returns. Wiggle it again, and I lose power. Then wiggle it again, and power returns. Wiggle it again, and lose power. While without power, don't move anything, and power spontaneously returns.

All this has me wondering if something is amiss inside the battery itself???

Since my battery is 5 or so years old anyhow, I may just replace it with an AGM, and see if symptoms recur. I replaced my Wave Runner batt with an AGM ealier this year. One year warranty, for, I think, about $90 from Advance Auto. Hate to spend $90, but I am due for a battery anyhow.
Pretty in Pink, dunno why
Join Date: Feb 2009
Location: Redondo Beach
Posts: 7,702
If you've gotten 5 years out of the battery, you've done a good job of maintaining it. It's about at the end of its useful life under any circumstance, and it sounds like a mechanical failure in the post connection is there to boot.

T
---
Tom
[email protected]
"Some days I feel like playing it smooth. Some days I feel like playing it like a waffle iron."
-Philip Marlowe
"'Why'
and
'How'
are words so important they cannot be too often used."
-Napoleon Bonaparte
Sting like a butterfly.
Noli Timere Messorem