2nd Gear
Join Date: Oct 2009
Location: SRNCA
Posts: 186
Over torqued screw, Tool
---
For those like me that have almost stripped out the cheap lead screws that seem to find ways to tighten themselves.
I found a small hammer type torque tool at harbor freight for $4.99. It is narrow enough to reach into the small spaces where you might need to use it. A whack or two with a hammer
will save completely stripping out those stubborn phillips head screws.
The tool works both ways so you can set a mild torque with them as well.
5th Gear
Join Date: Jan 2011
Posts: 4,416
Your description sounds eerily like an IMPACT DRIVER, Stinker!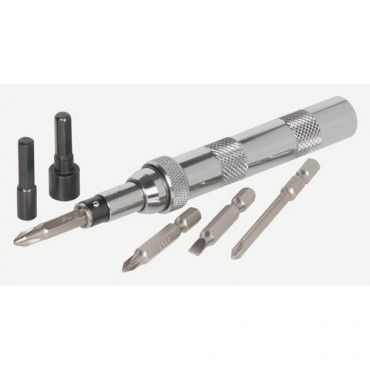 I consider an impact driver an essential tool for working on motorcycles, or anything with steel screws and alloy threads mating.
Galvanic corrosion between the dissimilar metals sometimes causes incredible adhesion. An impact driver often effectively extracts the screws, because . . . torque is only applied when the threads are relieved by a hammer blow.
A further enhancement toward removing stuck screws is . . . JIS (Japanese Industrial Standard) bits for JIS screw heads.
Generally speaking, Allen-head (hex socket) replacement screws are a good idea, as in carburetor screws. For the "special case" of the brake master cylinder reservoir screws, the following may be useful: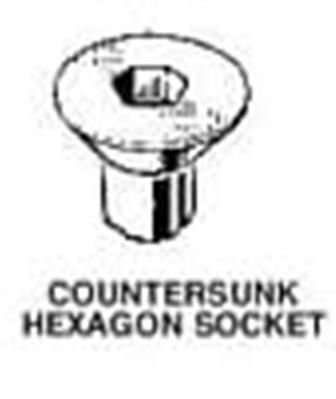 Regardless, an impact driver with the proper bit possesses considerable persuasion, when it comes to stuck screws.
Snap-On Blue Point 3/8" square drive impact driver, shown with four JIS bits: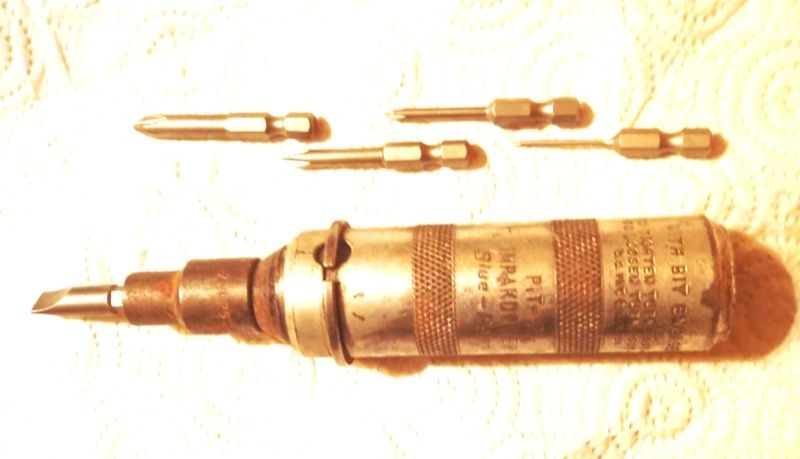 ---
Last edited by Damocles; 10-23-2013 at

02:57 PM

.
simple test try thing for getting them out if they do strip out, before drilling and pulling them. put a rubber band on the tip of your driver, it takes up the stripped space and allows you to turn it out.
---
Never ride faster than your angels can fly
2nd Gear
Join Date: Oct 2009
Location: SRNCA
Posts: 186
Impact driver was what I searched for but that alway got me only power
impact wrenches. When I happened on the term impact tool, that is when
I got the old style hammer drivers.
5th Gear
Join Date: Jan 2011
Posts: 4,416
A more appropriate name might be, "Manual Impact Driver."

Wikipedia has a pretty good entry under "Impact Driver," noting that powered impact drivers and impact wrenches do not exert the downward force of the manual impact driver.
Similar Threads
Thread
Thread Starter
Forum
Replies
Last Post
idle screw

Brettrowland

2008+ KLR650 Wrenching & Mod Questions

22

03-28-2014

11:18 PM

Mixture Screw

sdgirl

2008+ KLR650 Wrenching & Mod Questions

7

05-30-2012

04:06 PM

set screw size.

Scrapper

2008+ KLR650 Wrenching & Mod Questions

15

03-22-2012

10:10 PM

mixture screw

gpzbob

2008+ KLR650 Wrenching & Mod Questions

15

05-09-2011

01:48 AM

Screw the law, screw 'em!!!

aminklr650

KLR & Other Motorcycle Related Discussion

23

06-24-2007

08:32 PM