Neutral
Join Date: Jun 2014
Posts: 5
prepping to overheat??
---
Hey everybody, so I got a brand new 2012 klr about a month ago and loving it! It only has less then 50 miles on it and today I started it and walked away. Came back maybe 5-10 minutes later and the bike was pretty damn warm and the temp gauge was up around 3/4. It this a thermobob thing? I should worry about? Keep in mind its still under warranty.
Thoughts?
there's no reason to let the bike idle that long....

with no air moving across the radiator the temperature will climb until the thermo-switch turns on the fan to create air flow across the radiator. it's not a thermobob thing, its an airflow thing.

having a thermobob would not prevent this from happening, the thermobob does not in any way increase the cooling capacity of the bike.
---
2013 KLR650
1994 YZ250
OverDrive
Join Date: Jan 2011
Location: NW MO
Posts: 5,344
Have you checked to make sure your fan is coming on?




As long as it's not going into the red it's not overheating.
---
5th Gear
Join Date: Jan 2011
Posts: 4,396
+ 1 to all responses!
Yet, some ThermoBob devotees insist the ThermoBob enhances engine cooling, although the manufacturer does not. After the thermostat opens, the engine is at the mercy of airflow and coolant circulation, ThermoBobbed or not.
The excursion of your temperature gauge needle appears quite normal; as dealership personnel often say, "They all do that!" (This time, the statement is true. Engine coolant heats up, thermostat opens. If coolant gets sufficiently hotter, thermal switch activates fan. Fan circulates additional airflow about radiator, coolant remains at safe operating temperature. As coolant temperature drops (e.g., from bike motion airflow), fan shuts off; cooler still, and thermostat closes. Repeat.)
CAUTION: Opinion follows--If Kawasaki had chosen to install an "IDIOT LIGHT," versus a temperature gauge, with the otherwise identical cooling system on KLR650s . . . much less motorcycle forum discussion would have appeared on this subject!
I wired a 12-volt dashboard light (a "jewel") from a constant "hot" wire to the thermal switch lead on my KLR250 (same fan circuit as Generation 1 KLR650s); when the fan kicks in, I can see the reassuring glow from this indicator telling me the fan relay has been activated (versus looking at the fan blade, or letting the fins clip the tips of my fingers). I also wired in a manual switch, permitting manual activation of the fan, but . . . that mod is of no significance, with a functional thermal switch, IMHO.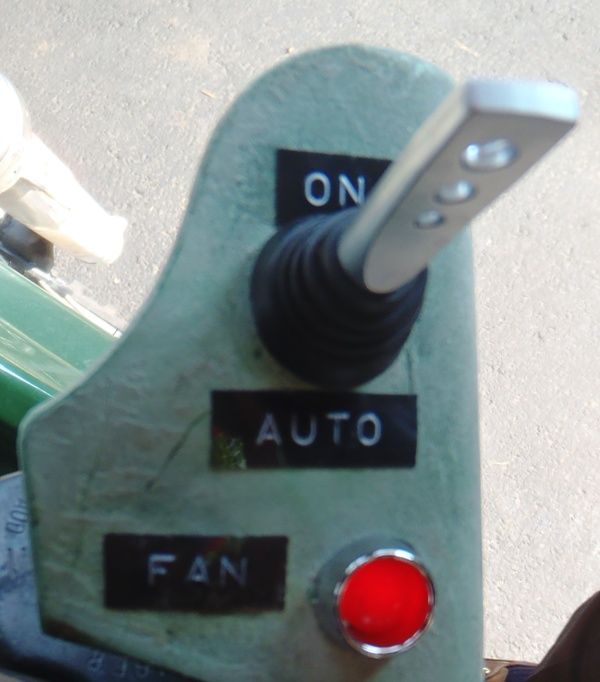 I personally know of no maintenance issue traceable to the stock KLR cooling system, operated within safe limits. YMMV!
---
Last edited by Damocles; 06-10-2014 at

04:36 AM

.
2nd Gear
Join Date: Nov 2012
Posts: 216
Carry spare fuses for the fan, just in case you notice it does not come on.


Crash
OverDrive
Join Date: Jan 2011
Location: NW MO
Posts: 5,344
Mine rarely goes more than a hair above half on the guage, even on the hottest of days and slowest of riding.

Was this the first time of the day you'd started it or had it been running before, thus was already "warmed up?"

If it was the first "cold" startup of the day and it was just sitting there idling, it would seem to me the fan would have been more than capable at keeping it at around half on the heat guage if it kicked on.

Yeah, the fan just seems like an overblown biscuit fan from a computer, but in my opinion is quite capable of doing its job.

Damocles' additions seem like good ones to me. The only way I can tell if my fan is working is by watching the temp guage or contorting myself down under the gas tank to visually confirm it's spinning.

Like 650Stew said, it's not overheating until it hits the red. I personally think the large, prominent and easy-to-read-at-a-glance temp guage on the Gen2"s was a nice gift from Kawasaki. The downside is, it has such a large swath of "Good To Go White" as opposed to "Watch Out Red" that people freak out about it.

My theory is that people are used to driving cars where within a few miles of startup the temp guage needle swoops up to the "middle" of the guage and invariably just stays there. They're not used to the needle moving a lot or advancing beyond the "halfway" point, even though it's nowhere near redline.

On top of that, throw in the "Thermo-Bob Variable" and people seem to doubt the stock system even more.

I guess I'm kind of contradicting myself with the observation that mine rarely creeps above the halfway point of the guage. I only make note of that because that seems to be generally when my fan kicks on. Even if it was 100 degrees out, I'm pretty confident I could leave mine idling for half an hour and the fan would keep the guage at the halfway mark.

If you've only ridden it 50 miles, those miles could have been under conditions at which the fan wouldn't have been required. I think it would be a good idea if you confirmed it was coming on as conditions demand to make sure the system is working as designed.

You never know what's up with a new bike: something could have been left unplugged or some heavy-handed stooge involved in taking it out of the crate and doing the final assembly could have damaged something.