2008 Rear Turn Signals reloacated
---
Here are a couple pictures of my buddies 08 with the relocated rear Turn signals.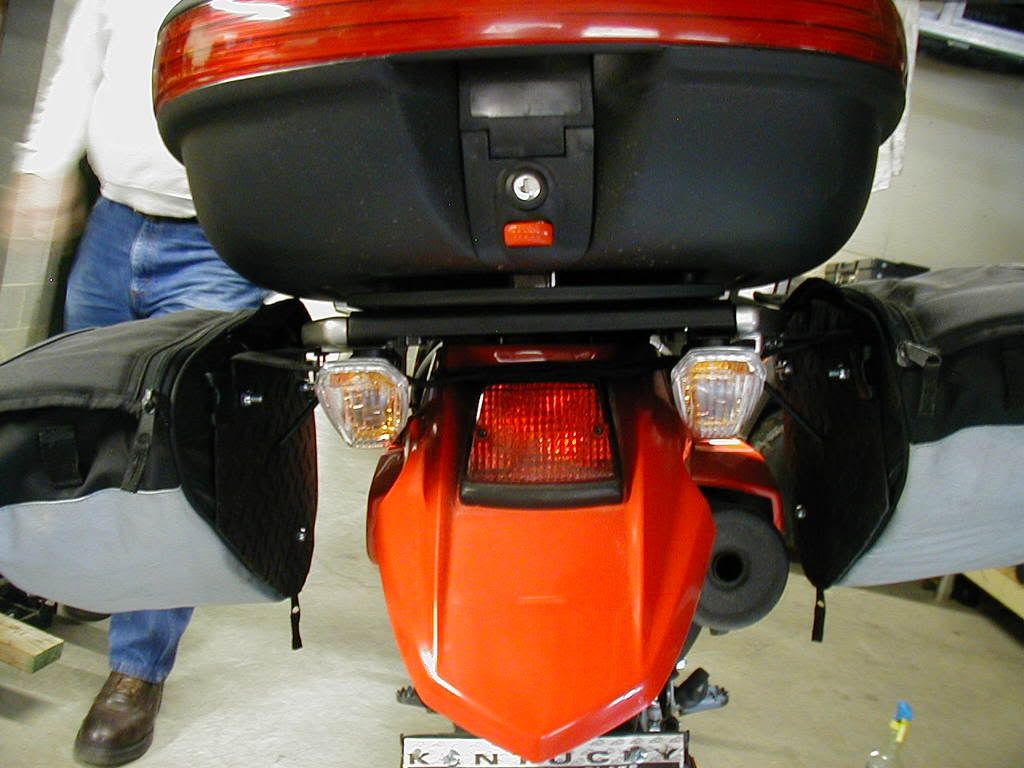 Where you see it mounted, we drilled a mounting hole which is hid under the rack plate. The wires did not have to be cut or lengthened. The Stalk on the turn signal will come off. If you take one apart, you will see how easy it is to do this.
Thought I would bump this for some of the new guys with an 08.
Thanks for the bump. I have been trying to think of ways to relocate them on my '08.

I was considering machining some extender plates to just push them back, but realized that I would probably not have enough wire to do so. This also looks much simpler.
5th Gear
Join Date: Sep 2006
Posts: 4,700
Quote:
Ineptitude - If you can't learn to do something well, learn to enjoy doing it poorly.
Perfect!!!
Well this just voluntered to be my next project, thanks DX
Your welcome, it does add a bit of uniqueness to the bike.
Well this relocation is going to have to wait till next week, got a rally to plan and pak for...
Guest
Join Date: May 2008
Posts: 31
Chief,

Thanks for the pictures, they made the info you gave us before much clearer. I was at the Dealership today and the Service Manager (replacing two on the driver's side) said that KAWASAKI knows they have a turn signal problem. He said that by moving them under the luggage rack any breakage there would not be covered by warranty. So I'm thinking I will move mine later.

Heres the kicker or me......Wanderin round the showroom I saw that the signal on my KLR are the same as the NINJA. They have to be breaking off more frequently on those Ninjas since they typically are ridden faster. Mine broke in a headwind while travelling less than 70 MPH.
To be honest yours and maybe one other are the only ones I have heard of having that breakage problem. But as you can see, there is 'no' stalk to break when you move them under the rack. But I do understand, a man has to do what he has to do. So far my buddy has not had any issues from moving them under the rack. As a matter of fact, that probably saved them three times from breaking when the bike fell over. If I can be of more help let me know.