2nd Gear
Join Date: Apr 2012
Location: Cairns, Australia.
Posts: 191
Broken indicators....again
---
I've got a 2008 model, one of the ones with the crappy indicator rubbers that keep on breaking.
I'm thinking it's probably waaaay past the local dealer doing anything to fix the problem especially as I bought the bike second hand.

Anyhow, I'm well and truly over fixing these wretched things, the wire routing and the intricate series of steps to lift the rack to get at the bolts has pissed me off for the last time.
I bought some cheapie generic bolt-on ones off the net, got some waterproof quick-disconnect fittings for the wiring and am ready to go. One small problem, the new cheapies ( $2 each-if you break one, throw it away and put on a new one) are only 10 watts as opposed to the original 23 watt bulbs and don't draw enough current to activate the flasher relay/switch thing. I need to bridge the connections with a resistor, but no one at the local electrical gizmo store can work out what value resistor to use.
The original load on the circuit is 2x23=46 watts. The new indicators are 2x10=20 watts.

So, all you electrical smarties...
What value resistor do I need?

Thanks...

iddy
You can get flasher relays that work with LEDs and that should solve your problem. You may also need a LED flasher indicator bulb. I have changed all my bulbs to LEDs and besides having the turn signal indicator at a lower brilliance everything works great.
---
2014 KLR650 New Edition
2014 BMW K1600 GTL Exclusive
2010 Harley FLHTPi
5th Gear
Join Date: Jan 2011
Posts: 4,387
Purpose-built flasher, as suggested above, is best bet.
Otherwise, trying to apply Mr. Ohm's and Mr. Kirchoff's laws, looks like something around 10-12 ohms might work . . . loose quantification.
Rationale; no flaw-free guarantee:
Stock, we have 23 watts. VI = 23. But V = 12. So, I = 23/12; about 2 amps current.
With the trick LEDs, VI = 10. V ain't changed; still 12. I = 12/10; or about 1 amp.
We want the flasher to see TWICE that, so it will flash. With the LED in the circuit, IR = 12. Let I = 1, R = 12 ohms. We want to halve the resistance, double the current, so . . . let's wire in a parallel 12 ohm resistor to increase the current and the wattage to trigger the flasher.
What? You tried that, and it didn't work?
Sorry! I said a purpose-built flasher was preferred . . .
2nd Gear
Join Date: Apr 2012
Location: Cairns, Australia.
Posts: 191
Ah yes, Damocles..
I knew there was someone much smarter than me when it comes to this electrical stuff...
I guess i'm just being cheap and lazy, didn't particularly want to pull the tank off and go digging for that flasher unit if I could get away with a cheap and easy fix with a resistor across the wires at the indicator/loom joint.
In deference to your knowledge and because resistors are cheap, I'll try the 12 ohm resistor approach first and so how it goes...
Not going to happen in the next week or so as the current cheap fix, the traditional duct tape/zip tie fix is still holding up: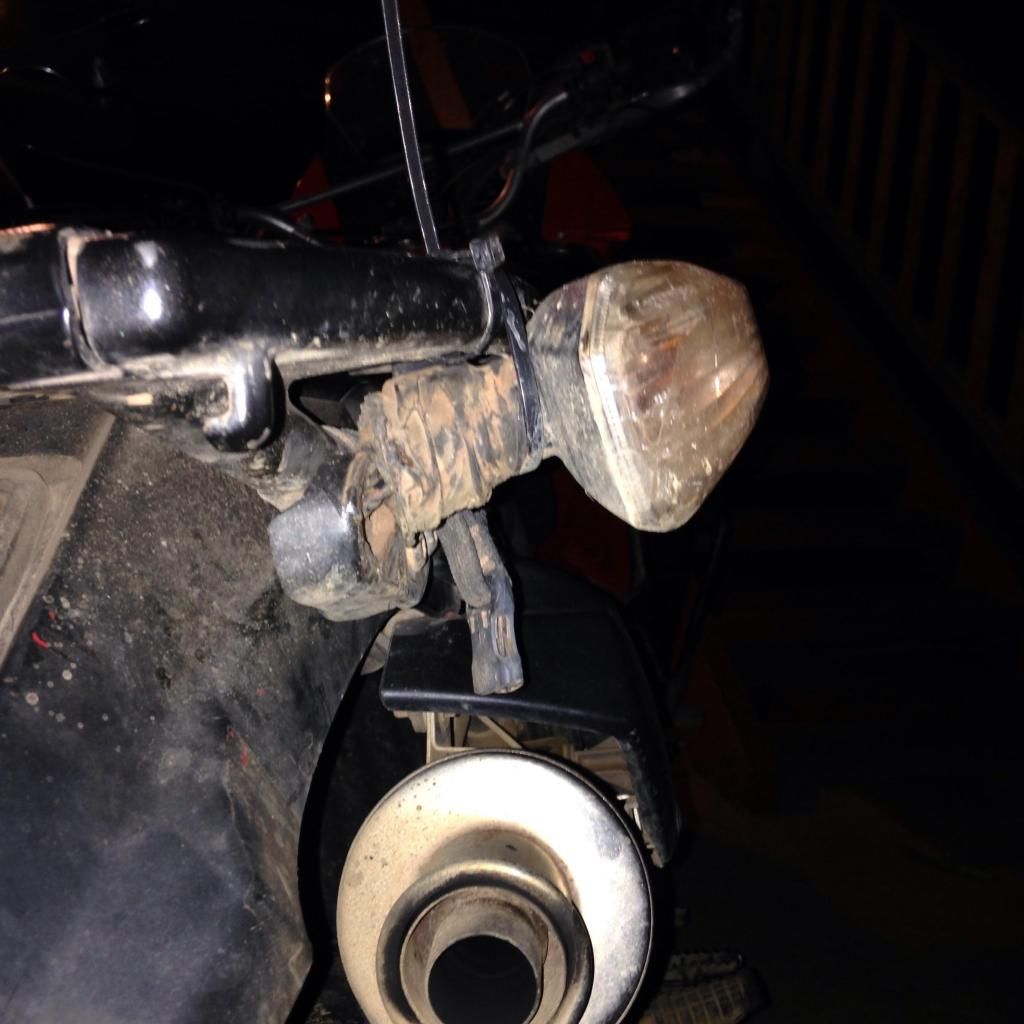 I'm just kind of annoyed that those indicators are : a. so vulnerable; b. so flimsy and, c. so frickin expensive. They want $65 each for 'em when I can buy generic 'throw aways' for $2 each...
When I get around to actually doing something about them, I'll report back.
iddy
2nd Gear
Join Date: Apr 2012
Location: Cairns, Australia.
Posts: 191
5th Gear
Join Date: Jan 2011
Posts: 4,387
Before you remove the fuel tank and dig into the wiring, iddy, you might be well-served with a second opinion!

I have no experience with those LED doo-dads; they're 'way beyond my time of chasing electrons to and fro. I've shared my rationale, but have no corroboration of its validity.

My postulations are speculative and theoretical; often, REALITY comes along and crushes even the best-guessed possibilities into nothingness!

Thus, no 50,000 mile guarantee on my estimates. Best wishes for durable flashers that flash for you, nonetheless!
Similar Threads
Thread
Thread Starter
Forum
Replies
Last Post
Indicators won't work!!!

klralex77

KLR & Other Motorcycle Related Discussion

2

02-07-2014

01:16 AM

Broken Fairing

KiLR

2008+ KLR650 Wrenching & Mod Questions

15

03-10-2013

11:22 AM

Temperture Indicators

larry31

Gadgets & Gizmos

4

01-16-2012

03:09 PM

KLR Indicators

klrchris

KLR & Other Motorcycle Related Discussion

4

09-11-2009

08:29 PM

Three Broken Ribs

bimbospencer57

Introductions

3

10-13-2008

09:11 PM