1st Gear
Join Date: May 2008
Posts: 37
1st bike -- 208 klr650
---
I have about 38 miles on mine so far and rode it to work for the 1st time today.
This is my 1st bike and just wanted to say hello to all.. I will be up for some weekend rides. When I get alittle (I meanALOT) better and more up to speed on riding.

I ended up w/ the green one due the fact that the local shop could not keep all the colors in stock. I would have loved to have got the blue one to match the toyota FJ that will be towing it around on camping trips and such but, I love it anyway.

I know for a fact I will be drawing on all of you to help with the issues w/ owning a bike on this forum.

Thanks
1st Gear
Join Date: May 2008
Posts: 37
ME again
---
I have 1200 miles on it now and all its well .. Daily driver has worked out great. Had afew 100 mile days with no issues. This thing has made its own payments from gas savings.
A delayed welcome. Good place to be.
Welcome and yea its amazing how it saves and keep that grin on our face's, only one thing more fun then my klr and well yea umm enough said..
Guest
Join Date: Jul 2008
Posts: 10
Quote:
I have about 38 miles on mine so far and rode it to work for the 1st time today.
This is my 1st bike and just wanted to say hello to all.. I will be up for some weekend rides. When I get alittle (I meanALOT) better and more up to speed on riding.

I ended up w/ the green one due the fact that the local shop could not keep all the colors in stock. I would have loved to have got the blue one to match the toyota FJ that will be towing it around on camping trips and such but, I love it anyway.

I know for a fact I will be drawing on all of you to help with the issues w/ owning a bike on this forum.

Thanks
Welcome. You plan on towing a perfectly good running KLR? Buy some luggage and throw your gear in that then you can go without the FJ. Wouldn't that be better?
1st Gear
Join Date: May 2008
Posts: 37
1st trip on the bike...
---
Im planning to do just that.. I am riding from western NC to northern WV this weekend .. I hope it is a fun as I think it will be ,
Sorry it took so long Clayman but Welcome!!!! I was stationed in NC for 3 years and loved it. Enjoy the new KLR. By the way, the green one is the best. Here is a pic of mine.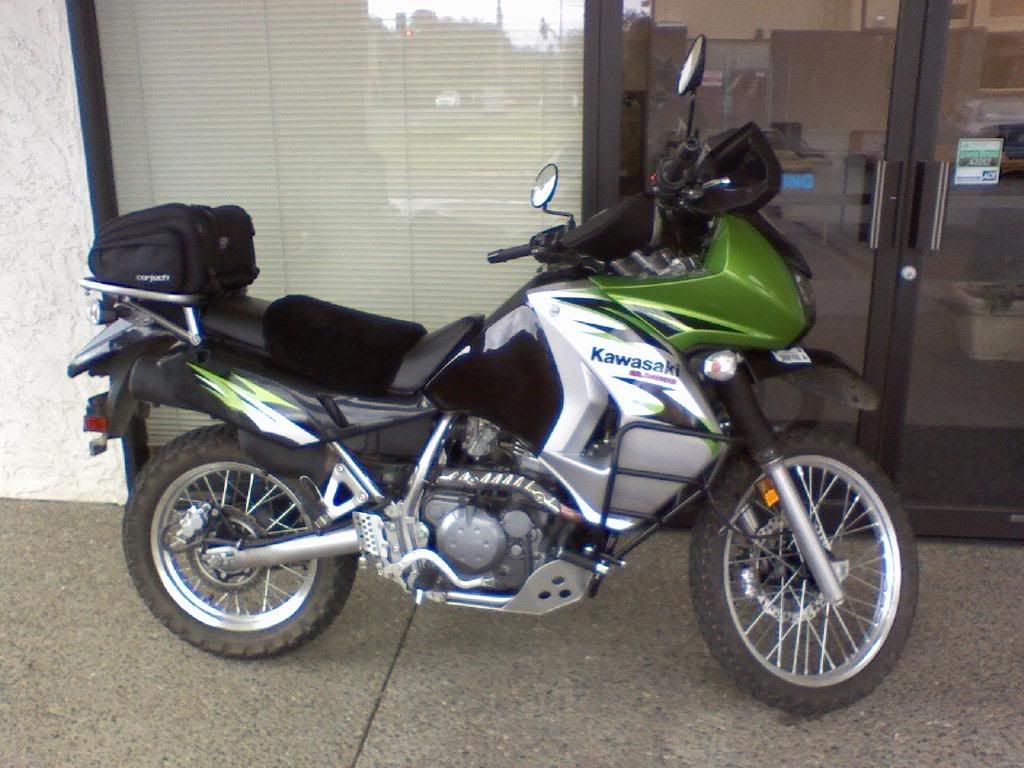 Better one of my bike on a ride in the mountains 2 weekends ago.