Guest
Join Date: Aug 2008
Posts: 2
After market seat
---
I have had my first ride with my KLR and I do need to upgrade the seat. I know Corbin and Sargent both have seats. I have had both on my BMW's but I was wondering what this group thinks of these two brands. I am also open to other suggestions other manufacturers or mods to the stock seat. I am 5' 6" and weigh 198 pounds.

My biggest complaint is the that the seat is too narrow for over an hours ride. I do not want to get something too wide as it will make it harder to reach the ground.

Thanks for everyone's views.

Slayor
1st Gear
Join Date: Apr 2007
Posts: 40
Seat
---
I have a corbin saddle. They are very expensive but are worth it.
---
2007 KLR
2008 Concours 14

corbin seat, doohickey, agm battery, subframe bolts, progressive springs, stainless brake lines, anti vibration mirrors, wolfman expedition tank bag, panniers, electric outlet for gps, clock, moved license plate, magnetic drain plug, mefo explorer 99 tires, 320 mm Rotor with Galfer green pads front and black on rear
Corbin Flat. They take awhile to break in,but once they are.....
I have had mine on for over 30,000 +.Can't tell you exactly,haven't had a speedo for almost a year now
.I like the flat on and off road,lets you stand up when you need to and is narrow enough in the front for me to get my foot down when necessary.I have done at least one 600 mile day in and wasn't to bad.
Mike
---
You can't shake hands with a fist
If you can read this,thank a teacher.Since it's in English,
thank a soldier.
---------------
What could possibly happen
---------------
05 KLR The faster Red one
01 Triumph Tiger Sold
08 KTM 990 Adv S
08 Yamaha 250 WR Sold
09 KTM 530 EXC
Renazco racing. Here is the link
http://www.renazco.com/
The wife and I love ours.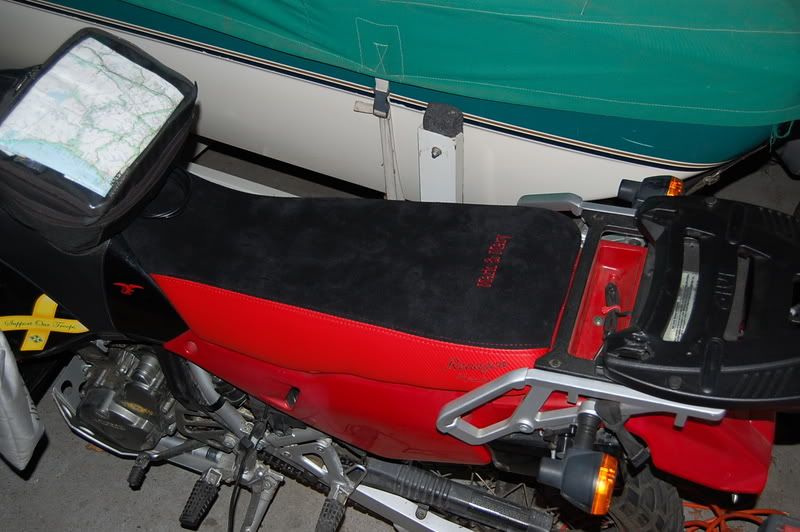 ---
PPMC # 3

Yo! To the brothers.

RIP Darin, Ben, Carey


"I am the muffin man"
Guest
Join Date: Aug 2008
Posts: 13
Is the '08 seat the same as the older models.

I just bought a used Cordin from a '04 because I thought they where the same but havenít been able to confirm it anywhere. The Seat won't be here until Wednesday so I can't try it till then just thought someone might know for sure.
---
Last edited by Varmit57; 08-18-2008 at

04:39 PM

. Reason: Spelling
Corbin seat
---
Don't know if the 04 seat will fit 08. If it doesn't let me know, I might buy it for my 05.

Thanks, Dave
Guest
Join Date: Aug 2008
Posts: 13
Thanks Dave. I really wasn't worried about buying it. I thought it was a good deal.
I didn't want to loose it if it did work & I knew that I wouldn't have much trouble moving it if it didn't.
The factory 08's have an added tab for the tank, but the seats will all interchange. The corbin's fit all models.
Those corbins are sometimes a PITA to get fitted, but it should fit. Others have said theirs slid right no with no problems what so ever.
Similar Threads
Thread
Thread Starter
Forum
Replies
Last Post
upgraded seat???

ultramaxplus1

Gadgets & Gizmos

33

03-29-2010

06:01 PM

After market exhaust

ucatch33

2008+ KLR650 Wrenching & Mod Questions

4

08-07-2008

01:48 PM

Gel Seat Cover

BackRoader

Bike and Rider Gear

14

12-27-2007

04:54 PM