Gen 1 luggage rack on Gen 2?
---
Hey, probably a stupid question but I have searched on here and no luck on locating what I need...
Could be because of my stupidity, but here is a post!
Seeing some great deals on Gen 1 luggage systems, but I have a Gen 2! I have a 2014.5 and was looking at a set of Happy Trails for a Gen 1.
Anyone know if they will mount right up or will I have to modify the rack or get a new rack?
Any input is appreciated! I know they haven't changed these bikes much at all over the years. I just don't want to buy the system and then realize a bolt is 2mm's off or not there at all.
Doesn't look like anyone has tried.
(Or, just hasn't seen this question yet.)

Just about anything can mounted with brackets,
holes, spacers, home fabbed bits n' bends, etc.

I know that's not the answer you were looking for but I/we
would have to see some pics and measurements of the rear
subframes on both generations.

Good question, tho. My gen 2 could easily enjoy some
of the killer aftermarket parts for the earlier 20 years.

Enjoy the site, and enjoy the bike!!
Cheeeeeeeeeeeeeeeeeeap
---
This is my son, with whom I am well pleased." ----God
Yeah, tis always good to do your own mods if possible. I replace my rear rack with a strong, 3/4" aluminum plate drilled with enough holes to liten the weight some. Added a givi universal mount. I thought about selling these as I have the material and the machine to do it on but too much hassle!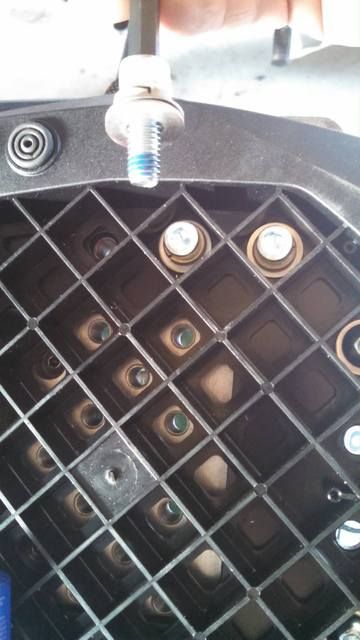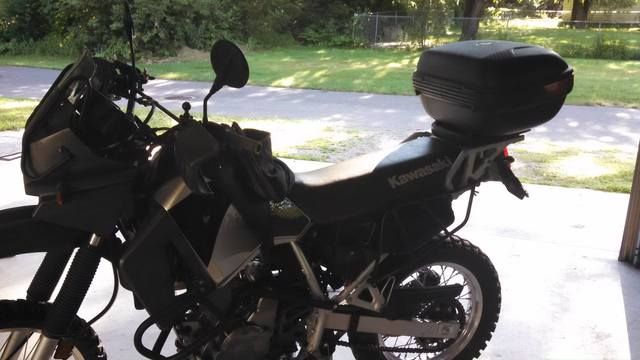 ---
'01 KLR 650, '09 Suzuki DL650, '08 Suzuki Bandit 1250, '16 CRF1000L, '09 KLX 250s
2nd Gear
Join Date: Feb 2013
Location: Maine
Posts: 368
Are you looking for a top rack or side racks?
Happy Trails and Dirt Racks each offer one side rack that fits '87 to '15.
Kawasaki KLR650 SL Soft Luggage Side Rack
KLR650
Touratech offers a 1st-gen rack that has 2 high bolts on each side (the rack bolt plus the turn signal hole) so they offer a separate rack for 2nd-gen. PackRat also offers separate racks. Same with Givi.
Looks like some racks are designed to work with both generations and some other racks are designed to work with one generation or the other.
If you are looking at a rack that mounts like the Happy Trails or DirtRacks, then you may be able to mount a 1st-gen rack to a 2nd-gen bike. But definitely not Touratech.
2nd Gear
Join Date: Feb 2013
Location: Maine
Posts: 368
Just 21 hours after posting about pannier racks, I was reading the large KLR thread in another non-brand-specific forum (19,000+ posts in one thread). A fellow there has 1st- and 2nd-gen KLRs. His pillion prefers the handles on the 2nd-gen but the poster prefers riding the 1st-gen.
So he put a 2nd-gen stock rack on the 1st-gen KLR.
KLR650 Only Thread...... | Page 961 | Adventure Rider
Thanks for all the info! That's some damn fine work there frostbitevinnie.

I should have been a bit more specific and was looking to attach some gen 1 happy trail side bags to my gen 2 KLR. Maybe I'll just buy them from the guy and that can be my small project for the winter is getting the bracket to fit if it doesn't.

Thanks guys! I'll look into those threads!
Purchasing the panniers and I'll let you know if they fit without modification. Gonna take a bit to get to me. Hopefully the guy in the other forum wasn't lying about it watching from one to another!
---
2014 Green/Black KLR650 "New Edition"
2006 Yamaha Cherry Red FZ1
2007 Yamaha VStar 1100 (Wifes, but I've ridden it more than her)
Just in case anyone was wondering... The Gen 1 does not mount directly to the Gen 2. Bolts are all out of alignment. Have some sweet panniers though! Hahah. Just need to find another rack.
---
2014 Green/Black KLR650 "New Edition"
2006 Yamaha Cherry Red FZ1
2007 Yamaha VStar 1100 (Wifes, but I've ridden it more than her)
OverDrive
Join Date: Nov 2009
Location: Lander, Wyoming
Posts: 6,058
Sorry that I missed the December postings of this thread.
But, questions like this one are best answered by the manufacture of the accessory in question.

Isn't Happy Trails products based in Boise, Idaho?
Couldn't you have ridden over to their office and asked?
Oh well, maybe you can 're-sell' for more than you paid.

Are they the OSR for soft bags, on Gen1? I'll offer $20.00, next!
---
pdwestman
Modify at "YOUR OWN RISK"!

Still riding my 1987 KL650-A1. 85,000+ miles & counting