Choke/Enricher Relocation
---
I needed more room on the left handle bar of my gen2 for an extra lever, so I used a thinner light switch bundle with no choke/enricher operator.
To operate the enricher I got a carburetor mounted Cable-less Conversion Kit from Stead Engineering:
Stead Engineering
This kit has a pull knob on the end to operate the enricher, but it is very short and difficult to reach or even find if you are sitting on the bike.
So, I cut the knob lengthwise and removed it from the operator rod. I zip tied/hose clamped a piece of 3/16" Tygon fuel line to the operator rod. I put some hardware store 6mm threaded rod in the tube to stiffen it and used two Nylock nuts and a washer for a pull knob. I cut the rod about 1/2" short at the operator to allow the tube to flex when I rotate the carburetor. If necessary I can cut the one zip tie/hose clamp at the pull knob and remove the whole rod.
It works very well. I am happy with this easy modification.
---
Last edited by GoMotor; 04-26-2016 at

04:51 PM

.
5th Gear
Join Date: Jan 2011
Posts: 4,590
Excellent work! I tried to achieve a similar operational capability; easy rider access to the choke/enricher knob from the saddle, straight-in carburetor cable connection (no troublesome elbow).
Here's my choke/enricher knob relocation: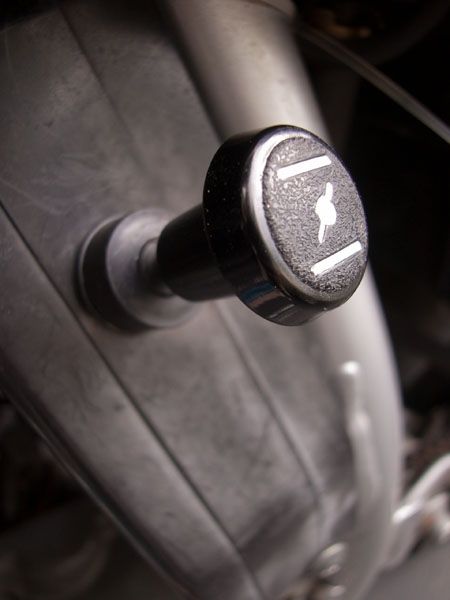 I used a Drag Specialties "shorty" Harley cable, drilled a hole in the kickstand switch cover, and . . . there you are! No, doesn't interfere with the legs or face damage should the bike be dropped.
I did cut the knob end of the cable, thread the stem, and attach another knob (the stock cable knob is mounted permanently) to reduce projection.
Shorty cable: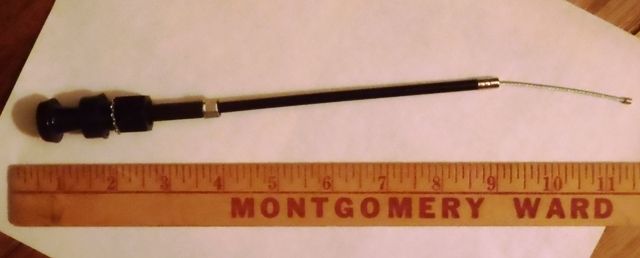 Your application of the Drag Specialties "shorty" cable is cleaner than my application of a shortened version of the same Drag Specialties "shorty" cable.

I shortened the cable and soldered a new tip on it and ran it straight out similar to the Stead Engineering one I posted here. I have removed the starter relay cover since it always seems to be in my way when I need/want access to something.

I have also fixed the oil leak from the cam chain tensioner visible in the photo.

For my purposes the Stead unit serves me better. If anyone wants a cut down Drag Specialties "shorty" cable, give me an address and I'l send this one to you.