2000 Miles, a few bugs. Askign the experts.
---
Hello All!,

New to the KLR, and new to the forum, but figure I may as well throw my first post up.

Got a 15í in October and Just finished up my first back country trip on it. A few bugs / issues I figured Iíd ask everyoneís opinions on:

1) Fuel tank vent hose has a drip. Itís not huge, I havenít measured it yet, but tip of tube always seems wet (yes its gas) and Iíve seen it drip. Seems to happen worse with a full tank but does happen when Iím well below full as well. Iíll try blowing a little compresses air through it soon and see if its plugd, or if it bubbles in the tank, but any other suggestions?
2) Bars are a bit low for stand up riding. Bar risers or taller bars? Iíd like an inch to an inch and a half of rise. I have no issues with the width or sweep of the bars. I tend to like simple and clean, so Iím leaning to taller bars.
3) Front end is mush. No problems on the dirt, but I have no confidence in it on pavement. I guess Eagle Mike stabilizer, then Springs, then emulators in that order? Am I better off to jump right at an inverted fork? I doubt I need ďthatĒ much, but whatís the value of a community if I donít listen to others opinions?
4) Rear rack. Seems a little under designed. I get itís only rated for a few pounds, but when my friends helped me lift it through snow last week they didnít and we ended up breaking the two small screws off. Anyone done a trough bolt modification to the sub frame and installed a beefier rack? Any recommendations (Iíll admit to not having googled this yet so no flaming the new guy!)

AnyhowÖ Nice to meet Yíall, and thanks in advance.
2nd Gear
Join Date: May 2014
Location: Kansas City
Posts: 202
Issue 2 - I would vote bar risers first. They are easy to add and give you the added benefit of remaining close to stock equipment...should something need replacing.
Issue 3 - Progressive makes a cartridge replacement that I found to be outstanding. Great company with outstanding support to their customers. The only downside is the set of replacements are about $300.
---
[email protected]
2009 Kawasaki KLR 650
always tinkering!
5th Gear
Join Date: Aug 2010
Location: Kelowna, B.C.
Posts: 2,642
A great deal depends on you; how you ride, where you ride, your expectations, usage and budget. With that said;
- 1) may just be normal expansion if the tank was full. Keep an eye on it. Could also be an issue with the gas cap relief valve.
- 2) the stock bars have the strength of partially cooked pasta. In order to improve ergonomics (stock bars are too wide, have too much pullback and are too low) you could buy risers (Rox adjustables are the best) or you could just replace the bars....I use Renthal bars with good quality bark busters and streetbike grips. lose the bar end weights.....('cause the bike is heavy enough without adding to the problem) and this set up works well for me. If you don't do any trail riding, you'll probably go 180 degrees in the opposite direction.
- 3) I'm not a huge fan of fork braces, though again, my riding is "offroad centric". The KLR's suspension is bargain basement, budget stuff straight out of 1982. For the front end many go with progressive springs and heavier oil but it's a bit of a bandaid and this increases harshness on the small stuff. The best solution IMO, is Cogent Dynamics Drop In Damper Cartridges (DDC's) and springs.....these take those 1982 damper rod forks and brings them up to at least 1999! They work very well. ....of course that brings up the shock which is even worse but that's another topic.
Cogent Dynamics - USA Made Motorcycle Suspension
Forget the inverted fork conversions; they cost up to 10X as much and the rest of the KLR isn't up to that level of suspension prowess anyway...plus they have a host of small issues to deal with like difficulty mounting the stock gauge cluster, decreased turning radius, speedo issues, smaller wheel bearings, etc. etc.
4) Eaglemike makes a drill through subframe kit for the KLR. It's more critical on a Gen1 but it is stronger than the stock Gen2 setup.
Eagle Mfg & Eng
5th Gear
Join Date: Jan 2011
Posts: 4,594
If you want a robust rear rack, check out Cycleracks--will haul out an elk quarter; lifetime guarantee; Cyclerack has textile pannier-and-top case luggage suite (or at least, used to--I have one).
https://cycleracks.com/ProductDetail.aspx
Welcome...
I had a lower sub-frame bolt snap on my 2016, so apparently they haven't gotten any better. I got higher quality lowers at the hardware store; my uppers were replaced by my crash guard hardware. The uppers are M10-30 (125 thread pitch) and the lowers are M8-28 (125 pitch). A few bucks is really all you need to spend to get this righted.
Yeah, I can't imagine the rear luggage rack being much use for recovery. I ride in areas where getting stuck is going to happen from time to time. One of the accessories I have on my KLR that has been a huge amount of help lugging the KLR through or over muck are a set of DirtRacks side guards. Great grab points for dragging, pushing, pulling and lifting. Protection in falls and nice recovery points.
1987-2013 Kawasaki KLR650 side crash bar
On the bugs, trust me on this ... Ben's with 100% Deet.
Item 1: The tank vent hose is not connected directly to the tank. It connects to a small well just to the right of the filler neck. The filler cap has some anti-slosh and pressure relief valves in it. Any drops of gas that manage to get through the cap escape through a nipple on the right side of the cap and drop into the well. A metal tube from the well runs inside the tank and out the back of the tank. The rubber drain tube hooks to the tube at the rear of the tank. I would be careful about blowing compressed air into the cap vent. Those valves are somewhat delicate.

You can disassemble the cap and check the valves.

Item 4: The luggage rack load is specified at 22 pounds. I put 90 pounds on it and ride on terrible washboard forest roads. The two vertical bolts holding the rack down to the frame are 6mm x 35mm and I have broken three sets of them. So, I drilled out the bolt holes and used 8mm bolts and replaced the captive nuts at the frame with 8mm - about 80% stronger. Easier to find 40mm long bolts at hardware store and cut to 35mm.

I knocked out the 6mm captive nuts at the frame brackets and replaced them with 8mm nuts. I put a temporary bolt lubricated with WD40 through the nuts to hold them in place and packed the area around them with JB Weld. When the JB cured I removed the temporary bolts and the nuts were held captive.
---
Last edited by GoMotor; 06-18-2016 at

12:36 PM

.
5th Gear
Join Date: Jan 2011
Posts: 4,594
Quote:
Yeah, I can't imagine the rear luggage rack being much use for recovery.
Really?
Not even the Cycleracks rack?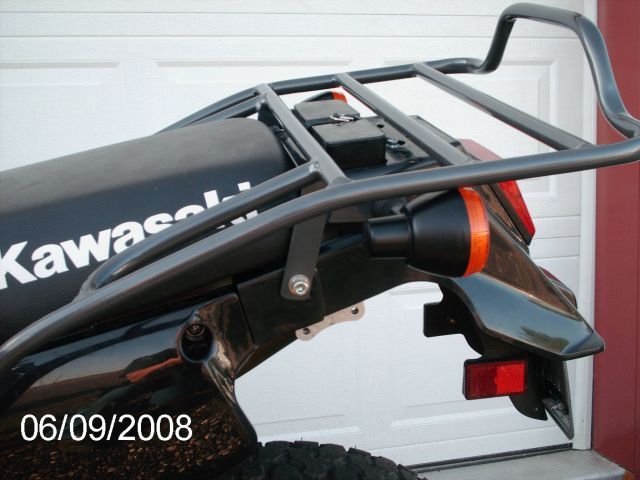 (KLR250 top; KLR650 model, below.)
I've found Cycleracks rather useful in recovery operations; YMMV!
---
Last edited by Damocles; 06-18-2016 at

02:50 PM

.
Quote:
Really?

Not even the Cycleracks rack?

I was referring to the stock rack and OP story how it broke during the snowbound recovery.
Neutral
Join Date: Jun 2016
Posts: 1
Good morning Sir
I purchased a used 09 with 9500 miles on it on 7/31/15 I ride every day 52 miles to work so I am close to 10,000 riding experience in one year. the only issue i had was a stuck carb float, could have been junk in the fuel from previous owner, maybe the bike sat idle too long
So far I have replaced one rear tire and one drive chain, synthetic oil and filter every other month.Since it is not a supermoto it is geard way low for my highway use so I replaced the front sprocket with a 16 tooth, works good so far.
As far as reliability I use it six days a week unless it rains cats and dogs. as long as you check the usual items on the maintenance list I expect to get it up to 80 or 90 K before I trade it for another. OH as far as off road no all i do is climb on the side walk to ge to my parking space. OH yes it is a tall bike so I mount it like a horse I am against modifying what an engineer has designed.
Enjoy
2nd Gear
Join Date: May 2014
Location: Kansas City
Posts: 202
Daily Commuter,
Just a piece of advice. Whenever you change your drive chain, you should change out the two sprockets too. Older chains can stretch, old sprocket teeth can get wear spots on them that will damage a new chain, or worse, the new chain will cause even more damage to the existing teeth.
Great you changed the front sprocket, but consider the rear too!
Your other mods are spot on!
Safe travels!
---
[email protected]
2009 Kawasaki KLR 650
always tinkering!