Neutral
Join Date: Jul 2016
Posts: 1
TKC80 on 2014 new edition
---
Today I installed the rear tire, but the tire is hitting the inner part of the chain guard and the chain s very tight. This is the first new tire, replacing the original factory tires. Is a modification needed to run these tires on the KLR?

New to motorcycle maintenance
The TCK80 (130-80/17) is definitely a tight fit in there. I had to shim the muffler out to make room for one on my 2016 model. Is yours that size? I know that they make a 140-80/17. If it's the 130...
I just put a dial gauge on the very front of the chain guard of mine to get a reading of the gap between my guard and tire; I have 6-7mm from the closest block. Like I said, it's tight but okay.
My chain guard doesn't seem like something that would bend. Maybe though.
First thing I'd do is take a look at the alignment. Check alignment marks on each side of the swing arm to see if they match up to the notches on the chain puller. If they do, I'd get the wheel off the ground and spin it to see if it wobbles. I'd also scan the bead on each side to see if its properly set in the rim.
Then check your chain tension. See the post that I've linked below (called KamoKLR) for a quick and easy approach, and a photo, to checking tension. Otherwise, the chain tension spec is in the owners manual.
http://www.klrforum.com/446521-post11.html
Hopefully you've just got an adjustment issue. If you put a 140 under there, it's 10mm wider than mine and, as mentioned, I've only got a 6-7mm gap on the chain guard. I'd guess you've got some modding to do with a 140.
____________________________
2nd Gear
Join Date: Jan 2016
Posts: 335
My stock tire rubs the chain guard.
5th Gear
Join Date: Aug 2010
Location: Kelowna, B.C.
Posts: 2,642
what chain guard? ;-)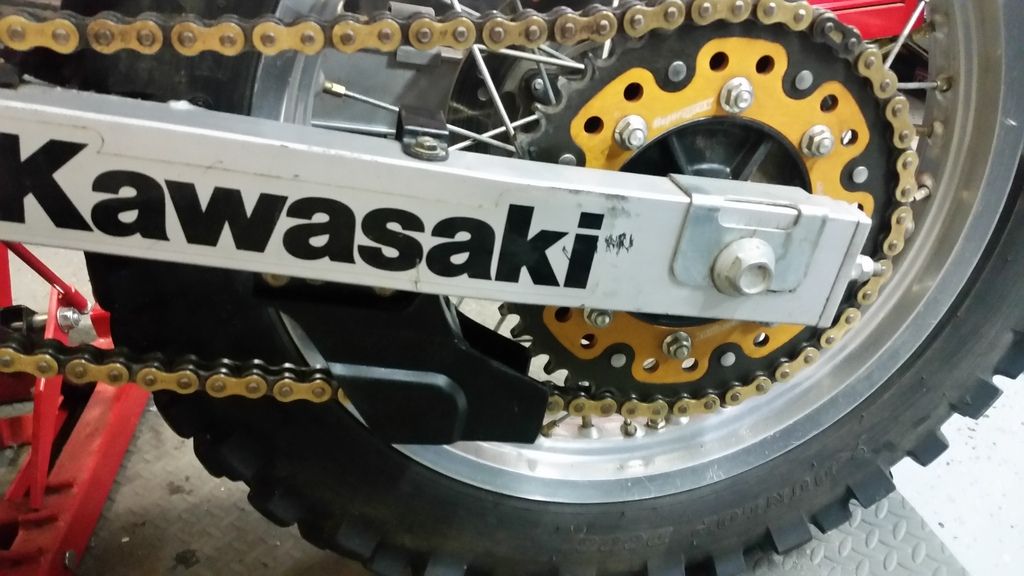 Cheers,
Dave
OverDrive
Join Date: Nov 2009
Location: Lander, Wyoming
Posts: 6,223
Quote:
what chain guard? ;-)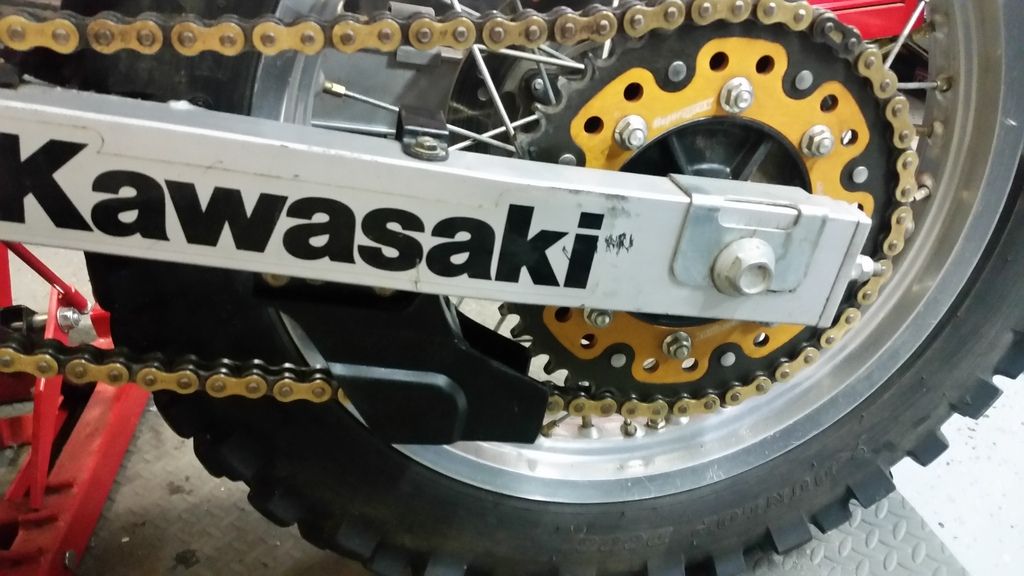 Cheers,
Dave
Dave, You are 'cheatin'!
Jtapia25,
Daves point is "why do you really need a chain Guard"? He rides mostly dirt and MUD and 'feels' No Need for the upper guard!!!
Notice that he does use a 'double sided' lower chain GUIDE, tho!!!
---
pdwestman
Modify at "YOUR OWN RISK"!

Still riding my 1987 KL650-A1. 85,000+ miles & counting
5th Gear
Join Date: Aug 2010
Location: Kelowna, B.C.
Posts: 2,642
Haha; c'mon, "cheating" may be a bit of an overstatement, but yes, my upper chain guard sits in my spare parts bin with all the other bits I find superfluous (snorkle, snorkle cover, licence plate bracket, passenger pegs and brackets, sidestand safety switch, vacuum petcock, etc. etc.)

I think the upper chain guide is beaten only by the snorkle and cover in the "totally unnecessary" category of motorcycle parts. :-)

Cheers,
Dave