Do I remove snorkel or not?
---
I have a gen 2 klr with a lex exhaust uni filter, I also have a eagle mike klx needle kit ordered for it. Should I remove the snorkel or not? What's it's purpose, will it suck in rain if I ride in the rain? Will my filter get dirty quicker? Thanks for any help!
3rd Gear
Join Date: Feb 2017
Location: Van Nuys Cali
Posts: 622
Though my mods are not exactly the same as yours, I thought it may help to know what I've done sort of similar and the outcome.

I did the .22 cent mod which raises the primary needle the thickness of 2 tiny flat washer. I didn't do anything with the idle mixture screw as detailed in the .22 cent mod. I wanted to see first what affect only the needle would have.
I installed a Lexx muffler. Love the sound btw. Spark arrestor is installed.

No modifications to the intake snorkel or otherwise.

The performance improved greatly. Where there was some definite sluggishness in running smoothness about mid rpm and throttle, that is completely gone. Performance is very linear from idle to red line.
My MPG while easy on it puttering around town and 65-70 mph on the freeway, is 55 mpg.
Riding very hard on it at high rpm in the twisties and heavy on the throttle, about 42 mpg.

Over-all I am very happy with this combination I did. I have no plans to change anything with the idle mix screw or the intake air, and I'll be keeping the stock foam air filter.
---
2016 KLR 650
2017 BMW S1000RR (traded in for
2018 Ducati V4S
1983 GL1100 Goldwing
2017 Yamaha R1
---
Last edited by dan filipi; 08-15-2017 at

02:04 PM

.
OverDrive
Join Date: Nov 2009
Location: Lander, Wyoming
Posts: 6,195
I find that drilling 4 one inch holes in the top of the dirty air box between the left and right frame rails, behind the battery, actually allows 'cleaner air' to the air filter.

And no, you won't suck more rain. The snorkel is mostly, a silencer. Bigger hole and/or more holes equals more intake noise.
---
pdwestman
Modify at "YOUR OWN RISK"!

Still riding my 1987 KL650-A1. 85,000+ miles & counting
Quote:
I have a gen 2 klr with a lex exhaust uni filter, I also have a eagle mike klx needle kit ordered for it. Should I remove the snorkel or not? What's it's purpose, will it suck in rain if I ride in the rain? Will my filter get dirty quicker? Thanks for any help!
The KLX setup and a decent slip on mufflermade enough of a difference on my bike for me to consider it money well spent. However, I got lucky and scored my slip on from a buddy for $50.
Any experiments with the airbox/ snorkel ( and I've tried a few) showed no gains at all IMO. Personally, I don't think I would worry about the snorkel either way. Mine was out when I got the bike, so I put it back in. I took it back out after the KLX needle and slipon were added...no difference. And I flog my bike without pity. WOT almost daily just for the fun of it
$0.02
Thanks guys for all the help! I'll leave the snorkel in place. I once had a ATV and cut a hole in the air box and I hated the sound it made, I had forgot about that.. I drilled out the plug on the carb and set the screw at 2 turns but once in a while I still get a ping,ping,in high gear .I'm sure it's running lean, I ordered a new plug with the klx kit so I'll know for sure when I install it.. Only problem is the tusk crash bars make removing and installing the carb a pain...
5th Gear
Join Date: Aug 2010
Location: Kelowna, B.C.
Posts: 2,619
Sigh; for the 10,000th time,

Yes, remove the snorkle.It is restrictive even on a bone stock KLR and serves no useful purpose. You will not ingest water or anything else......intake noise will rise slightly though I didn't notice it on either of my bikes (FMF Q4 and LV X3 silencers) If you leave the airbox stock and the snorkle in place you are choking your bike up for no good reason. any airbox mods mean you should rejet but with your KLX kit install you're good to go.

And the proof from the late, great Cary Aspy (KLRCary);

A lot of missunderstanding with airbox issues.

First, the screen. Airflow gains are not linear. Removing the screen with an otherwise stock KLR airbox will only gain you 2 cfm. The engine won't know the differance. However, with a heavily modified airbox, the gain from removing the screen is 8 cfm. Depending on what else is done to the engine, you may make more power. I doubt that you'll feel it, but a dyno will show it. Butt-dyno's can detect very small low rpm changes, but don't detect higher rpm changes very well at all. You'll likely not detect it, but that does not mean it's not there.

Comparing screen removal to other models is wrong, particularly with the newer sportbikes. With them, the screen often serves another purpose as well. Air distribution in a 4 cyl sportbike can be a real problem, particularly with "ram air". Removing the screen on them can cause very real losses, depending on the model. That does NOT apply to the KLR.

Same thing with air filters. There is only about 2 cfm differance from the best filter (UNI), to the worst (K&N). With a modified airbox, that differance grows to 9 cfm.

Here is the flow chart:

Completely stock - 64.8cfm
Same - Remove snorkle - 74cfm
Same - With UNI filter - 76.2cfm
Same - Remove screen - 78.6cfm
Same - Small "L" cut - 85.1cfm
Same - Large "L" cut, open snorkle area further - 92.4
Same - Remove door - 103.2

Alternate - UNI filter, No snorkle, With screen, No door, No "L" cut - 95.4

All at 2" of water, tested at 1 1/2" and 3" and averaged to 2"

To answer the larger question, how much air can the KLR really use?
....................
A stock KLR about 70-80cfm. With a good pipe about 75-90cfm. A modified motor about 90-100cfm. Having a bit more capacity than you you need will not hurt anything. The effects are not linear though. Going from 65cfm to 75cfm you will likely notice, but going from 75 to 85 cfm you likely won't.

Part of the confusion might be due to the effects of the carb shimming. Since that mod is for a stock needle, the snorkle removal serves not just to add air, but to lean out the top end. The stock KLR till 07 is rich on the top. ( The 08 has a smaller main jet.) Airbox mods have much more effect on top end mixture, so, with the stock needle it also helps straighten out the fuel curve.

Finally the airbox door. You've got to carefull there. You don't have clean air there. It's flowing past that door when riding. You can easily create a partial low pressure area there, depending on wind direction, and where you place your leg!

Cary"


I do not recommend removing the backfire screen (PITA) or running without the airbox door for reasons that should be obvious.

Though a KLR isn't going to have a bunch more power no matter what you do, a KLX kit combined with the snorkle-ectomy and L mod or 4 - 1" holes will have it running properly. don't bother with the little 1" foam filters if you drill the holes - they are useless.

Cheers,
Dave
Well I installed the klx kit and a new plug from eagle mike. My plug was a little lean and I had the mixture screw set at 2 1/2 turns. My bike had a 145 main jet.
After I got the carb back together and set to his recommendation, I decided to de snorkel, here's a pic. Why is my snorkel shorter? It's a 15 model bought new in NC. I Also removed the plastic thing what it that for?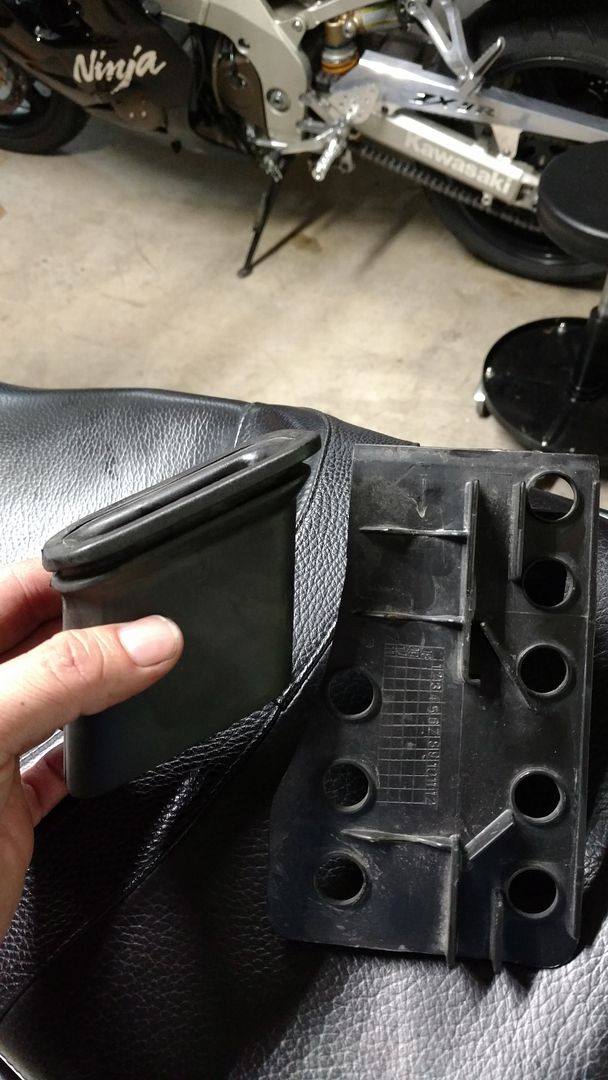 Once again thanks for the help!
5th Gear
Join Date: Aug 2010
Location: Kelowna, B.C.
Posts: 2,619
1) The cover is just as useless as the snorkle; toss it in the spare parts bin too.

2) there have been at least 3 different lengths and types of snorkle used in the KLR's 30 year production one. Yours looks just like the two I had in my 2000 and 2001.

3) Plug reading is getting more and more useless with all the additives and ethanol in today's fuel. O2 sensors don't lie and I'm going to suggest that you'd be better off with the standard set up given your fairly mild set-up; 142 main, 2nd clip position, no shims under; 1.75 - 2 turns on the fuel screw.

edit; on re-read it sounds like you've changed the jetting to EM's recommendations now?

Cheers,
Dave
OverDrive
Join Date: Nov 2009
Location: Lander, Wyoming
Posts: 6,195
That is the proper USA size snorkel. The Australian snorkel is about as long as your forearm.

The spark plug color looks perfectly normal for modern gas, Clean and a touch of Tan.
Yeah told him my setup and elevation, Mike recommend 2nd clip 142 main jet one shim under and the brass washer on top 2 1/4 on screw. I also drilled the slide. I took a quick ride and the throttle response is alot better. Where I was getting the pinging was interstate in high gear if I rolled on the throttle too fast it would ping like crazy. There's also a hill close to my house that it would ping in 4th gear.. I rode it today and couldn't make it do it.
My dad has a 2011 klr setup like mine except the carb is stock and I can't make his ping, plus his is faster accelerating. My bike with the jet kit feels like his now.