Spoiled
---
My birthday is coming up on June 8th and tonight my wife and best friend surprise me with this...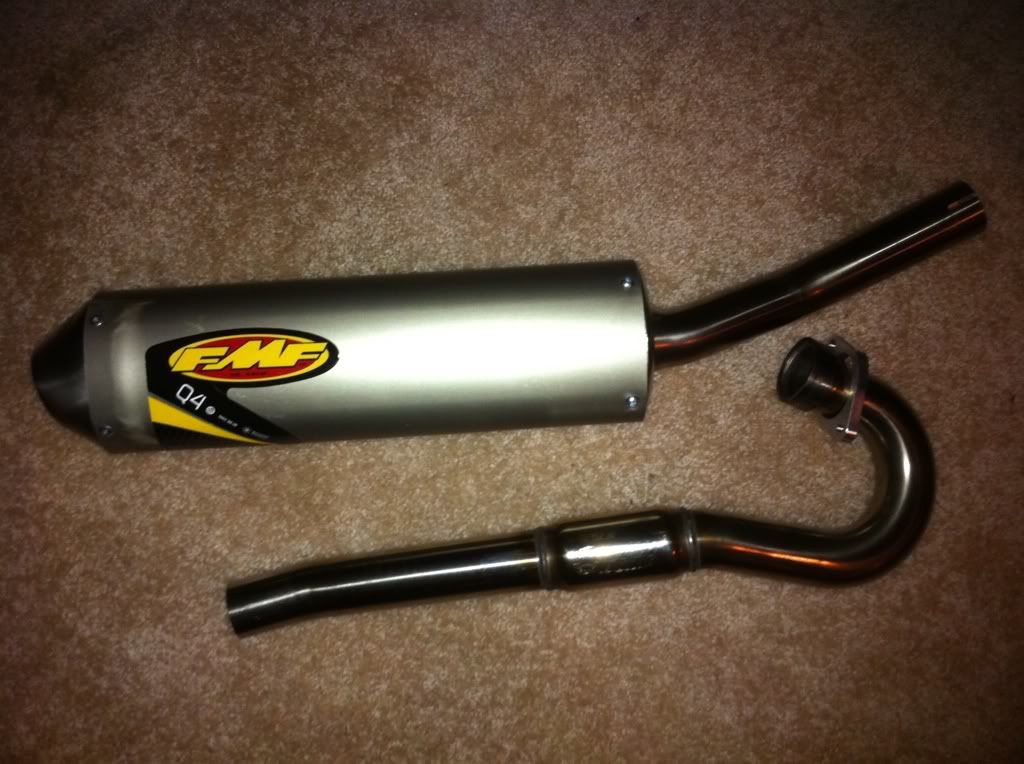 Man I'm spoiled. I can not wait till tomorrow to put it on. My bike might not sound so much like a tractor anymore. Heck maybe ill just head on out to the garage right now...
---
"If you don't ride in the rain, you don't ride."
"Work to ride and ride to work."
"Accidents hurt - safety doesn't."
Wow, plus a headpipe. You sir, are blessed !!! I'd keep her.

And Happy Birthday !
---
Gray-haired riders don't get that way from pure luck.

Unknown
I usually get boxers. Happy Birthday!




---
"In a car you're always in a compartment, and because you're used to it you don't realize that through that car window everything you see is just more TV." R. Pirsig
PPMC #1.
Soon, we ride.
AKA JD Mader or you can call me "Dan" just not early for dinner.
Click my handle for a link to my homepage/blog...which has nothing to do with MCs. Free literature and music! Viva La Revolucion!
-------------------
2008 KLR 650
RIP DM - Soon, we ride.
Happy pre-Bday Aron. Nice gift.
---
Tim

2005 KLR 685
2015 Yamaha Super Tenere ES, 5/23/2015
2012 Yamaha Super Tenere; Purchased 7/30/2011; Sold 5/23/2015
OverDrive
Join Date: Jan 2011
Location: NW MO
Posts: 5,377
Man, you've got a good bike and a good wife. Great gift! Show us some photos once you get it on and let us know what you think of it.




Well the old exhaust is off. But apparently my bike has seen too much miles, water, and mud. So rust rampant on the exhaust bolts. Got most everything off ok. But one of the stud nuts was so thoroughly rusted it just started twisting the stud. Nothing to do but break it off and go get a stud puller now and get a new one in there. Slight delay. But hopefully someone in town will have something I can use as a replacement stud. Got my fingers crossed. Will update next time hopefully with a new exhaust installed.
---
"If you don't ride in the rain, you don't ride."
"Work to ride and ride to work."
"Accidents hurt - safety doesn't."
You sir are one lucky guy. Does she have a sister? Is the sister hot? Damn, I'm married. LOL. I also have the same pipe and header. You might want to remove the FMF sticker as it will burn off anyway and leave your pipe discolored with all the glue from the sticker. Also, I applied heat tape on the pipe where the mount straps go so as to not melt the rubber.
http://www.powersportrider.com/cgi-bin/zcatjpg
---
94 KLR,tank guards,sw motech centerstand,Doo done, african switch,mirror dampners, powerpegz, twisted throttle fuses, aluminum skidplate, Bigcee shark disc and jug holder and subframe upgrade, progrip grips,maier handguards/brushguards, avon distanzias,fmf q4 exhaust, headlight guard, handlebar risers, billet rear brake reservoir bracket and guard, dual star shifter,garmin 2820 gps, tmod,disc cover, pcv mod,corbin flat
Wife: OMG What a hog, I asked him what he wants for his B day…. DO KNOW WHAT HE SAID TO ME!!!?
Friend: WHAT? What? WhaaaaT? O-it better not be bad..!
Wife: You will not believe this!!!!
Friend: O MY GOD,,,, What did he say???!
Wife: He told me that his, Pipe is rusty… CAN you believe that??? Then he told me he would like a "Thumper"….!!!!!!
Friend:… WOOOOOAAAAaaaaa….. NO HE DID NOT? What are you going to do??? I know what I wouldn't do If I were you….!!!!!
Wife: Yea Right… That ant gona Happen… I'll get him some stupid part for his motor bike.
(Aaron: YAHOO YIPE YIPE YA YA (Kart wheal, Kart wheal, Back flip, Back flip))


LOL… Just bustin, I am sure you wife is awesome, Hell she got you a sweet exhaust for your bike..
Jake that's awesome. I shared it with all my friends. They loved it as well. I'll take parts for the bike any day.
But I was successful in installing the exhaust today. I brought it to work to have access to my full array of tools. Where the stud busted off I was able to tap the existing threads that were sticking out. I got about 5 full turns out of it. So I made up a rig to extend the stud, since the stud was rusted in pretty well. Pb blasted the hell out of it as well as heated it up with a torch. But it didnt feel very friendly so I let it be. I used a new one of the cap nuts that Hold the stock exhaust on but ground it down so that it was a circle instead of a hex. Then I ground the cap off so it was a pass through threaded piece. Threaded that onto the busted off stud. Then cut the threaded portion of a bolt off to make an extension that threaded into the rig.
You can kind of see in the photo here. There's the regular stud in the foreground and the rig in the back. Worked out well.
---
"If you don't ride in the rain, you don't ride."
"Work to ride and ride to work."
"Accidents hurt - safety doesn't."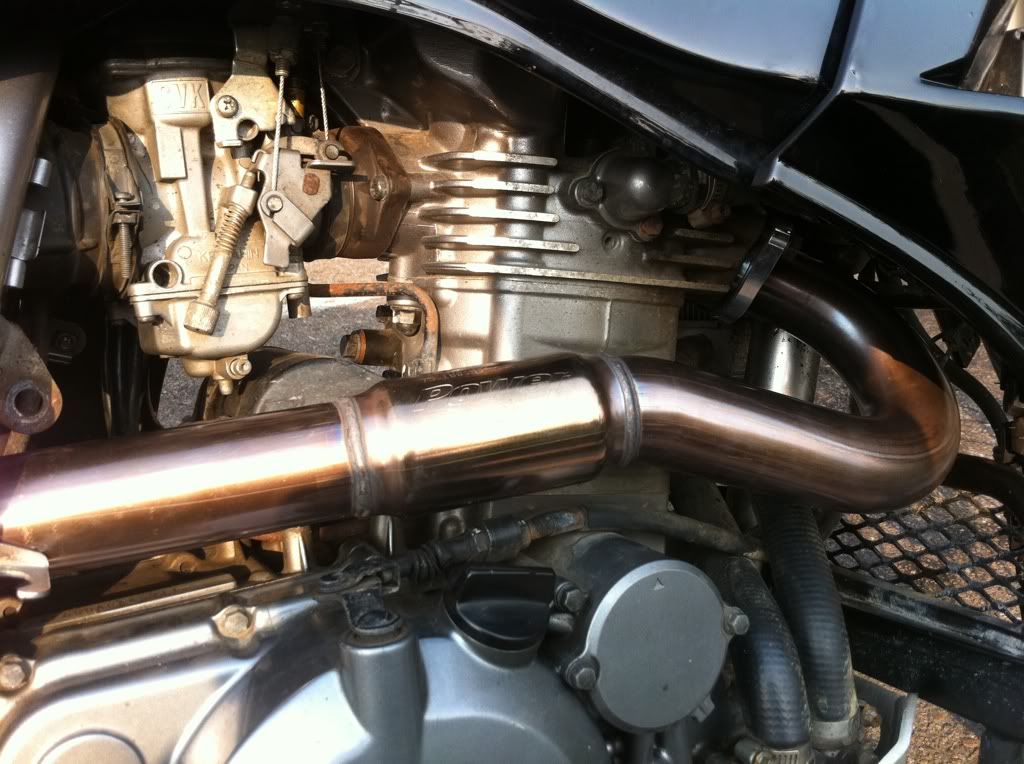 New power bomb header.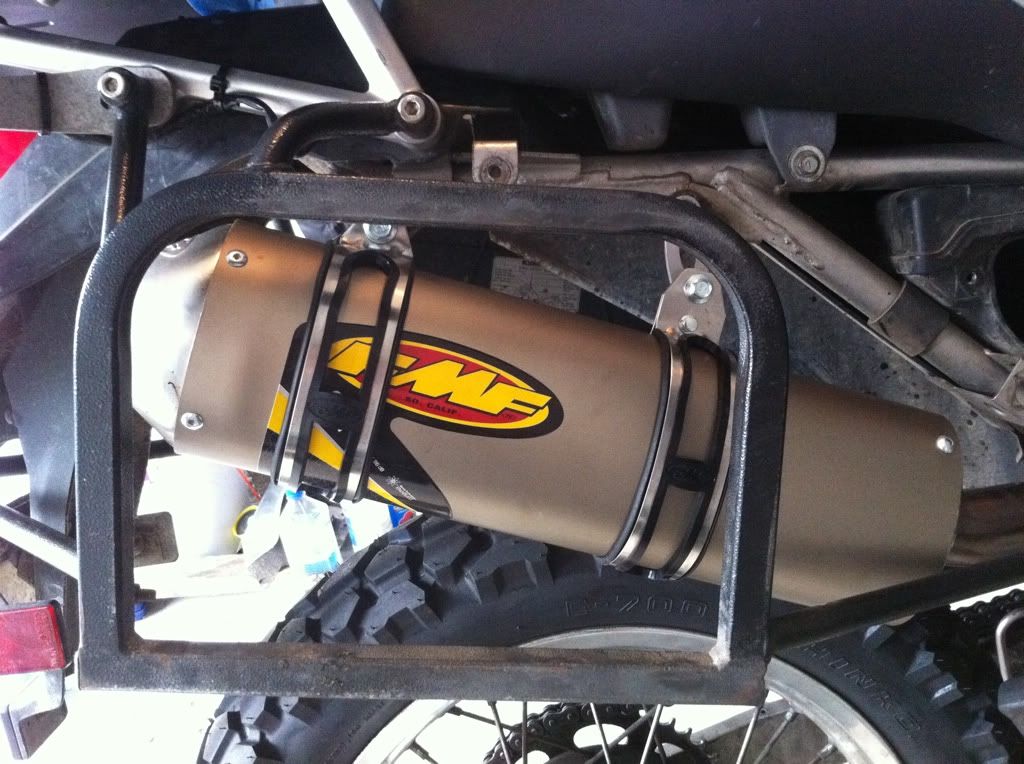 Fmf pipe.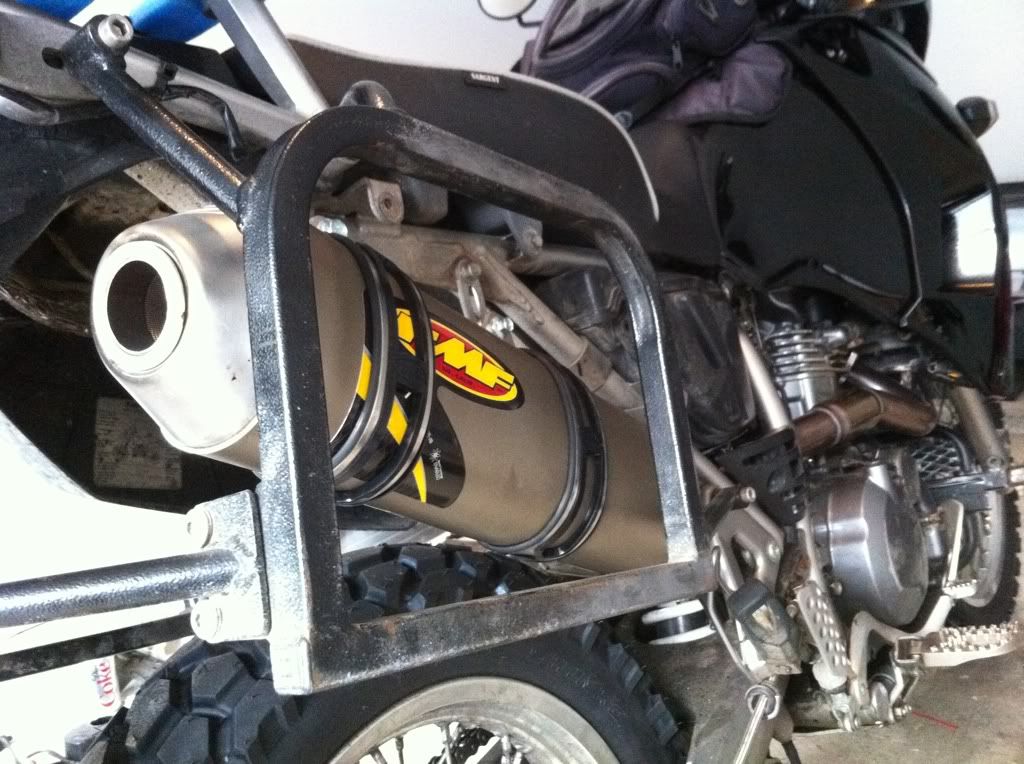 Now the only question is to re jet or to leave it be? This is my first carburated bike so I dont know. I have the full pipe now, had a pre existing k&n air filter, I have done the 22 cent mod with 2 washers, I have set the mixture screw to 2-1/2 turns out, drilled the slide hole, I removed the air box snorkel, but it has stock jets still. When I rode it it seemed happy. What are the pros or cons of removing the air box door vs doing the L mod? Also I believe the idle came up a bit with the new pipe. What's everyone idling at? I have the kawi manual to look at but it's in the garage. I was sitting about 1400 and now it's at 1600. Had a stock 2009 come in awhile ago that only idled at 1000. Any recommendations?
---
"If you don't ride in the rain, you don't ride."
"Work to ride and ride to work."
"Accidents hurt - safety doesn't."