AFX DS-39 instructions
---
I just got my new AFX DS-39 helmet the other day. I like it.
I thought I would share with you a portion of the instructions. I know what they're talking about, but I think they need a new translator in Taiwan.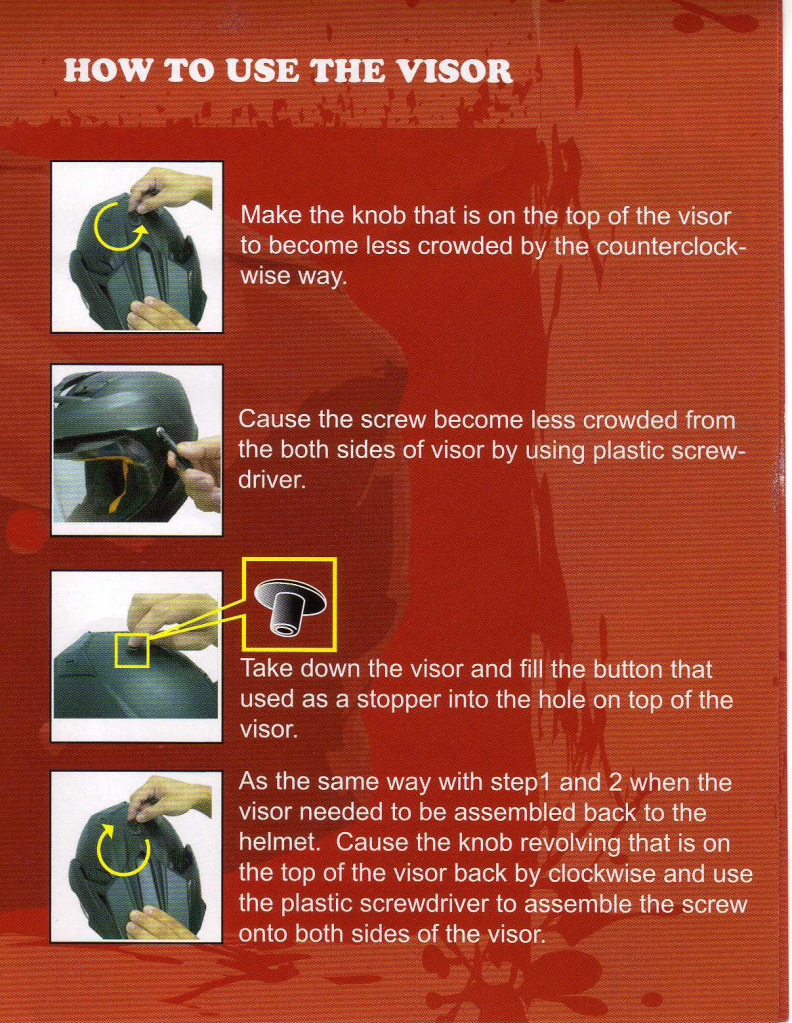 lol. This is a situation where reading the manual is a bad idea.

I'm going to make sure to tell someone that "that screw looks way too crowded" or better yet, "you overcrowded that screw. No wonder the threads are stripped. You need to not cause that anymore."

Anyways, this is pretty bad. I review papers from ESL people quite frequently. Can't say I've seen anything this bad.

My brother once bought a CAT5 "Cable Teeter". What they meant was "Cable Tester".
---
2006 Red KLR 650

Modifications:
1)Doohickey Planned and purchased 2)Aftermarket Grips 3)Grip Heaters 4)Happy Trails Hard Luggage Rack 5)20 mm ammo cases planned soon 6)Aftermarket Exhaust 7)Thermobob 8)Happy Trails Fork Brace 9)Stainless Steel Oil Filter 10)Magnetic Drain Plug

See profile visitors post for details and planned mods.
Similar Threads
Thread
Thread Starter
Forum
Replies
Last Post
My ABS tool tube instructions

Gadget

1987 to 2007 Wrenching & Mods

8

10-12-2006

02:42 PM