Join Date: Oct 2006
Posts: 308
Reflective Vinyl
---
Anybody ever mess around with this stuff? I got a 2' x 2' square of black, reflective. I'm thinking of applying it to the front fairing and the side panels. I'll post up some pics when done.

Jamie
Join Date: Jun 2006
Posts: 595
Yeah, I've got lots of that stuff. Very expenisive. But I really like the way the Black reflects. I'd love to see what you come up with!
2nd Gear
Join Date: Sep 2006
Location: San Martin, CA
Posts: 153
where are you getting the black relfective? I cant find it!!
---
Steve - Tazmanian Devil
00 KLR
PTB - FTM - KTF
Join Date: Oct 2006
Posts: 308
I found it at a local sign shop. But like BS said, it's pricey. My 2' x 2' square was about $30.00.

Jamie
Join Date: Oct 2006
Posts: 53
Join Date: Oct 2006
Posts: 308
Well, I've been working with this stuff for the better of 2 hours. I did a couple panels on the front fairing and then did the side panels. I have to give credit to Patman for inspiration and advice. The funny thing about this stuff is that in direct sunlight, it is jet black. In the fluorescent (sp?) light, it actually shows a bit grey:
This is with no flash: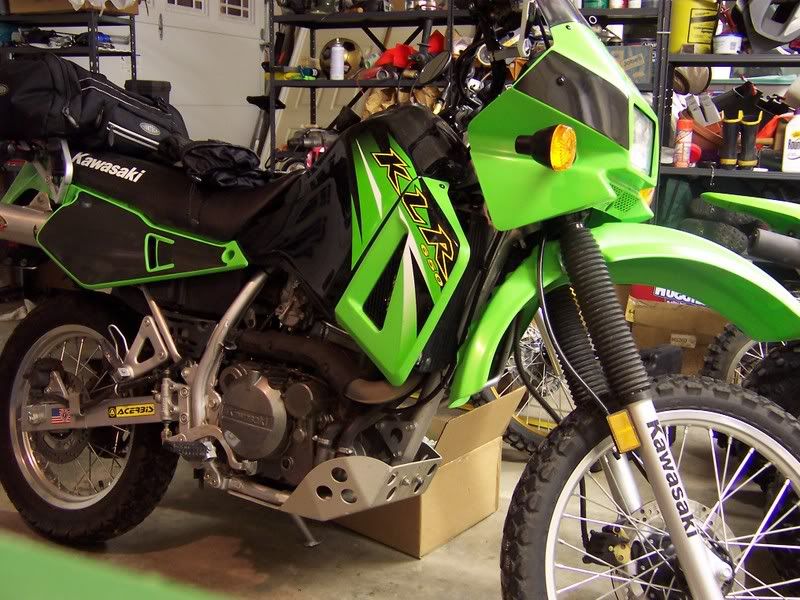 Sorry about the quality, but it's 11:00 at night! Here is with the flash: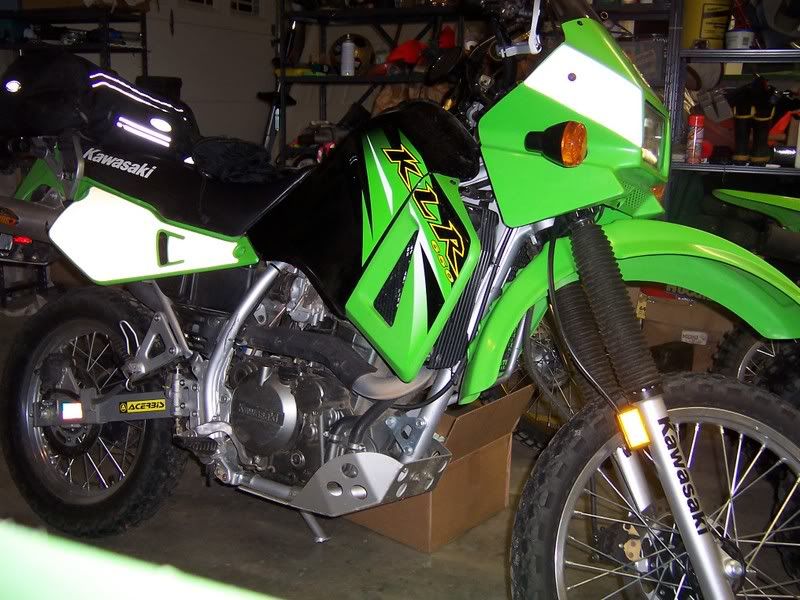 I'm not sure if I'll go further on this or not. I think I'll just let it grow on me for a while, then decide.
Wadda ya think?
Oh, and mine is the 3M. I just got lucky. I didn't know 'til I just looked
ops:
Jamie
Join Date: Oct 2006
Posts: 101
Join Date: Oct 2006
Posts: 71
nice work on the sidepanel. that looks very sweet. I think I'm going to have to see if I can get some big sheets of that stuff; all I've found is small 2" wide rolls of the stuff at $3 a foot.
1st Gear
Join Date: Sep 2006
Location: Lincoln, Nebraska
Posts: 69
Quote:
Originally Posted by btl68
I got the stuff for my helmet from this one. Used their standard kit and some of the leftovers to "personalize" my lid a little.
Without flash
With flash
Also did some reflective pin stripes on the side panels, fairing and rear fender, but I don't have any photos handy.
Jamie those big patches on the side panels look great. Should make the ride stand out like a turd in a punchbowl.
---
Casey

2005 KLR 650
Join Date: Jun 2006
Posts: 595
I'm going to put some stripes over the words Acerbis on my new hand guards. I haven't really thought of any other place I'd want to put it just yet... but the helmet thing is a good idea! Maybe I'll cut out a mean pair of eyes for the back of my helmet! :lol:

Jaime, did you cut yours out by hand? If so... super nice work!