1st Gear
Join Date: Apr 2013
Location: Simi Valley, CA
Posts: 16
Kawasaki Bags?
---
I'm contemplating buying a new KLR in the next week or two and have been looking at some options. The local dealer has a full set of hard/soft Kawasaki bags for the bike. They seem a little on the soft side, also small and have warning labels which limit weight to 10 pounds on the rear and 5 pounds in each side. The 5- piece set, including tank and handlebar bags are about $500. Anyone have any experience with these? Are there better aftermarket units with a little more capacity and maybe more rigid (I'm used to the Harley tour pack and saddlebags)? Any advice would be appreciated.

Gary
Lots of aftermarket options are out there - depending on how much you want to spend...
---
People should not be afraid of their governments. Governments should be afraid of their people.
1st Gear
Join Date: Mar 2013
Location: Trinidad, CO, USA
Posts: 50
No experience with those but I just mounted some pelican knock off boxes on some Happy Trails SU racks. I like them. So it depends on what you're wanting. I wanted a hard box that was lighter than aluminum and ammo cans. So that's the compromise.
Sent from
Motorcycle.com Free App
1st Gear
Join Date: Apr 2013
Location: Simi Valley, CA
Posts: 16
No Saddlebags?
---
Pelican sounds about right for the rear deck, but what about saddlebags?
Pretty in Pink, dunno why
Join Date: Feb 2009
Location: Redondo Beach
Posts: 8,095
The Kawasaki bags are a poor bargain on a $/lb basis - they are small and expensive.
A better option in the smaller size is the
Cortech Sport Bags
. I have had these and found them acceptably well constructed, but the zippers are crap.
A larger bag is the
Nelson Rigg CL 850
. I use these bags extensively and feel they are top notch bags.
Nelson Rigg also make a smaller sport bag similar to the Cortech. I have not used them so can't comment, but I would expect them to be very good.
For multi-day camping I use the
Chase Harper Alaska bag
. It will hold my entire camp, food, and civvies. Once camp is set up it can collapse down fully with its compression straps to hold as little as a spare tube and tool kit, a canteen and munchies for day rides.
I think all of the above are well made and well priced.
For hard cases, most use either the Pelican or the SeaHorse cases. They are pretty much identical, but the SeaHorse are less expensive. Some use ammo cans or Mermite cans. Some use purpose-built aluminum panniers from Happy Trail or Twisted Throttle. These tend to be the high end of the cost spectrum.
Hard cases will require a $$$uitable rack and will bang the hell out of your calf under the right circumstances. Soft bags usually require only a rack-$orta-thing to keep the bags off of the side panels.
Tom
---
Tom
[email protected]
"On the way downtown I stopped at a bar and had a couple of double Scotches. They didn't do me any good. All they did was make me think of Silver-Wig, and I never saw her again."
-Philip Marlowe
"'Why'
and
'How'
are words so important they cannot be too often used."
-Napoleon Bonaparte
Sting like a butterfly.
Noli Timere Messorem
---
Last edited by Tom Schmitz; 04-10-2013 at

10:54 PM

.
I've got the kawi soft saddlebags. They work fairly decent but they don't hold much. For light packing they would probably be fine. I wanted more space though so stepped up to aluminum panniers. For what the soft kawi saddlebags cost I think you could find better/larger soft luggage.
1st Gear
Join Date: Apr 2013
Location: Simi Valley, CA
Posts: 16
Good advice.
---
I'll start looking at your suggestions. My gut feeling was that the Kawa bags were not going to cut it for me. At the very least, I need something lockable for the camera gear and the 10-pound weight limit seems just about useless.
1st Gear
Join Date: Mar 2013
Location: Trinidad, CO, USA
Posts: 50
Oooh! Thanks Tom, I like that chase Harper bag that you suggested. Good price point too!
Sent from
Motorcycle.com Free App
5th Gear
Join Date: Jan 2011
Posts: 4,712
Cyclerack with pannier set and top bag (all empty), plus auxiliary fuel container on Kolpin bracket: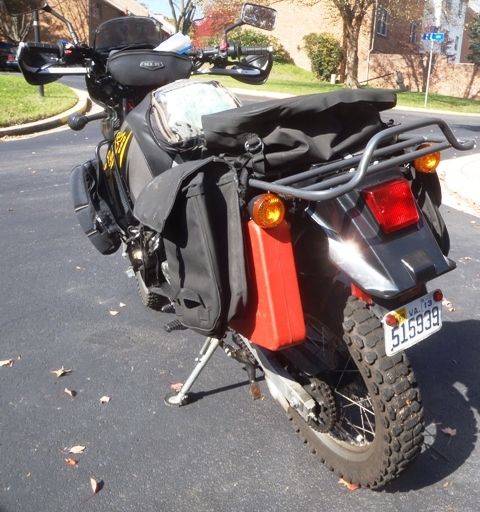 Luggage mounts and demounts quickly, easily and seamlessly; not
totally
waterproof, in my experience.
http;..
www.cycleracks.com
4th Gear
Join Date: Oct 2006
Location: Pefferlaw,Ontario
Posts: 1,636
The Nelson Riggs are top quality bags from what I experienced and they were great soft semi rigid side bags and large!

If you really wanted soft bags over hard cases or boxes then those are the ones to buy...IMHO.

They come with rain covers also.
---
Willys