Neutral
Join Date: Jul 2007
Location: Sag Harbor, New York
Posts: 11
Centerstands from Dual Star Delayed
---
FYI.....For anybody ordering a centerstand from
http://www.dual-star.com/
, take note that they are about 8 weeks out of final production.
---
'05 KLR, '06 FJR, '00 VFR, '87 VSR
Guest
Join Date: Aug 2007
Posts: 9
I added a centerstand from Dual Star, and I have this advice. Mine doesn't have a post to stand on to lever the bike up. It's VERY difficult to get the bike on the stand. You have to lift the bike while rocking the bike back. This is difficult because your toe has to remain in place to hold the stand against the ground. In the future I'd only get a centerstand with the left side foot lever.
Neutral
Join Date: Jul 2007
Location: Sag Harbor, New York
Posts: 11
Hmmmmm, didn't even think about that. I may have to continue my search.
---
'05 KLR, '06 FJR, '00 VFR, '87 VSR
Guest
Join Date: Oct 2006
Posts: 331
Lotsa controversy concerning centerstands for the KLR--MOST guys say you will never need them-something else will always suffice if needed opposed to the use and problems they can cause--Mike and I both talked about them when we got our bikes and opted not to---last year we rode with a couple of guys and one had a centerstand-rode fire roads that day-alot of rocks and water crossings---I could tell he was behind me all day by the banging noise his made as it hit virtually everything in it's path--he also met his demise with it in a creek crossing where it caught a rock ledge underwater that we all had gone over---that stand caught and planted him in the drink right now!!!! He made it out OK and we all laughed about having a sacrificial fire that night for it....he has since taken it off and as have several others...Mike and I ride alot and have never needed one-we do have a bike lift to work on them though--just my 2 cents....
Neutral
Join Date: Jul 2007
Location: Sag Harbor, New York
Posts: 11
Actually, I just spoke with the folks over at Dual Star again and he told me that they are adding a lever to the new production of stands. After reading a number of the threads over at ADVrider about the stands, it seems to be one of those additions that people really like or that they have no use for. The gentleman over at Dual Star was pointing out that they are the originator of the centerstand for the KLR and that their design is constantly being knocked off by companies having them manufactured in China and that because of this there is alot of inferior product out on the market. He said that as a family run company they won't compromise the quality of their product and are making refinements and improvements to it as they identify problems. Right now the problem, evidently, is keeping production in pace with demand.....

I want the stand primarily because my garage is so small that it makes it much easier to maneuver around the 4 bikes if they are all up on their centerstands. Since their aren't alot of opportunities for me to do alot of offroad I probably won't be that bothered by the loss of clearance. Time will tell I guess. If it sucks, there's always EBAY.
---
'05 KLR, '06 FJR, '00 VFR, '87 VSR
---
Last edited by TheAxeman; 08-15-2007 at

03:40 PM

. Reason: Added info
Guest
Join Date: Feb 2008
Posts: 12
center stand
---
Hello klr enthousiats,
Like I said before, I`m new to the sport and learning as much as I can. I am considering installing a center-stand on my bike. I already have a bike lift in my garage but I thouth a center-stand would be great for fixing a flat tire on the road. But some of you guys pointed out it could bring more problems rather than solving it. Some of my riding is by myself and I am wondering how i could possibly repair a tire or ajust the chain or whatever whitout a center-stand? Any cool tricks up your sleeve?
Thank`s, keep up the good advice and I`ll be posting good ideas myself, If I ever have one...
Quebecklr...
Yup, Make yourself a Fieldstand, out of a metal walking cane from WalMart. Cost me all of $20. It can lift and support the rear tire and or the front tire to allow maintenance and flat repairs. I found these pics on a website and tailored mine exactly like it. Works awesome.
This text is from the poster YAK_KLR650....bought an adjustable aluminum cane for $19.95 (no tax on canes!). Cut it down to size, bent a piece of flat bar into an "L" and drilled 2 holes in it. One hole in the centre (countersunk)for connecting to the cane, another one at the end for an upright bolt (glued, threads cover with shrink tube). I used an expanding rubber plug to hold the "L" (like the bar end of aluminum handguards).
I used an old deepwell socket that fit perfectly inside the tube and welded the 'L' arm to that, so I could take it in and out of the tube when needed, I also kept the rubber foot but also made a 2 inch foot of angle iron for use in dirt and mud to have a grip. I'll try to round up some pictures Mon. or Tue. of mine.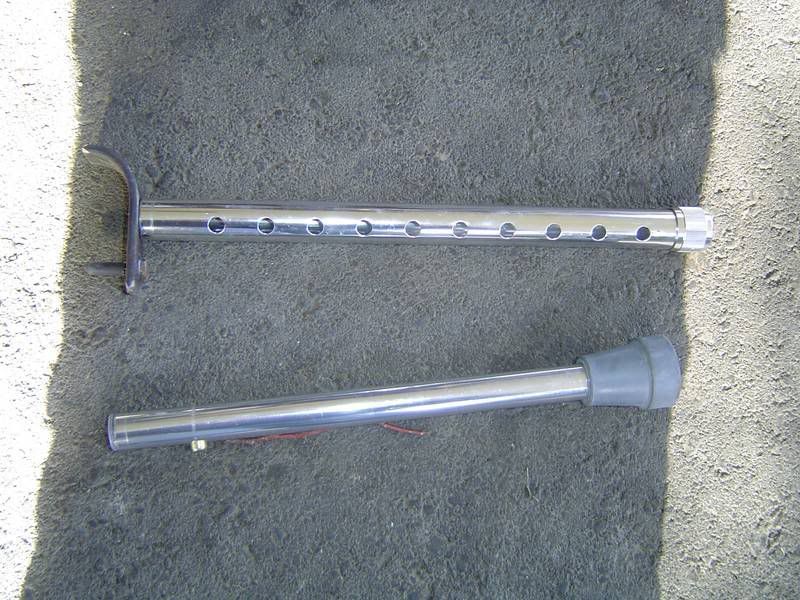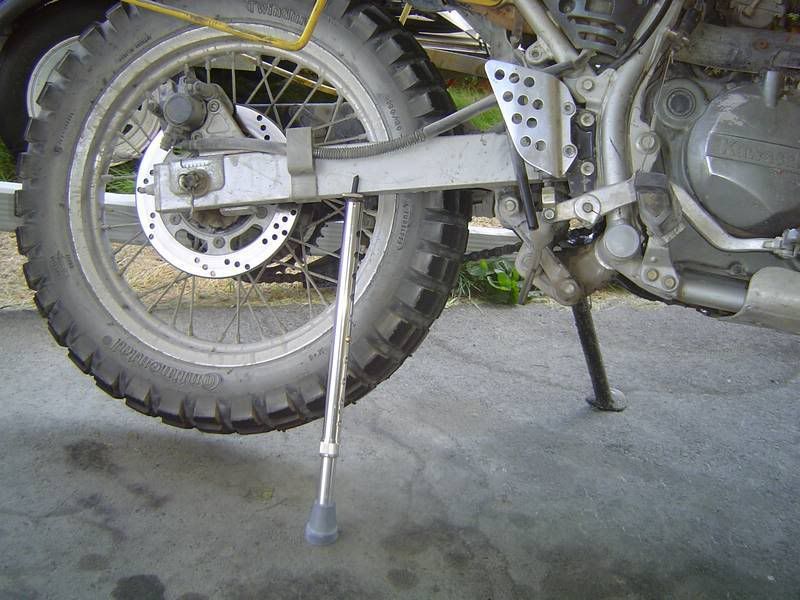 Guest
Join Date: Feb 2008
Posts: 12
field stand
---
Dear dxklr,
I shoulda known you would come up with something. Wow! What a great idea!
I`ll be making one these very soon. Curious to see how you hook it up to the front end?
Again,thank you,...quebecklr...
For the front end, turn the bars to the left, stand on the right hand side, 'rear brake pedal side', and push the handle bars upwards raising the front tire. "Mindful that the normal kickstand IS down. Place the end of the Field stand in one of the slots of your skidplate at the front. Simple as that. My buddy and I made a set of crash bars so I tend to use that as a point of contact for the stand.